UPDATE Wednesday, February 7, 2018
The Blount County Sheriff's Office posted to Facebook Wednesday to reassure citizens that investigators are "actively working the case involving the death of Blake Smith and following up on all leads."
Preliminary autopsy results released Tuesday indicated Smith died from hypothermia/drowning and that his death appeared to be accidental.
"This is not the final autopsy report. We are awaiting results of the toxicology test," the sheriff's office wrote on Facebook Wednesday.
Rumors are circulated online surrounding the circumstances of Smith's death. The sheriff's department declined an interview Wednesday.
10News spoke to Blake's Father, Jim Smith, Wednesday morning and he said they want people to understand there aren't many details right now and warned people to be careful not to believe many of the rumors. His family said they're waiting for the details from the Blount County Sheriff's Office as the investigation moves forward.
He added they're choosing to focus on his son's life, not his final hours.
"We're not talking about it, not thinking about it," he said, adding it's just too painful.
Wednesday morning, students at Crown College remembered Smith during chapel. The service was streamed live online.
"We come for a special time to pray for his family and get some clarity about his death," said pastor Clarence Sexton.
"...We want answers," Sexton said. "We want answers about the death of Blake Smith, someone who we love and is no longer with us."
He recalled an early conversation with the sheriff's office.
"They did say early on, we know you're doing your job -- let us do our job," he said. "I want to let them do their job. And if it's any comfort to you, they're still working on this."
If anyone has any information about Blake Smith and his whereabouts between Saturday afternoon at around 2 p.m. and early Monday afternoon, please call the Sheriff's Office Investigations Unit during normal business hours at (865) 273-5001. You may also call the 24 hour anonymous Crime Hotline at (865)273-5200, or leave a tip on the Text-a-Tip link at www.bcso.com.
UPDATE Tuesday, February 6, 2018
The Blount County Sheriff's office has confirmed the body of a missing Crown College student has been found in a creek that feeds into Fort Loudoun Lake. A preliminary autopsy revealed that Blake Smith died of hypothermia/drowning, and officials said his death appears to be accidental.
Smith's family said the 20-year-old left for work on Saturday, but never returned to his college dorm. Investigators tracked his phone on Sunday to a construction site in Louisville, where it was found near his car. The car had crashed into the deck of a home under construction.
Search dogs and a drone were used to search the area on Monday, and the body was recovered from Georges Creek, which is about a half mile from the construction site. An autopsy confirmed the identity of the body on Tuesday.
Crown College is located in Powell. Smith was a junior there studying to be a minister. He was from Trussville, Alabama, outside Birmingham.
WBIR is aware there are many questions surrounding Smith's death. The Blount County Sheriff's Office said they stand by the preliminary cause of death.
The sheriff's office said the case remains open pending the final autopsy report.
Some people close to Smith have lingering questions about what happened. They're hoping for information will be revealed soon.
"He had some struggles in his life, but I never thought he would do anything like take his life or anything like that," friend Jeff Gibbs said.
Gibbs, a fellow student at Crown College, said he is shocked by the sudden loss of his friend and mentor.
"Really just utterly surprised. It really doesn't feel real at all, it really just feels like a dream," Gibbs said.
The president and founder of Crown College Dr. Clarence Sexton posted a message on Facebook Tuesday afternoon asking for prayers for Blake Smith's family and for his fellow students and teachers.
Sexton, who called Smith an outstanding student and a great young man, said the situation was tremendously heartbreaking for all involved.
"We love Blake and his family. He was a friend to so many. We want you to pray for God to sustain and encourage his family, they've been an encouragement to us. Pray the Lord will encourage our student body as we seek to press on and finish what God has given us to do," he said.
Sexton said Smith's parents were planning a memorial service in Birmingham, Alabama.
Smith preached at various churches near his hometown in Alabama. Assistant Pastor Matt Bookout of Mountain View Baptist Church in Birmingham said they can take some peace in Smith's death from how he lived his life.
"At the time of sadness, we always rejoice and know that Blake is in heaven. We will see him again and that we can rejoice in that fact, and because of his life and how he lived for Christ on this earth, it makes his testimony in death shine even brighter," Bookout said.
UPDATE Monday, February 5, 2018
Blount County Sheriff James Berrong confirmed a body was found in George's Creek, which drains into Fort Loudoun Lake, not far from the area where missing Crown College student Blake Smith's vehicle was found.
Authorities have not positively identified the body, and they are still investigating what happened to Smith.
Berrong said the sheriff's office used a drone to locate the body in the lake, then called in a helicopter from the Knox County Sheriff's Office to better map out the location.
Jim and Kim Smith, parents of the missing student, said they're relying on their strong Christian faith to carry them through this difficult time.
"God's in charge of all things regardless of how they look or appear. And, so we will continue to pray and continue to ask the Lord to lead and direct us while we are here," Kate Smith said. "In the meantime, we want to give God credit for all he is already done in our son's life because he is really good. I call him a boy, but he doesn't like to be called a boy, but he's a really good 20-year-old boy."
Knox and Blount County authorities are searching for a man that disappeared in Knoxville over the weekend.
The Blount County Sheriff's Office said officers with both Knox and Blount County are actively searching for 20-year-old Blake Smith after he disappeared Saturday around 2 p.m. Smith is originally from Alabama, but came to Knoxville to study at The Crown College.
BCSO said Smith's family reported him missing Sunday. Deputies found Smith's car, a tan 2014 Toyota Camry, abandoned at a construction site at Ballards Way in Louisville. Investigators found his phone and other personal belongings near the vehicle, saying it crashed into the deck of a home that's under construction.
According to posts his family made on Facebook, Smith's family said he left for work Saturday and never made it back to his college dorm.
Family also shared an image of Admiral Farragut Park, saying it was his last post on his Instagram account around the time he vanished. The park is about 3.5 miles away across the Tennessee River from where his car was found. The family said they believed he may have been in the park area when he disappeared.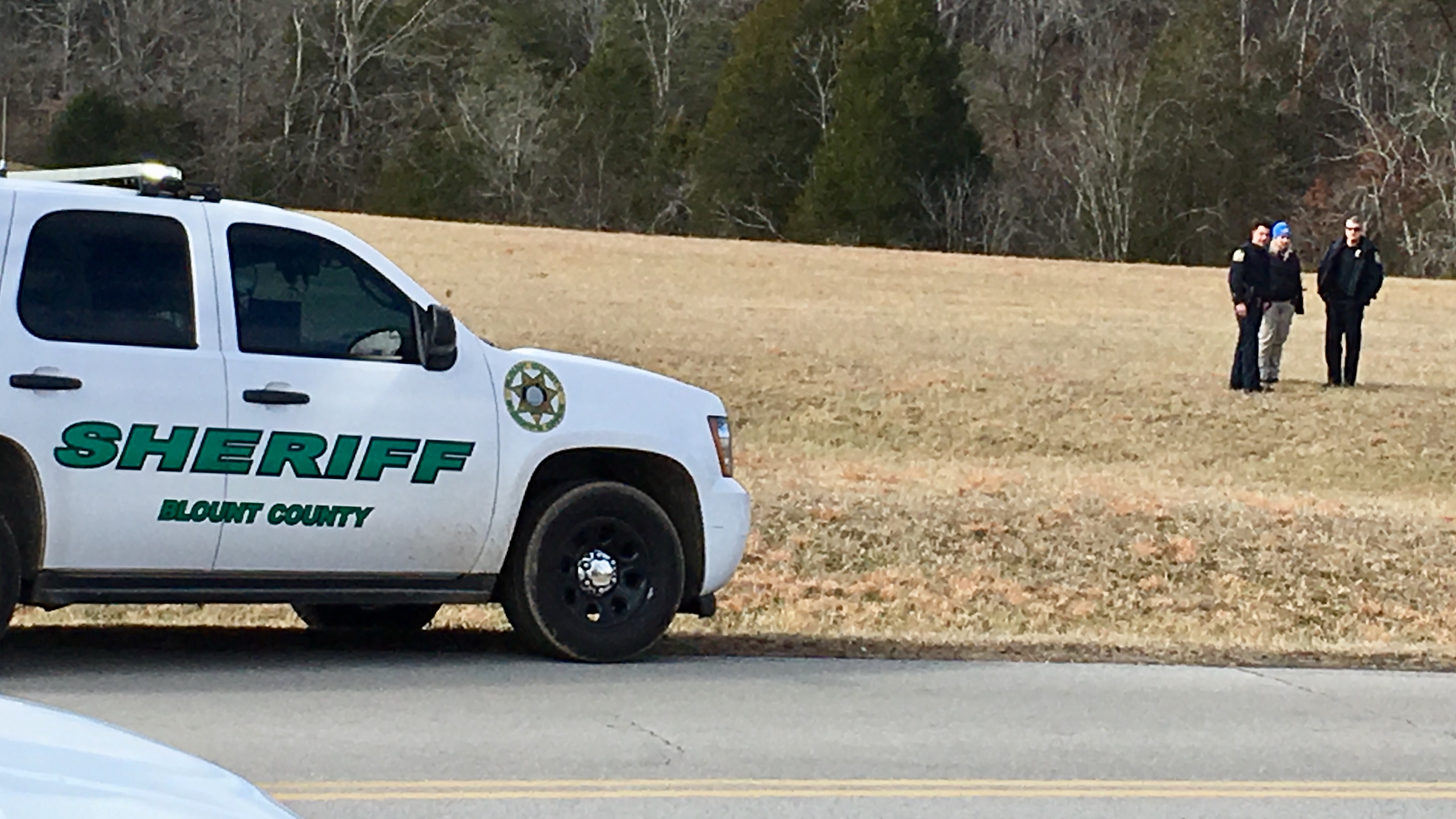 A volunteer crew with drones were in the air searching for Smith above the park, and K-9 units were dispatched to search for his scent. The family created a Facebook page to help disseminate information in the search, asking others to not get directly involved in search process at the moment as it could impede the official investigation and K-9 units.
Smith is described to be 5 feet 10 inches tall and 150 lbs.
BCSO is leading the investigation with KCSO's assistance. Anyone with information about Smith's whereabouts is asked to call KCSO at (865) 215-2243 and BCSO at (865)273-5001 or its anonymous crime hotline at (865)273-5200.