What's your number? Exploring the Enneagram personality test
The Enneagram personality test focuses on your core motivation as a person and how that impacts your self-growth and interactions with others.


You've probably seen the nice drawings and memes on Instagram joking about what coffee shop or Christmas ornament you are based on something called an Enneagram type.
But what the heck does that mean? How can being a type 1, 2, 3, 4, 5, 6, 7, 8 or 9 determine anything about you?
The Enneagram personality test is growing in popularity as more people are using it in therapy and counseling, business training and the aforementioned successful meme and graphic design accounts on social media.
As we dive into explaining what it is, take the Enneagram test here.
Taking multiple tests can help you accurately figure out your type.
What is the Enneagram?
:
Simply put: Nine personality types mapped on a geometric shape called the Enneagram that gave the test its name.
The position of the nine types on the Enneagram is said to provide insight into their connections with the other types. How a person answers the test's questions determines which number or type they fit into.
The analysis can be likened to that of the Myers-Briggs test in that each personality can be identified with basic strengths and weaknesses that can provide a person with revelations, aiding in their self-understanding and self-awareness.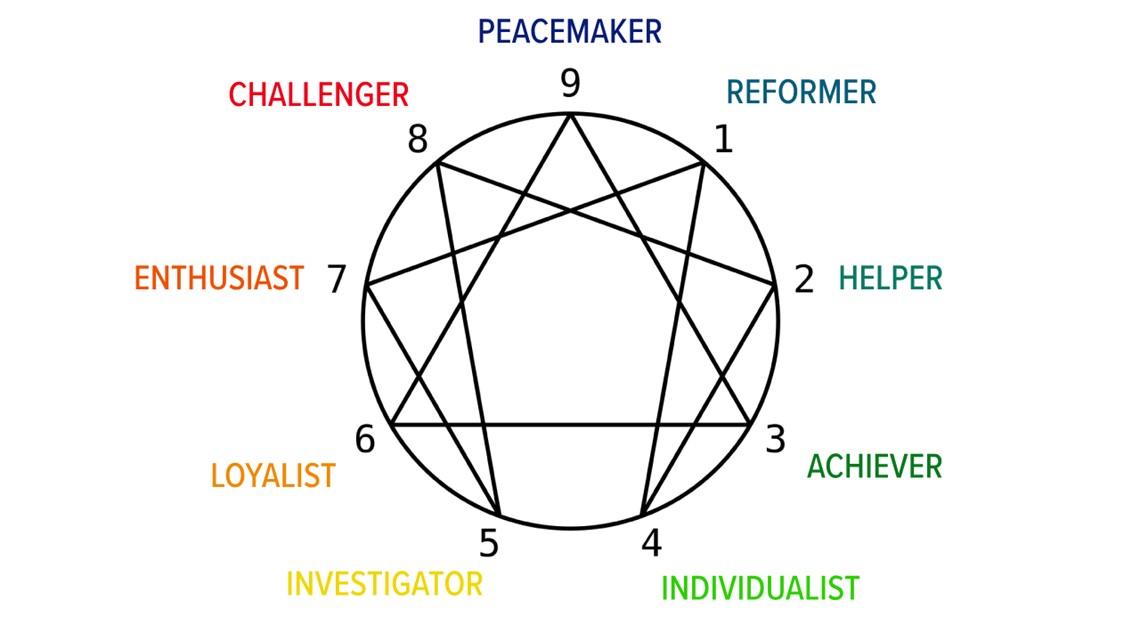 What are the nine types?
Each type is represented by a number and name that exemplifies the dominant trait of that personality. Different websites will give these types similar but slightly different names.
The Reformer: Types that seek improvement and perfection
The Helper: Types that seek to help, to love and to be loved
The Achiever: Types that seek success and validation
The Individualist: Types that seek individuality and uniqueness
The Investigator: Types that seek knowledge and understanding
The Loyalist: Types that seek firm beliefs and trust
The Enthusiast: Types that seek satisfaction and pleasure
The Challenger: Types that seek self-sufficiency and control
The Peacemaker: Types that seek harmony and wholeness
Every type can also have two "wings," which are simply traits from the two personality types adjacent to yours on the Enneagram. So a type 9 might have a type 1 or type 8 wing.
The lines that connect the personalities are showing how each type may act in times of stress and growth.
A type 7 tends to take on the more perfectionist traits of a type 1 when stressed but takes on the healthy traits of a rational thinking type 5 when they're in a good headspace.
What do I do with my number?
You can do everything or nothing. Enneagram coaches remind people knowing your type is a tool for personal growth, not a label that dictates your life.
Knowing your personality type can help you notice when you may be in a bad headspace and learn steps you can take to help yourself reset.
More counselors and therapists are beginning to use the Enneagram in counseling for couples. Knowing your partner's Enneagram type can help you both better understand how to best communicate based on each other's personality.
For that same reason, businesses are using Enneagram training for coworkers to know how to best work with each other and engage with clients.
Parents can also learn the strengths of their type and how they can translate to better parenting, but don't try to type your young children. The Enneagram reveals your true personality, not your outward behavior toward others.
Criticism of the Enneagram test
More so than even the Myers-Briggs test, the Enneagram has been widely criticized for employing pseudoscience, meaning it has little actual scientific backing or merit.
Some disagree with that harsh assessment, saying even though there's little rigor in the way of peer-reviewed studies on the test, it still functions as a valuable tool for self-insight.
The largest piece of criticism about the Enneagram model is that the nine types are largely ambiguous to the point that it's easy to shoehorn someone into any one of the nine types based on their answers, likening it to the "Barnum Effect" associated with fortunetelling and astrology.
However, Enneagram coaches remind people that we all have a little bit of each of the types inside us. This is simply a tool to learn more about yourself.
Self-Growth and Mental Health
:
So now that you have your number, we're exploring how to use it.
10News worked with four Enneagram coaches to turn that test result into a tool to help in life.
"It's fun to know about yourself. I think it's interesting to learn about why you do things you do," said Paula Hollingsworth, a counselor and type 1 certified Enneagram coach.
"All of a sudden, you have language for what you felt for your whole life," said Paige Severance, a type 5 certified Enneagram coach.
"You almost feel like, if anybody knows my type, they're gonna know too much about me," said Corretta Woodard, a counselor and type 2 certified Enneagram coach.
"It's not a box that you're putting people in, it's helping people kind of know and understand who they are," said Daniel Park, a real estate agent and type 9 Enneagram coach.
All these coaches agree there's a sort of power in leaning into your type for self-growth. Even if you're not sure you really love the personality type you fall into.
"It's hard because you find out things that you'd wish you hadn't found out, but it's good that you did because then you can change it," Paula said.
Once you know your type, you learn that more than just one of the numbers on the Enneagram chart relates to you.
"There are levels of development," Paige said. "There is high level when you're doing really well. There's average when you're kind of asleep to yourself and kind of going through the world unconscious. And then there's the lower level where you're not doing well at all."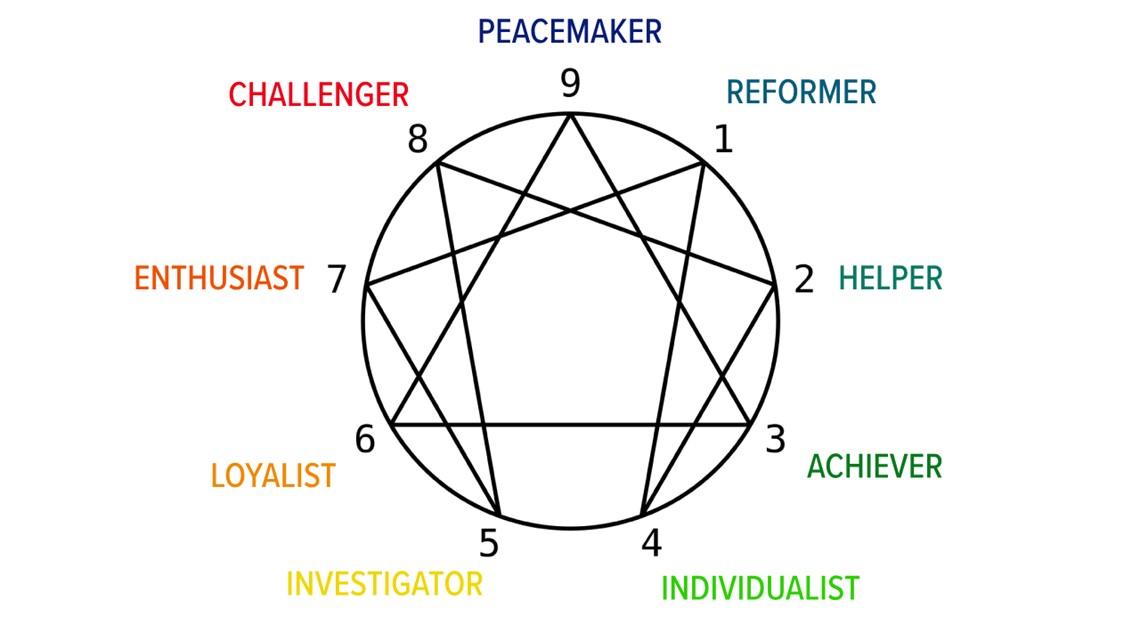 Looking at the chart above, you'll notice each number has two lines that connect it to two other numbers.
Those indicate the personality traits you take on in times of stress and in times of growth.
For example, type 7s are known for being upbeat, spontaneous people who love adventure, have a fear of missing out on the next best thing and can be scattered despite their glass-half-full approach to life.
In times of stress, or the lower level of development, a type 7 takes on some of the negative traits of a type 1. That means they can become perfectionists, fixating on small details of big projects and snapping when people interrupt their work.
In times of higher-level growth, a type 7 takes on the positive traits of a type 5, meaning they can step back and view problems from a rational standpoint and weigh all options without emotions getting in the way.
"Our personalities change a lot based on circumstances, environment, history, that kind of thing," Daniel said.
These coaches said each Enneagram type has different wake-up calls that alert them when they realize they need to prioritize their mental health.

"You can begin to see when you need to fill up, or when you need to shut down for a little while and rest," Corretta said.
She gave suggestions of what each Enneagram type should do when they're feeling depleted, sad or just in a funk.
Having things planned out and in order
Remembering what you like to do for fun
Having help around the house
Taking time for yourself
Slowing down
Do things that you want to do
Someone asking you how you're doing
Being with people you love
Taking care of your needs
Saying "no"
Having a day with no responsibilities
Receiving positive reinforcement
Getting enough sleep
Putting work away
Getting outside
Being unapologetically true to yourself
Having alone time with music
Having deep conversations
Spending time in nature
Nice ambiance
Spending time in reflection and introspection
Learning something new
Peace and quiet
Working on a project
Alone time just to observe
Doing something that makes you feel comfortable and being at home
Doing something you enjoy
Listening to your favorite songs
Getting a lot of sleep
Watching Netflix
Being able to help people
Experiencing new things
Being with people you love
Going on vacation
Community
Taking a break from always taking the lead
Getting rid of clutter
Spending time alone
Having a routine
Being creative
Having a peaceful environment
Connecting with others
Being cozy on the couch
Having quiet time
Relaxing or napping
"We know ourselves better than anyone," Corretta said. "And we know when something's off. But it's learning how to trust yourself, right? And so once you notice that something is off, you have to do what you know is your healthy coping skill."
Knowing your Enneagram type also means learning more about your true self and identifying your true fears and desires.
"When you start asking the question, 'Why do I do the things I do?' Then you get below the surface and you get to your motivation you get to what your core fear is and what your core desire is," Paige said. "Every single decision that a human makes is either moving towards their desire or away from their fear."
When it comes to the base of it, Corretta said each type really just wants one main thing.
Type 1s want to know they are good.
Type 2s want to know they are loved.
Type 3s want to know they are valued.
Type 4s want to know they are seen.
Type 5s want to know they are not a burden.
Type 6s want to know they are brave.
Type 7s want to know they are cared for.
Type 8s want to know they will not be betrayed.
Type 9s want to know they are needed.
Success in Business
:
Once you better understand yourself, you can start using the knowledge of your own personality to work better with others.
"The number one predictor of someone's success is self-awareness," Paula said.
Whether you work in an office, a hospital, a gym, a newsroom or virtually from home, more businesses are using personality test coaching to work on communication in and out of the office.
If you look around your workspace, there are probably people you jive with better than others.
"Let's say that someone responds in a certain way," Daniel said. "And on the surface, you might be like, 'I'm a little bit offended by that response.' But then you can think like, 'Oh, wait, they're not being rude. This is just kind of their style of communicating.'"
Daniel does professional coaching for all types of businesses and uses the Enneagram in his workshops.
"The more self-aware people are, the more confidence they have, the better they're going to be in their role," he said.
They can also better understand the needs of their coworkers and clients.
"Specifically, it's knowing how people like to communicate or receive communication," Daniel said. "So for example, some numbers are much more direct, they just want to hear, 'Give me the facts, and let's move on.' Other people really want you to soften it or kind of tailor their communication."

For example, type 2s are very interpersonal. Paula suggests if you have a problem you need to address with a two, start by asking them about their weekend and their family before getting to the real reason you're there.
Meanwhile, a type 3, who's very goal-oriented, shouldn't be interrupted in the middle of a task, but when they do get directions, they prefer them to be straight to the point.
Then type 9s, who sometimes can blend into the background, should be told their opinion is valued and wanted by coworkers.
Small and big companies alike host Enneagram training with their employees.
Paula said knowing everyone's type can even be used to determine where people should sit in an office.
"Your 5, they need to be over in the corner in a room by themselves," she said. "Because that stuff just drains them, all the people checking on them."
Whereas she said 7s and 2s need to be around a lot of people.
Daniel said knowing people's personality types can also help in recruiting and hiring.
"Hey, we need this role filled, and I know these types of numbers tend to have greater skills in that kind of context or in that kind of specific role," he said. "Not that you're hiring or firing 100 percent based on what someone's personality typing system is, but it can really help."
Paula said each type has strengths that can translate well in any business:
Type 1s are organized and detail-oriented.
Type 2s are approachable and have a genuine concern for others.
Type 3s are goal-oriented and productive.
Type 4s are creative and artistic.
Type 5s are curious and analytical.
Type 6s are logical and good at thinking ahead.
Type 7s are high energy and embrace change.
Type 8s are confident and comfortable with confrontation.
Type 9s are adaptable and easy to get along with.
"To me having a lot of different numbers represented is a real strength to any business," Daniel said. "You're gonna have a lot of unique conversations, which will be fun, and it kind of keeps things moving. It keeps things interesting."
Interesting and smooth when everyone in an office setting knows they're valued for what they bring to the table.
Relationships and Parenting
:
When you know your Enneagram type, you can start applying that knowledge to your relationships with others.
"You're doing life with all different types of people and not everybody is wired like you," Corretta said. "So it's being able to love them how they feel loved and not all the time doing things that just fill your cup."
Corretta uses the Enneagram in counseling sessions with couples for each partner to learn more about the other.
"If you're able to communicate what they need to hear, no matter if it's during a mistake or if it's during the highest points of their day, then that's important for them because it gives their heart peace," she said.
No two types are more compatible than others, but you'll notice each type deals with things differently.
For example, type 7s and 9s are both non-confrontational, meaning as a pair they can go long periods of time without bringing up issues that may be bothering them.
As we always hear, communication is a key to successful relationships, whether those be professional, romantic or platonic.
"As you know people's type, you want to know what is it that they need to hear in everything that they do," Corretta said. "You want to avoid using the Enneagram as a weapon, right? It's not there for you to dissect them, to criticize them, to put them down, but it's actually there to teach you who they are."

The same can be said when it comes to parenting.
Paige is a type 5 and her husband is a type 8.
"He has a lot more assertive energy and again, mine's more withdrawing energy," she said. "I think things through a little bit slower. He's very quick in his thought process, and so all of that plays into our parenting styles."
They have five kids with very different personalities.
"It's not about finding the type of my child in order to parent them better. It's really understanding myself and how I parent as a type 5," Paige said.
Paige said it's important not to try to assign an Enneagram type to your young children as their personalities are still evolving. What may seem like a personality trait may just be a behavioral or developmental stage your child is going through.
"If you're not aware and you're just parenting your child by the type you think they are, you could be very, very wrong," Paige said. "And then you're applying things that should not apply to that child. "
Corretta walked us through each type's parenting style, including strengths and areas for improvement. She goes into more detail in this blog post.
Type 1 parents believe in order and rules, which give kids good structure. Don't forget to allow for some spontaneity.
Type 2 parents are nurturing and empathetic, and kids are protected with them. Allow your children to sometimes face challenges on their own.
Type 3 parents will do anything to help their kids succeed. Remember not all kids thrive under pressure.
Type 4 parents are open-minded and accepting parents. As they can be emotional, make sure not to project your own emotions onto your kids.
Type 5 parents encourage curiosity and learning and engage best when kids approach the age when they start asking harder questions. No matter how mature your elementary school kids are, still treat your kids as kids.
Type 6 parents are dependable and supportive, and kids know they can always lean on them. Try not to be overprotective.
Type 7 parents are fun and always planning the next exciting adventure. Don't forget kids also need routine and stability.
Type 8 parents take charge and will do anything for their kids. Don't let a "my way or the highway" mentality stop your kids from finding their own passions, emotions and interests.
Type 9 parents are laid back and approachable. They can also be taken advantage of, so put your foot down when needed.

The Fun Stuff
:
Okay, you've grown as a person. Now let's talk about the fun stuff.
You know what I'm referencing. The memes. The illustrations. The jokes. The cleverly curated Instagram graphics that tell you what Christmas ornament, vacation destination or Stranger Things star you are based on your Enneagram type.
"Some of them are hilarious. I think it's because they're true," Paula said.
There's lots of laughable Enneagram content on social media.
Creator accounts have thousands of followers who tune in loyally to find not only listicles and cute drawings, but actual tangible advice about how to use the Enneagram in different parts of life.
"There's two things that are great about the memes," Daniel said. "One is they're fun. They make me laugh all the time. I also think is a great way for people to be introduced to the Enneagram because, like you said, they may see it on, you know, a Facebook post or something on Instagram. And they're like, 'what is this thing? I've never heard of this.'"
Truly this is how a lot of people have learned about the Enneagram over the past few years, this reporter included.

While they can be fun, because honestly who doesn't want to know what Halloween candy they are, coaches said some of the more brash memes are not actually helpful.
"I don't like them all," Corretta said. "I mean some of them are pretty accurate. But again, it goes back to we don't want to use the Enneagram as a weapon, right?"
"I think when you're talking about the memes, you're probably getting an idea of what each type is at their, you know, average," Paige said.
The Enneagram should be a tool for growth, not putting people down.
Paige noted some jokes and memes are based more on behavior than personality, which the Enneagram works to remind people are very different.
Behaviors change, but your core motivations, fears and desires generally don't.
Now no drawing or photoshopped meme is made from malice, but some can be interpreted that way.
Though for the creators, and a large majority of media consumers, it's all in good fun. More often than not, these act as tools to help you visualize your true type.
"There's nothing wrong with just laughing at yourself," Paula said.
If you're interested in contacting any of the Enneagram coaches used in this story, find their information here:
Email Paige Severance at knoxenneagram@gmail.com.
Email Daniel Park at daniel@leadershipcollective.net.