KNOXVILLE, Tenn. — Greyhound has a new bus station in North Knoxville. This comes after months of safety complaints about the previous site on Cherry Street.
Previously Greyhound used the Marathon gas station as a connection bus stop. On its website, the company now lists the Knoxville stop at "Top Market and Deli" at 1607 North Sixth Avenue, also known as the "6th Avenue Market and Deli." The location has gone by other names in the past, including "Bill's Market and Deli" and "Annus Market and Deli." It is only a mile away from the previous stop.
"We are excited to have identified a new location that will provide restrooms, seating and security for our customers," Greyhound said in a statement to WBIR.
The former stop on Cherry Street near Interstate 40 drew public criticism for being unsafe and exposed.
The area consists of several gas stations, a truck garage, railroad tracks and a budget residence motel among other neighbors. Most of the businesses shut down at night.
Passengers sat on the curb outside of the Marathon gas station and were not allowed to wait inside the gas station or use its bathrooms. It had little protection from the weather. Customers gathered in the station parking lot at all hours of the day.
Owners of the old location, the Marathon gas station, said they were fed up with it being a bus stop. They told Greyhound to move the bus stop by October.
Passengers said the new location, just a mile down the road, doesn't seem any safer.
"I don't know about the last place but if it was anything like this, this is not cool," Quadras Buckley, a Greyhound passenger said. "When the sun goes down you know what happens. A lot of bull crap comes out then."
People traveling by Greyhound in Knoxville say only time will tell if the new location at Bill's Market and Deli is safer. The new bus stop is also outside but with no covered area for people to shield the weather. There is far less lighting than there was at the old stop. Customers are expected to sit in one of the only four chairs behind the uncovered back alley of the building. They are not allowed to wait inside the deli or use its bathrooms. There are two portapotties outside.
"They close at 5 or 6 and then of course they have porta potties but it's really not enough," Buckley said.
"I was in prison and they just threw me off the bus here," Paul Rogers, another passenger said.
Rogers was just released from prison in Morgan County. He said he's thankful he didn't get dropped off at the old bus stop location.
"Whenever I was back in prison I was worried that I was going to get sent over there because I know exactly what gas station they're talking about. Right behind that gas station, there are a lot of people doing bad stuff. It's no wonder somebody disappeared from over there," he said.
Jackie Neal, a former Greyhound employee, has volunteered herself to help passengers who find themselves at this bus stop. She said she has been the one responsible for finding a new location and sorting out the details.
"It's still a temporary thing until we can find a building," Neal said. "There will be security here so I think it is the better location. There's more movement for the buses."
In the meantime, she said she's doing her best to advocate for the people traveling Greyhound through Knoxville.
Neal said security is supposed to arrive each night at 6 p.m. She also said another bench will be placed there for travelers. Jackie's wish for people riding the bus: "Just a safe travel. Have fun," she said.
Previously, Greyhound operated for many decades at its own station on E. Magnolia Avenue near the Old City. In February, the property sold for nearly $1.5 million to a limited liability company that has development plans for the site.
After Greyhound sold the station, the city of Knoxville engaged in talks with Greyhound about the prospects of it privately leasing part of KAT's Knoxville Station after hours.
The city said it hadn't yet heard back on whether Greyhound was interested in using the KAT station.
While Greyhound can choose to partner with any private owner to rent a drop-off site, the city also said it urged the bus operator to find someone that could offer restrooms, shelter and 24-hour operations.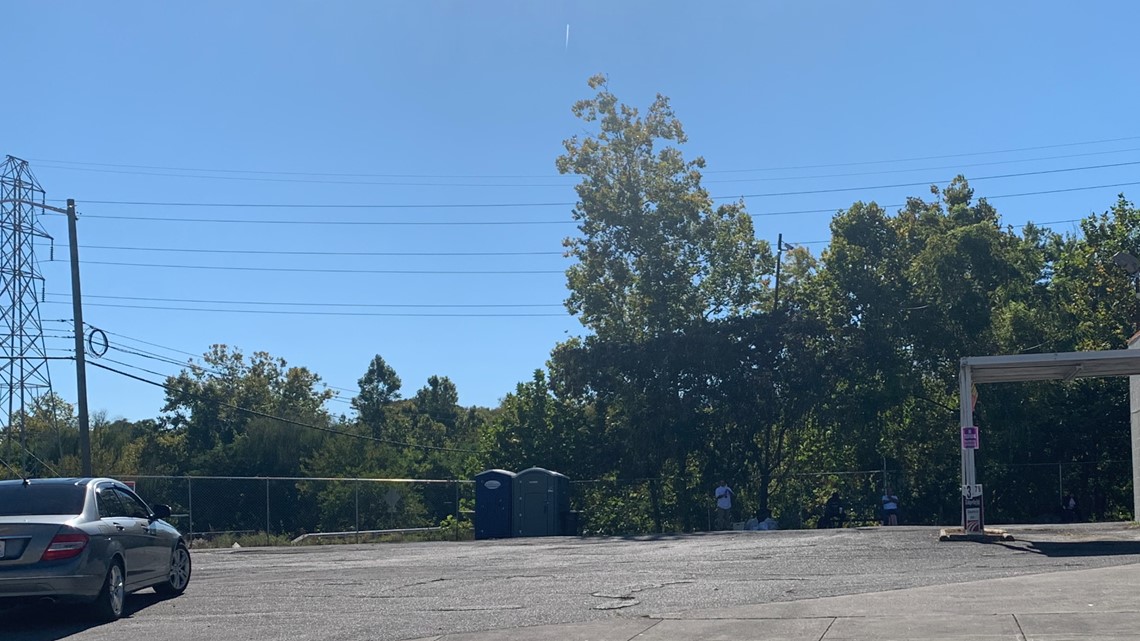 The owner of the Marathon station where Greyhound had been dropping off and picking up passengers told WBIR in August he had given the company until early October to find a new location.
In a statement then, Greyhound acknowledged the Cherry Street location posed "challenges" and it said it was looking for a different location. It also said that "we continue to work with the city to find a more permanent arrangement."
Some customers have complained to WBIR that they've been stuck at the station or left at a motel because their Greyhound bus broke down. Volunteers sometimes went to the Cherry Street site to offer company or even refreshments to those passengers waiting in the dark.