UPDATE: Thank you!!
With the help of our wonderful East Tennessee community, Compassion Ministries will be able to deliver tons of supplies to tornado victims in Putnam County.
Starting Friday and continuing through the weekend, you answered the call be dropping off donated items at Cornerstone Church of God in Farragut.
Robin Rolland of Compassion Ministries said the response was "out of control!"
They have already filled two 18-wheeler tractors to the roof with donated supplies, along with two other smaller trucks. She estimates there are least 70 pallets full of donations.
And Rolland said they are still coming.
WBIR
So thank you, East Tennessee, for always being there when there's a need!
The supplies will be delivered this week to Cornerstone Elementary School where they plan to distribute the supplies on Wednesday.
There are still ways to help! You can find those here:
RELATED: Tennessee tornado victims: How to help
Original story
Many of our neighbors in Middle Tennessee are hurting.
A tornado outbreak early Tuesday morning killed 24 people across the state, including 18 in the Cookeville area, which is just over 100 miles west of Knoxville.
We are the Volunteer State, and in times of need, Tennesseans step up.
There are a number of ways to help those who've lost everything, and we're excited to be involved in one collection effort with Compassion Ministries.
They have a truck just waiting to be filled with supplies in the parking lot of Cornerstone Church of God, which is located at 12813 Kingston Pike in Farragut, and we want to help them fill it!
RELATED: Tennessee tornado victims: How to help
RELATED: Help is pouring in to help victims of Putnam Co. tornadoes
Join us throughout the day at the church on Friday, March 6!
They will also be collecting from 10-5 on Saturday, 1-5 on Sunday, and 10-5 on Monday.
(List of needed supplies below photo gallery)
Putnam County tornado damage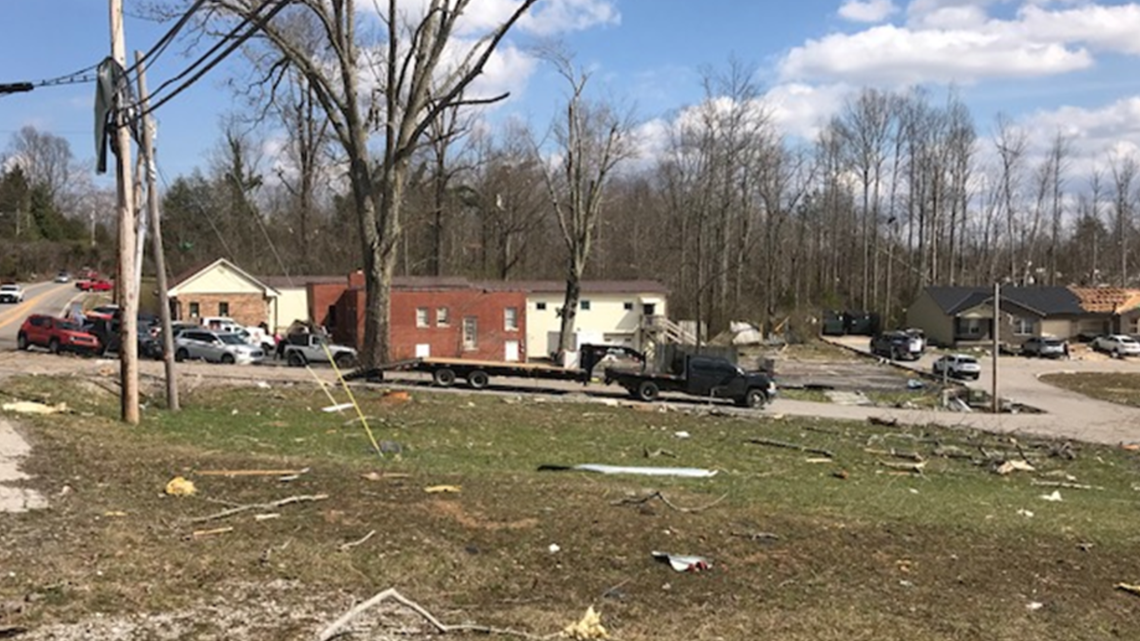 • A case of water
• Hygiene products
• Feminine hygiene products
• Diapers & wipes
• Adult diapers and bed pads
• Ensure
• Formula & Baby bottles
• Cleaning supplies
• New underwear
• Gatorade
• Protein bars
• Pillows blankets
• Laundry detergent
• Garbage bags
• Flashlights
• Batteries
• Plastic totes
• Non-perishable food (i.e. Soup, Crackers, Chips)
• Toothbrushes
• Toothpaste
• Towels & Washcloths
• Hand Sanitizer
• First Aid Items
• Shampoo & Conditioner
• Books, Games, and other Activities for Children
• Pens, Pencils, Writing Pads
• Paper Plates, Cups, and Plastic Utensils
• Deodorant
The supplies will be delivered on Tuesday to Cornerstone Elementary School, located at 371 First Avenue South, in Baxter, which is located just west of Cookeville. Volunteers plan to take a day to set up then distribute the supplies to victims on Wednesday.
RELATED: Donate smart! Officials warn about donation scams after Tennessee tornadoes
RELATED: Cookeville coffee shop collecting photos lost in storm in hopes of reuniting them with families
RELATED: Remember their names | Family, friends share memories of lives lost in Putnam County tornado
RELATED: East Tennessee crews helping with Middle Tennessee tornado damage
RELATED: 'We would've died' || Putnam County man describes the moment an EF-4 tornado destroyed his home in seconds
RELATED: 'They lost their little girl' || Cookeville church mourns 4-year-old and beloved sister lost to tornado
RELATED: Three members of one sleeping family killed when tornado hit their home
RELATED: 13 adults, 5 kids killed in Putnam County EF-4 tornado, officials say
RELATED: Aerial images show before-and-after tornado damage
RELATED: Why were the Tennessee tornadoes so deadly?
RELATED: Blood donations needed following devastating tornadoes in Middle Tennessee
RELATED: Weather aware: How to plan ahead and find your safe spot in case of a tornado
RELATED: Why are there no tornado sirens in many East Tennessee communities?