Knoxville — Ijams Nature Center is about to put a little 'wild' in your workout.
The nonprofit nature center will break ground on the Ijams Primal Playground this winter.
It is the first natural exercise/training site of its kind, combining landscape features such as boulders, logs and trees with a customizable training plan designed by a physical fitness expert.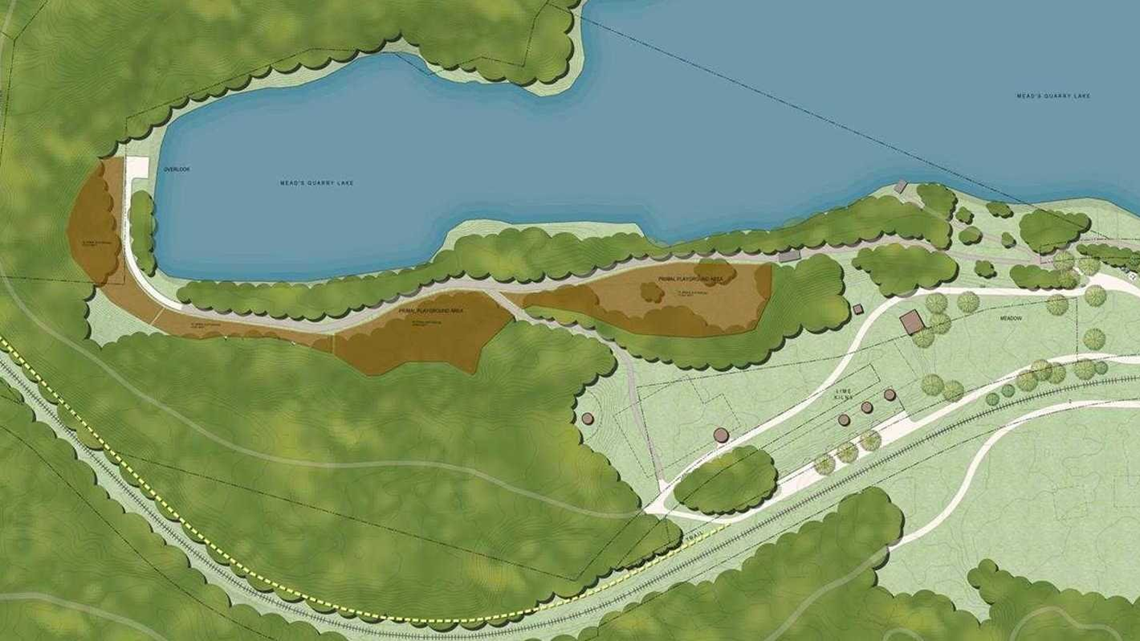 "Research shows that exercising in natural areas increases the intensity of that activity while increasing our connection to the natural world," Ijams executive director Amber Parker said. "People build connections to nature in different ways, and the Ijams Primal Playground will be a way for people to get out of the gym and into the wonder of East Tennessee's landscape. This project will get a whole new group of people outdoors and give nature lovers another way to spend time in the wild."
The Ijams Primal Playground will be funded through a partnership with Legacy Parks Foundation, The Siddiqi Charitable Foundation and Earthadelic, a local landscape and construction company.
"The mission of Legacy Parks is to ensure that this community has access to outstanding recreational opportunities, natural beauty and open spaces," said Legacy Parks executive director Carol Evans. "Collaboration is at the heart of everything we do. Amber's vision for the Ijams Primal Playground is something that hasn't been done before, and Legacy Parks is thrilled to be able to bring on Siddiqi Charitable Foundation and Earthadelic as partners."
Ijams' goal is to create an experience that marries nature and fitness in such a way that the training area blends seamlessly into the natural surroundings and enhances the benefits of exercise.
The Ijams Primal Playground also will include educational elements about the history of Mead's Quarry and the natural history of the region, creating a well-rounded exercise and educational experience unlike anything currently being offered.
Mark Rice, a South Knoxville native with 10 years of experience as a trainer and fitness manager, will design the Ijams Primal Playground to ensure physical elements meet current best practices for the fitness industry while using nonstandard natural materials and methods.
"Mark's knowledge of human movement and progressive training makes him highly qualified for this job," Parker said. "He is a Certified Personal Trainer by the National Academy of Sports Medicine and a specialist in corrective exercise and senior citizen training."
The customizable workout plan Rice is creating will allow individuals of all fitness levels to adjust their workouts using progressive weights and increasing difficulties. The space will feature a variety of options to accomplish seven basic human movements: push, pull, carry, hinge, squat, loaded carry, rotation and counter-rotation.
By blending these movements with endurance activities such as hill runs, someone can use the plan to create an exceptional physical training experience.
"The use of the natural environment, with all its irregularities and unanticipated characteristics, also increases the use of proprioception, the body's awareness of its position in the environment and kinesthesia, the sense of how the body moves in that environment," Rice said.
Parker, a naturalist who loves hiking and strength training, has envisioned creating an outdoor exercise space using natural elements for some time.
"We protect what we love. The Ijams Primal Playground is a new way to create a special relationship between people and nature," she said. "We are extremely fortunate to have partners with similar values and missions to be able to make this project a reality. Our goal is for people to be healthy and happy, and we all want the same for the Earth."