KNOXVILLE, Tenn. — A veteran Knox County captain previously accused of sexual harassment inappropriately touched a Knoxville restaurant worker on the bottom in June, one of several instances of bad conduct toward her this year, a Knox County Sheriff's Office review has found.
The investigation conducted this summer by KCSO's Office of Professional Standards verified or "sustained" three instances in which Capt. Mike Evans acted unprofessionally toward the woman or others at the Twisters diner on Central Street.
Besides touching her bottom, he inappropriately kissed her on the forehead in January on her birthday and also had made crude remarks to women including apparently the employee such as, "I'll slap you naked and hide your clothes," investigators found.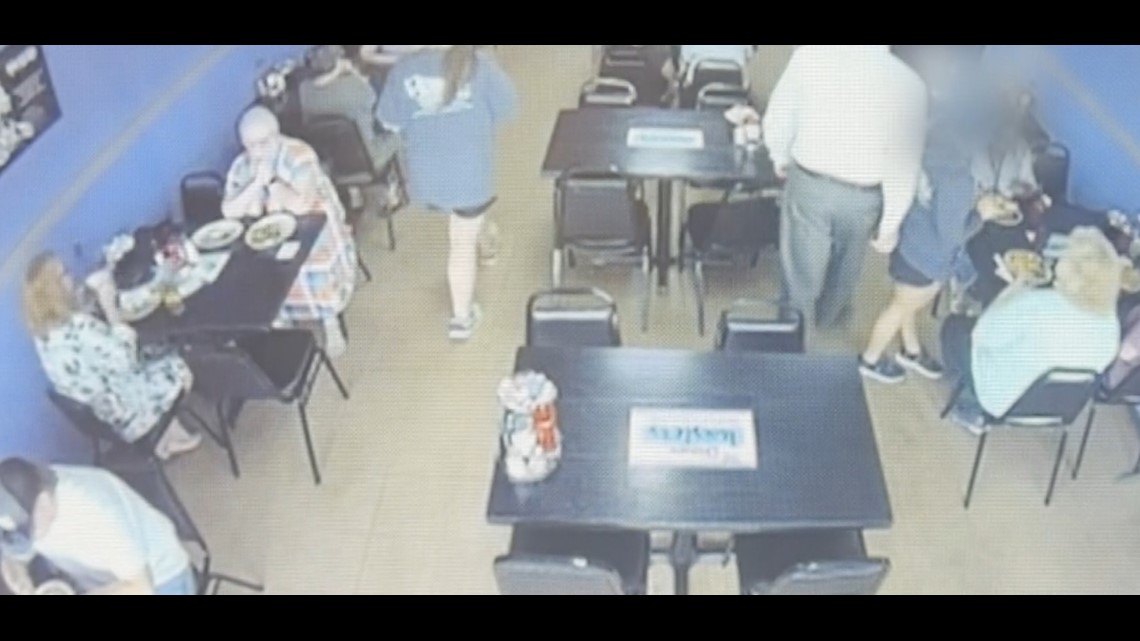 Evans denied the accusations. One officer, however, recalled him volunteering that he'd done it and had thought about pinching her, records show. Restaurant video shows the moment he touched her, according to authorities.
Sheriff Tom Spangler put Evans on paid leave last month while the investigation took place.
KCSO released the internal investigation documents Tuesday to WBIR based on a public records request. WBIR reported about the internal review last month as it was ongoing.
At first there was consideration about suspending Evans for several weeks as punishment, multiple sources tell WBIR.
Then, after he was put on leave in July, Evans submitted paperwork to retire.
It's effective Friday, Aug. 11.
Evans, a nearly 30-year veteran whose most recent assignment included the animal control office, couldn't be reached from comment.
In 2011, KCSO looked into accusations that Evans touched a young department secretary and said inappropriate things to her while he was a patrol shift commander. The woman herself relayed details of the alleged incidents.
It's not clear how that investigation was resolved. Records appear incomplete, according to the Sheriff's Office.
In June, the Twisters employee filed a citizens complaint.
Evans, the woman wrote, on June 1 "walked behind me + hit my butt with his phone. I walked back to the table he sat at and he stated that it didn't startle me + he thought about pinching it but that might have been too much.
"Another incident occurred on Jan. 13, 2023...where he grabbed my face + kissed my forehead."
Evans has a history of such behavior, multiple sources have told WBIR. Restaurant video obtained by WBIR shows Evans' June 1 contact with the woman.
In a follow-up interview with KCSO investigators, the woman said Evans had "grabbed" her face, kissed her on the forehead and told her "Happy birthday" on Jan. 13. She said he made her feel uncomfortable.
She said he'd also remarked in the past that he should "slap her silly or naked or 'something to that extent.' "
The woman told investigators it was her opinion that Evans "believed he could say and do things because of who he is and that she would not do anything about it," the investigation found.
She didn't want him coming around any of three area Twisters restaurants anymore, she told authorities.
Investigators also spoke with KCSO Patrol Officer Thomas Sawyer, who ate lunch at Twisters with Evans the day of the phone incident.
Unprompted, Evans remarked at the table to Sawyer that he had touched the woman with his phone, Sawyer recalled.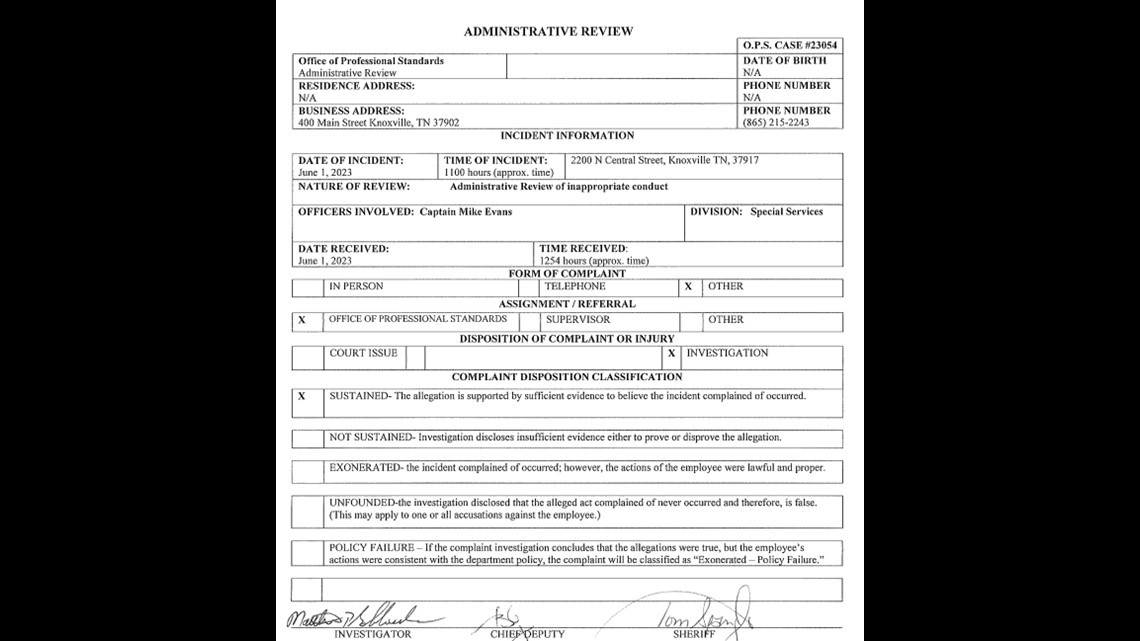 He recalled him saying that he'd used his phone to touch her and he'd thought about pinching her "but I felt that might be too inappropriate."
Sawyer also recalled the Jan. 13 kissing incident because it made him feel "very awkward." The woman, Sawyer recalled, reacted with a "weird look."
Sawyer also told investigators that Evans had "frequently" told a restaurant employee -- whether it was this woman or another person he wasn't sure -- "I'll slap you naked and hide your clothes."
Investigators also spoke with KCSO Capt. Eric Edlin, who was dating the woman and ate often at the restaurant.
Edlin didn't witness the phone incident, but the woman told him about it, saying she was in shock and couldn't believe it. She'd also relayed the incident regarding the birthday kiss to him, he said.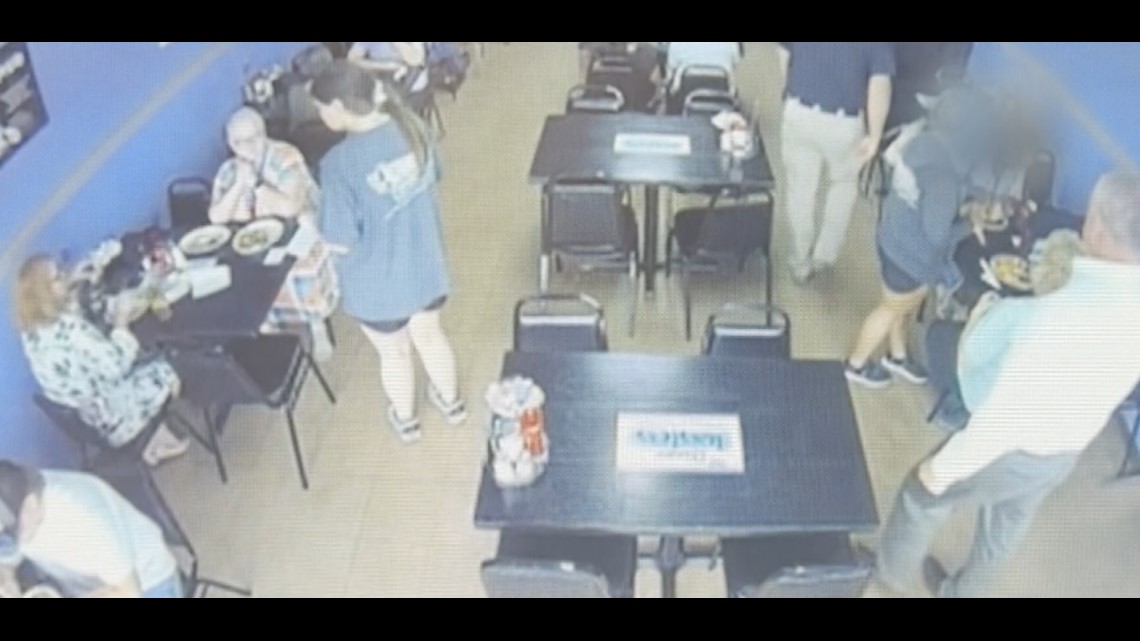 Professional Standards investigators talked with Evans on June 12.
At first he was adamant the touching incident never happened June 1. "No such thing" happened, he said, according to the investigative summary.
Then authorities showed him the restaurant video on a computer.
"After Capt. Evans watched the video, he confirmed the video did depict him hitting her butt, however, he did not intentionally hit her on the butt. Captain Evans stated he did not hit her on the butt at all and tried to move his phone when he went by and touched her. He would have never known he touched her butt without the video evidence," the report states.
In considering the evidence, however, Professional Standards investigators recalled that Officer Sawyer heard Evans mention that he'd touched the woman.
He also denied kissing the woman Jan. 13.
"He advised he has never kissed her on the forehead," the report states.
He denied the third allegation, that he'd said inappropriate things to her like slapping her naked. Evans said he'd jokingly made such a statement to others but not to her.
Evans told investigators he had "never in my life" said or done anything off color to the woman.
The Professional Standards report concluded: "OPS cannot confirm if he lied about this incident, however, the consistent statements confirm that this allegation is more than likely true and rises to the preponderance of the evidence to sustain this allegation."