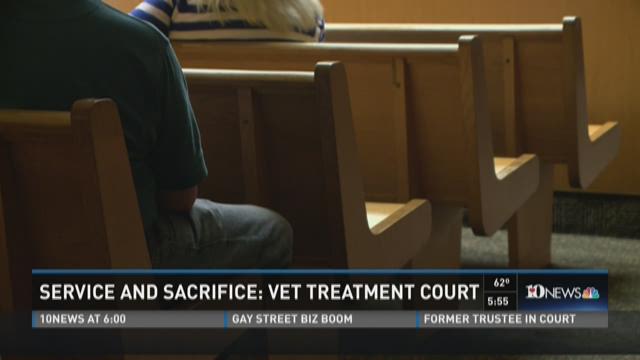 A "second chance" court for military veterans is gaining traction, so much so that is may soon see its own docket in Knox County.
"It's definitely making a difference in these veteran's lives," said Frank Vollmer, a volunteer mentor with the program and Vietnam veteran who helped steer the first graduate through the program.
The treatment court for veterans in trouble with the law looks much like the more widely known "drug courts." Instead of keeping offenders in locked up in jail, the program looks to move them into treatment, counseling, and job training to ensure that once they "graduate" they won't return to jail. The expectations are detailed, rigorous, and require months of commitment from both the mentors and the veterans.
"A contributing productive citizen, returning a veteran to that status that saves everyone heartache, re-victimization, and it saves taxpayers a lot of money," said Judge Chuck Cerny, who helped launch the program almost two years ago in Knox County. The judge notes in that time, organizers have seen close to a half-dozen graduates, including a couple near the finish now, and almost a dozen others who are currently in the program.
"Housing someone in a detention facility costs about as much as a really nice downtown motel each day so, the savings is astronomical," said Judge Cerny, who describes himself as emotionally connected and deeply invested in making a positive difference.
The program does have its critics. Once vocal supporters are raising questions about whether the treatment court for veterans in Knox County is helping enough veterans. Ed Junod was an early supporter who is raising concerns about the success rate of both veterans and mentors. Mr. Junod raised the issue with Representative John Ragan, who is himself a veteran. The Tennessee House member from Oak Ridge has promised to look more deeply at the program while at the same time expressing praise for what he has seen so far.
"The fact that a few (mentors) have dropped out is not something that is a great surprise," said Judge Cerny.
One year after 10News first interview the first graduate of the veterans treatment court in Knox County we checked back in on former Memphis area police officer Jeff Hepler.
"All my charges were dismissed, expunged, and I've been recently applying like crazy to other law enforcement agencies," said the Army veteran who served during the first Gulf War. Originally booked on an assault charge organizers of the treatment court call him a "shining example" of how the "second chance" court is supposed to work.
And supporters of the relatively new program locally say another encouraging sign pointing to its success also centers on Mr. Helper, who has now volunteered to help other fellow veterans just starting the treatment program.