KNOXVILLE, Tenn. — Haven't you heard? Thursday the critically-acclaimed Big Ears Festival kicked off and the music continues in Downtown Knoxville through Sunday.
Before noon Thursday, fans formed a line that extended from the Knoxville Visitors Center to the TVA Towers for a chance to see the free WDVX Blue Plate Special concert. That's where Rhiannon Giddens and Francesco Turrisi gave the standing-room crowd a free taste of the eclectic sounds the festival offers.
Giddens, well-known as a founding member of the Grammy-winning Carolina Chocolate Drops, is doing her best to entertain all types of audiences through this weekend.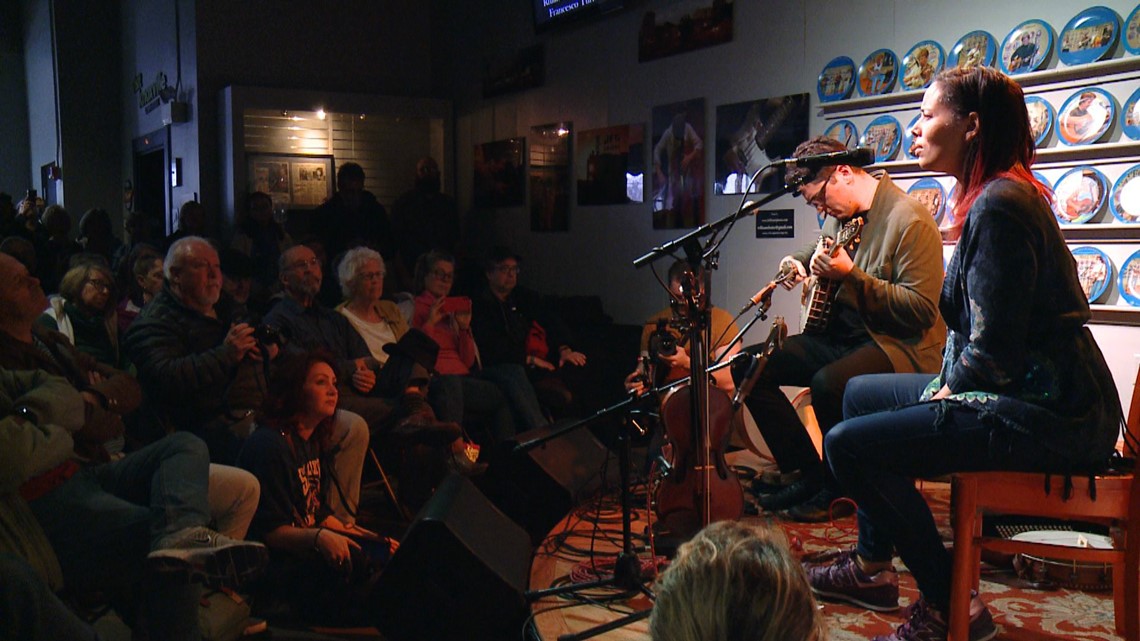 "I am in Knoxville doing several things," smiled Giddens. "I am here for the Knoxville debut of the ballet 'Lucy Negro Redux' with the Nashville Ballet at the Tennessee Theatre, which I co-composed the music and also perform on-stage with Francesco Turrisi. We're also here to do our own duo shows because we have a new record that comes out in May."
Giddens can entertain just about any audience. She can sing opera, compose music for ballets, play old-time fiddle and banjo, and belt out lyrics in several languages. She is just one of more than 120 musical acts performing through Sunday at Big Ears.
Giddens says you can hear the difference between Big Ears and a typical music festival.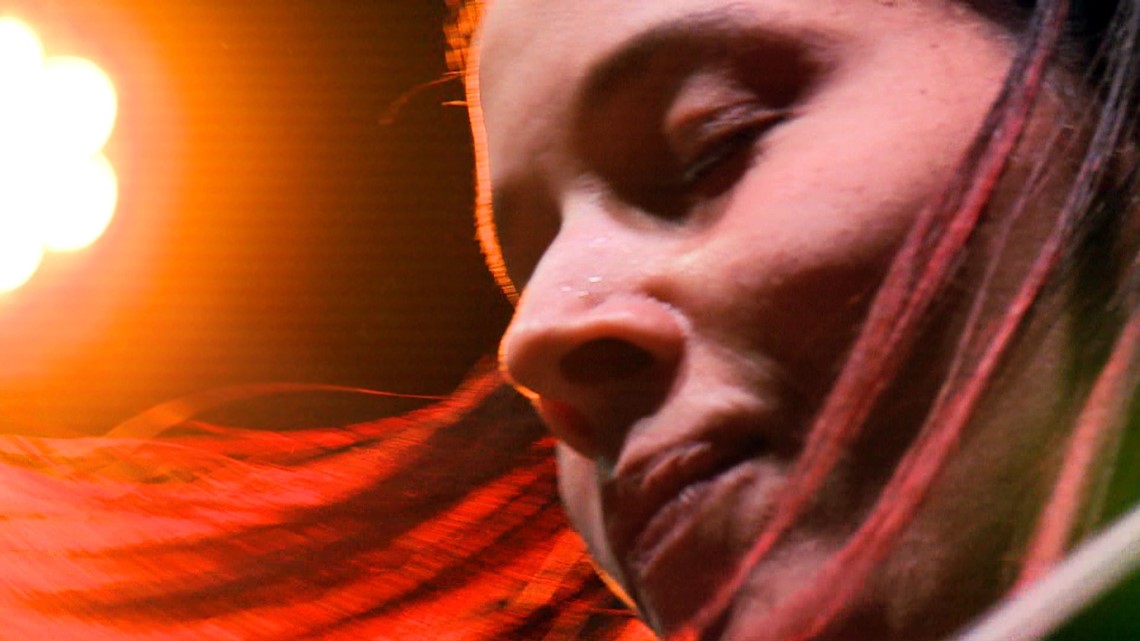 "It's incredible. The nice thing about this festival is it is an indoor festival. It's a venue festival. So, it allows different kinds of music that wouldn't really work for an outdoor festival. I think it allows musicians to actually go see other musicians," said Giddens.
The lineup this year allows Giddens to both perform and be a fan.
"We're here the whole weekend. I specifically requested that we could be here through Sunday so that we could see some of the amazing folks that are lined up here," said Giddens.
This festival that now draws fans from around world to Knoxville only began 10 years ago. In 2009, it was the personal pet project of AC Entertainment founder Ashley Capps.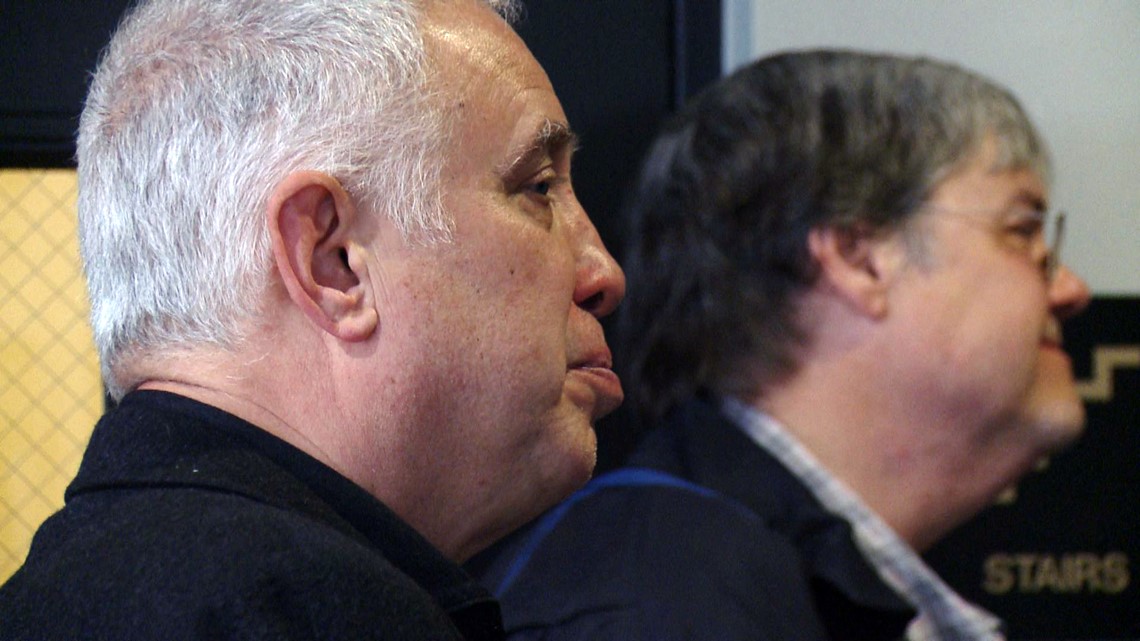 "Big Ears is a visionary festival. What Ashley has done is brought all these kinds of music together from all over the world. It brings a lot of things to Knoxville people would never see all together in one weekend," said Giddens.
"At last check, we had people from 23 countries and 48 states at the festival so far," said WDVX general manager Tony Lawson. "Just think about it economically, what it brings to East Tennessee. It brings a lot of money here. It also brings a lot of culture. It brings a lot of folks here to discover East Tennessee."
The musical feast has something for fans of all tastes to relish the art that resonates with everyone.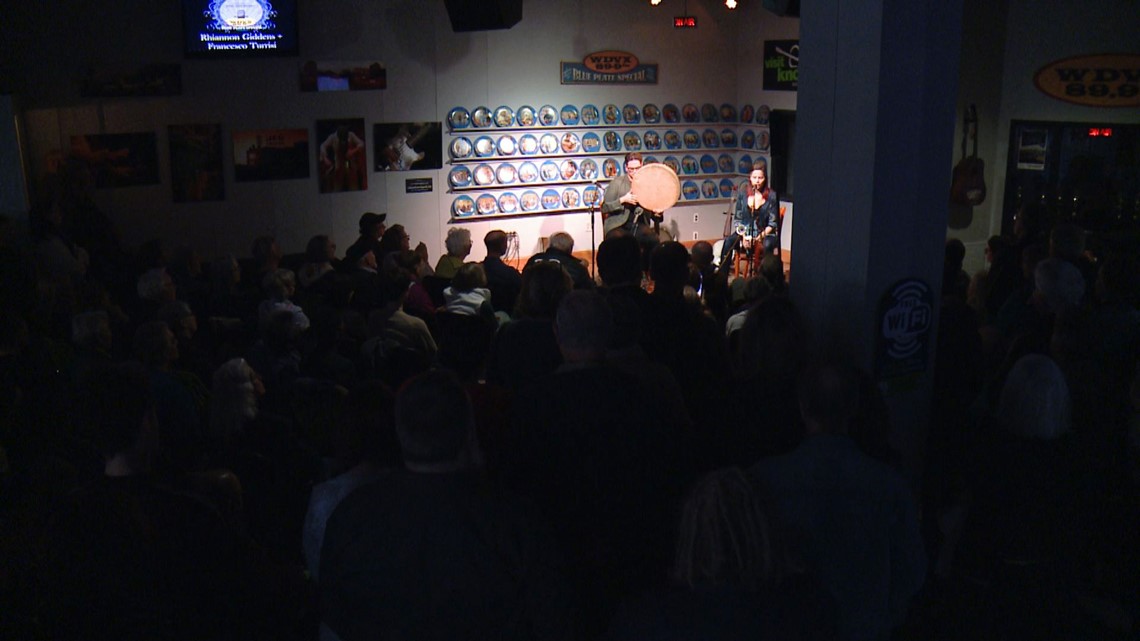 "What music does is it's the great leveler. It's the great 'bringer-together' of people. A music festival this diverse, I think is a beautiful thing," said Giddens.
The Big Ears Festival features more than 100 performances from local and regional artists and runs March 21-24, 2019. The festival also supports film, visual arts, and poetry.
General admission day-passes to the festival cost around $75. However, there are many free events throughout the next few days, including WDVX events at the Knoxville Visitors Center as well as Barley's.
Big Ears 2019 will include the second edition of its all-night, 12-hour drone concert and a series of panels and workshops.
The Big Ears film festival was recently dubbed one of the 25 coolest film festivals in the United States.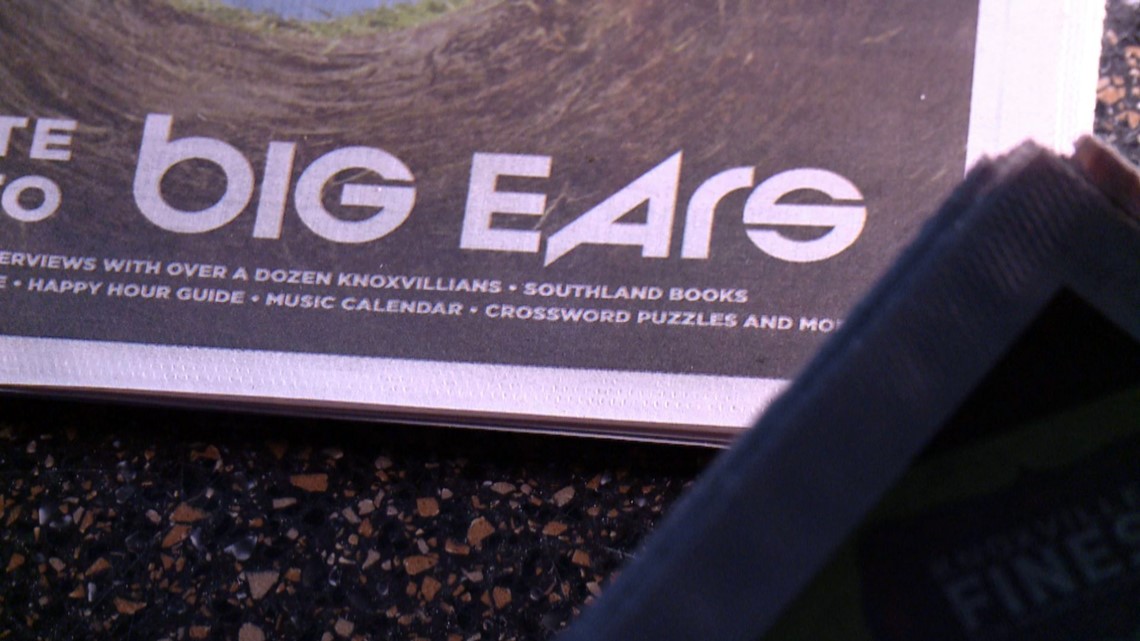 Knoxville native Yves Tumor is also someone to keep an eye out (or ear out) for at this year's festival.
The festival said "an experimental answer to SXSW" will return under the direction of Paul Harris and Darren Hughes of Knoxville's Public Cinema.
In 2019, Big Ears presents more than 10 distinct special programs that are unique to the festival altogether or are in some of their earliest performances.
ABSTRACT BLACK
ABSÎNT (AURORA NEALAND, BILL FRISELL, TIM BERNE, DAVID TORN)
ACME
ALIEN FLOWER SUTRA
ALTERED STATESMAN
ALVIN LUCIER
AMIRTHA KIDAMBI'S ELDER ONES
THE ART ENSEMBLE OF CHICAGO
ARTIFACTS TRIO
AVEY TARE
AVISHAI COHEN QUARTET
BÉLA FLECK
BÉLA FLECK & EDMAR CASTAÑEDA
BILL FRISELL & THOMAS MORGAN
BILL FRISELL AND THE MESMERISTS FEATURING TONY SCHERR, KENNY WOLLESEN AND THE FILMS OF BILL MORRISON
BILL FRISELL'S HARMONY FEATURING PETRA HADEN, HANK ROBERTS & LUKE BERGMAN
BLACK DUCK
B|_ANK
BROOKLYN RIDER
CAPS
CARL STONE
CARLA BLEY TRIOS WITH ANDY SHEPPARD AND STEVE SWALLOW
CARLA KIHLSTEDT
CARNIVAL OF SOULS WITH LIVE SCORE BY MERCURY REV'S CLEAR LIGHT ENSEMBLE FT. STEVE SHELLEY, TIM BERNE, BEN NEILL, MIMI GOESE, JIM SCLAVUNOS, JESSE CHANDLER, JONATHAN AND GRASSHOPPER
CHRIS ELDRIDGE
CLARICE JENSEN + JONATHAN TURNER: FOR THIS FROM THAT WILL BE FILLED
COLUMBIA ICEFIELD
THE COMET IS COMING
COUPLER
DARK INSIDE THE SUN
DAVID TORN
DEJOHNETTE COLTRANE GARRISON
DEREK GRIPPER
DRAGNET GIRL WITH LIVE SCORE BY COUPLER
EVAN PARKER / MATT WRIGHT TRANCE MAP+
EVER PRESENT ORCHESTRA FEAT. STEPHEN O'MALLEY AND OREN AMBARCHI PERFORM THE WORKS OF ALVIN LUCIER
FIRE!
GABRIEL KAHANE
GIRI & UMA PETERS
HAROLD BUDD
HAWKTAIL
IAN CHANG
IE
INTERNATIONAL CONTEMPORARY ENSEMBLE
IRREVERSIBLE ENTANGLEMENTS
JACOB CLARK
JERUSALEM IN MY HEART
JLIN
JOAN LA BARBARA PERFORMS WORKS BY ALVIN LUCIER
JOAN LA BARBARA: VOICE IS THE ORIGINAL INSTRUMENT
JOEP BEVING
JON MUELLER
KARA-LIS COVERDALE
KAYHAN KALHOR
KAYHAN KALHOR & BROOKLYN RIDER
KIERAN KANE AND RAYNA GELLERT
KIM KASHKASHIAN
KIM KASHKASHIAN AND ROBERT LEVIN
KRISTÍN ANNA VALTÝSDÓTTIR
KTL
KUKANGENDAI
LARRY GRENADIER
LONNIE HOLLEY WITH NELSON PATTON
LONNIE HOLLEY AND THE MESSTHETICS
MAKAYA MCCRAVEN
MARY HALVORSON'S CODE GIRL
MARY LATTIMORE
MATHIAS EICK QUINTET
MATT NELSON
MATT WILSON'S HONEY & SALT
MERCURY REV
MEREDITH MONK & VOCAL ENSEMBLE CELLULAR SONGS CONCERT
THE MESSTHETICS
MIMI GOESE & BEN NEILL
MOOR MOTHER
MOSAIC INTERACTIVE
MOUNTAIN MAN
NASHVILLE BALLET: LUCY NEGRO REDUX CHOREOGRAPHY BY PAUL VASTERLING WITH MUSIC BY RHIANNON GIDDENS & FRANCESCO TURISI AND POETRY BY CAROLINE RANDALL WILLIAMS
NATE WOOLEY
NIEF-NORF
NIK BÄRTSCH'S RONIN
NILS FRAHM
OREN AMBARCHI
PARKER / SCHLIPPENBACH / LYTTON TRIO
PETER ASKIM
PETER GREGSON
PUNCH BROTHERS
RACHEL GRIMES: THE WAY FORTH
RAFIQ BHATIA: BREAKING ENGLISH
RALPH TOWNER
RHIANNON GIDDENS AND FRANCESCO TURRISI
RICHARD THOMPSON: KILLED IN ACTION
ROBERT LUNDBERG
ROOMFUL OF TEETH
SERPENTWITHFEET
SETH HOPPER
SHAI MAESTRO
SHANE PARISH
SIMA CUNNINGHAM
SONS OF KEMET
SPIRITUALIZED
ST. JOHN'S CHOIR: ARVO PÄRT'S PASSIO
SUN OF GOLDFINGER (DAVID TORN, TIM BERNE, CHES SMITH)
TASHI DORJI & TYLER DAMON DUO
TATSUYA NAKATANI
THEO BLECKMANN: BERLIN - SONGS OF LOVE AND WAR, PEACE AND EXILE
THEO BLECKMANN: HELLO EARTH! THE MUSIC OF KATE BUSH
THIS IS NOT THIS HEAT
THIRD MAN BOOKS PRESENTS CAROLINE RANDALL WILLIAMS, KENDRA DECOLO, CIONA ROUSE
THUMBSCREW
TIM BERNE'S SNAKEOIL
TIM STORY PRESENTS THE ROEDELIUS CELLS
TRIPTYCH (EYES OF ONE ON ANOTHER), FEATURING ROOMFUL OF TEETH, COMPOSED BY BRYCE DESSNER, LIBRETTO BY KORDE ARRINGTON TUTTLE, FEAT. THE WORK OF PATTI SMITH & ESSEX HEMPHILL, DIRECTED BY DANIEL FISH, PRODUCED BY ARKTYPE / THOMAS O. KRIEGSMANN
UNCLE EARL
VERY VERY HOT EVIL
VIJAY IYER AND CRAIG TABORN
WADADA LEO SMITH SOLO: REFLECTIONS AND MEDITATIONS ON MONK
WADADA LEO SMITH'S NDA, PERFORMING "DIVINE LOVE" WITH BOBBY NAUGHTON AND DWIGHT ANDREWS
YUNOHANA VARIATIONS WITH YOSHIMIO, SUSIE IBARRA, AND ROBERT AKI AUBREY LOWE
YVES TUMOR
12-HOUR DRONE ALL NIGHT FLIGHT: DREAMS OF THE WHIRLWIND