GATLINBURG, Tenn. — Tennessee's iconic black bears are a big draw for more than 11 million people who visit the Great Smoky Mountains each year.
Despite a multitude of signs throughout the park about bear safety, some people inevitably do not notice or choose to ignore the messages about how to behave in bear country.
"For visitors who come to the Smokies, it's a goal of theirs. Their trip isn't quite complete unless they've seen a bear," said Tracy Kramer with the National Parks Conservation Association (NPCA). "We want people to know their responsibility to be safe around bears and not attract them."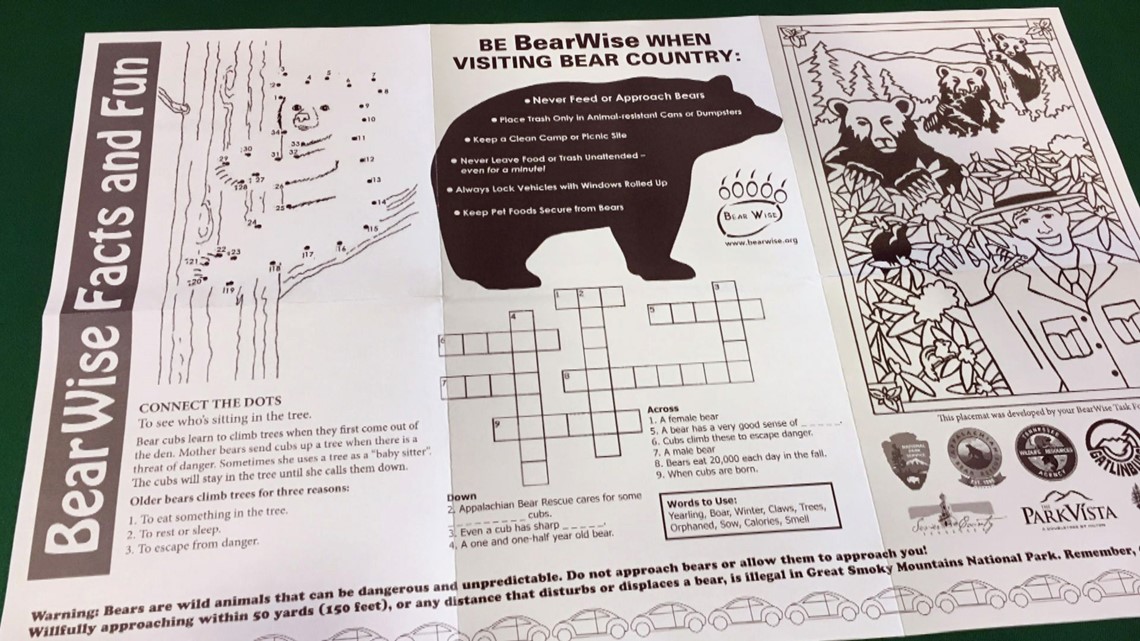 Kramer and the NPCA worked with TWRA, the National Park Service, and several other agencies to develop a new way to teach tourists about bear safety at the dinner table.
"We created a BearWise placemat or activity sheet. A placemat that would encounter people coming to visit Gatlinburg restaurants, rental cabins, and hotel rooms," said Kramer. "Most importantly here on the BearWise placemat is how we keep trash away from bears."
"We developed this placemat for restaurants and hotels to utilize. It gives us an opportunity to educate children about black bears," said Dan Gibbs, TWRA wildlife biologist.
The placemat is designed for children to color and solve puzzles to teach them about bear behavior. Gibbs said it's important to reach children because they tend to influence an entire family.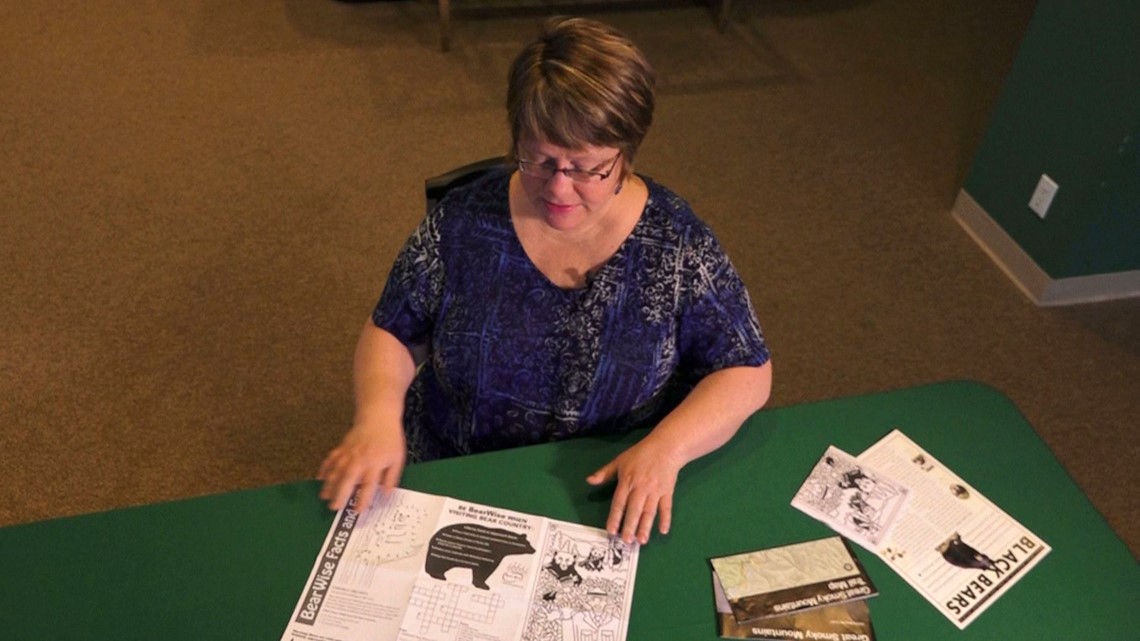 "Quite honestly, some folks may not be willing to listen to the state wildlife agency or the park personnel. But they'll do it [follow safety advice] because their granddaughter wants them to," said Gibbs. "Children are not afraid to speak up and tell adults what they've learned."
"Kids get on board pretty quickly with things that are going to be helpful to the environment or to animals," said Kramer. "We wanted to make it a fun activity that was also educational. But we also designed it so it's not too simplistic. We see it as something the family can learn together."
The placemat is packed with information about what not to do with bears.
"Not to touch bears, not to approach bears, not to feed bears," said Gibbs.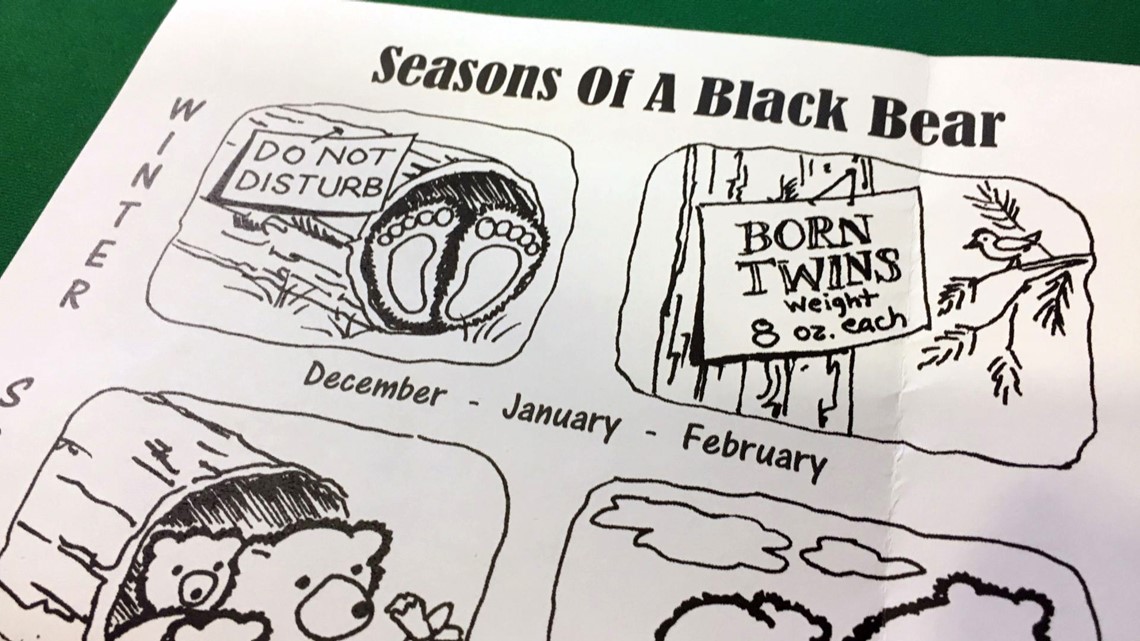 "If you've got bird feeders, greasy grills, pet food on the porch, a lot of things you do ordinarily can attract bears," said Kramer. "But if you remove the attractant, that bear is not going to find what it is looking for and will move along."
The placemat is more than a warning label. It connects the dots with interesting information to explain general bear behavior.
"I really like 'the seasons of the bear' section because it helps you understand what the bear is doing throughout the year. It shows when the bears are feeding, mating, and hibernating," said Kramer. "On the front [of the placemat], I think that it is kind of cool to learn about why a black bear cub goes up into a tree. The mama bear will shoo the baby bear up the tree, basically putting that bear up out of reach and out of harm's way so the mother knows where they are. It's kind of the tree becomes Mother Nature's babysitter, or bear-sitter."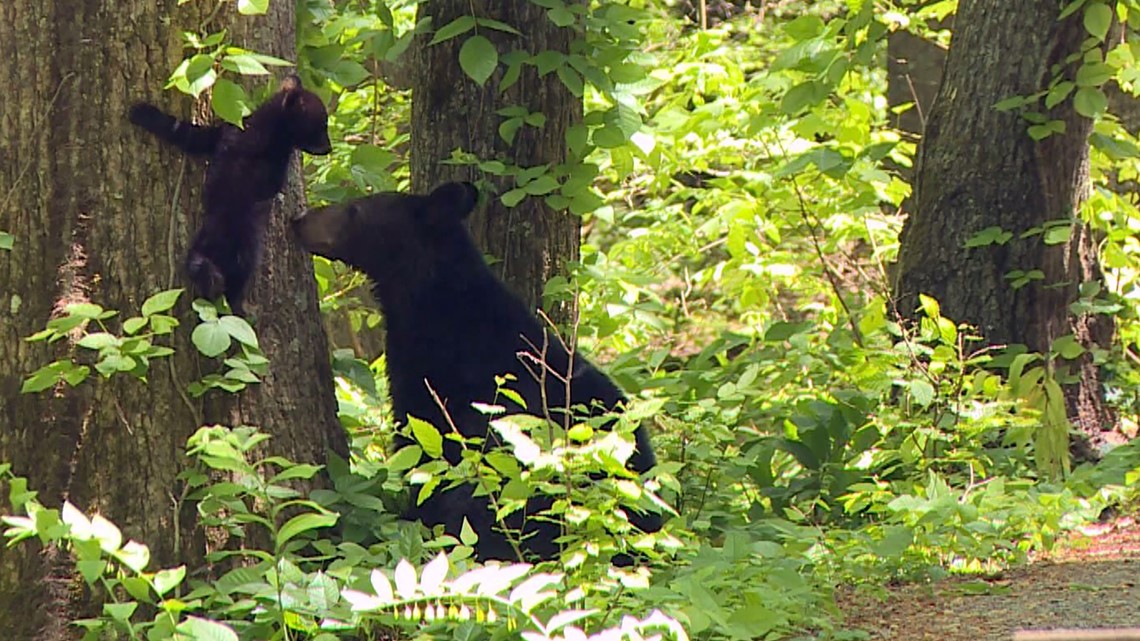 The placemat features a maze to teach people what foods bears should and shouldn't eat. There's also advice for how to follow the rule to maintain a distance of 50 yards from bears.
"Many people can't quite judge how far away 50 yards is. We came up with the idea that 50 yards is 15 cars," said Kramer.
TWRA helped fund the printing of early batches of the placemats. They are currently used by the NPS Junior Rangers program, Appalachian Bear Rescue, and for school groups. The placemats were tested at the Park Vista hotel during a conference and received a good response.
Now the goal is to get restaurants to download the free placemat design and print them for their customers. The task force plans to eventually put the open-source design on the BearWise.org website for anyone to download and print for themselves.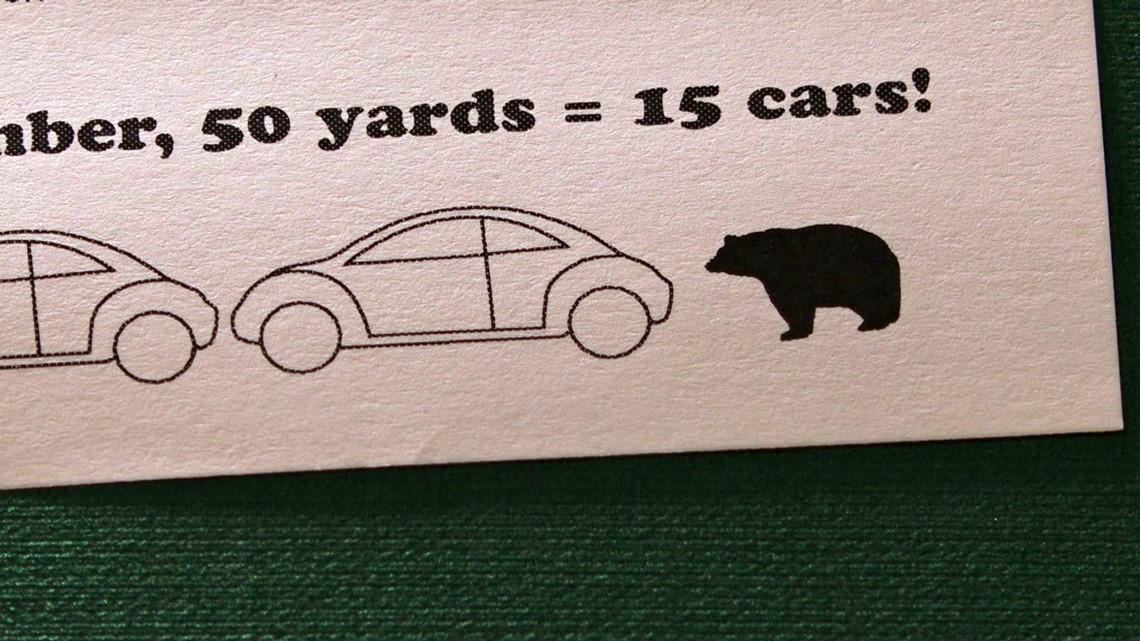 "The thing that's nice about this for a restaurant, you're not asking them to spend money they're not already spending. They're already buying placemats to give kids something to do while they wait for their food," said Gibbs.
"We want to help get these out into the community. We're hoping that restaurants and management companies and property owners will take on the small expense of producing these as their contribution to helping to protect the bears," said Kramer. ""This is about protecting wildlife but it's also about protecting people and property."
An extra reminder at the dinner table via placemats could help protect bears and people from each other.
"We want to give people something that's interesting and protect the bears to boot," said Kramer.
Efforts to teach people about black bears are more important than ever. The population of bears in the Great Smoky Mountains exceeds 1,600. There are more bears, more people, more development, and less habitat for the animals. There will inevitably be more encounters as the animals expand their range into urban areas.