SEVIER COUNTY, Tenn. — UPDATE (Wednesday, Oct. 3, 2018 at 10:30 a.m.): Great Smoky Mountains National Park officials do not suspect foul play was involved in the death of missing hiker Susan Clements at this time, a news release said Wednesday.
Her cause of death is currently under investigation.
"Our deepest condolences go out to the family, friends, and co-workers of Susan during this difficult time," park Superintendent Cassius Cash said in the release. "We are grieving with the family and hope that yesterday's recovery helps provide some closure as they begin their own grieving process."
Her family released a statement for the park to share with the public in which they thank the park and searchers for their efforts to find Clements. The statement read:
I want to specifically thank the National Park Service for their incredible efforts. The cooperation shown between more than 50 agencies was amazing, comforting, and very supportive. Every piece of the operation, including the scientific fronts, logistical parts, and the emotional support provided to us was very impressive. The children, her sisters, and I want to especially thank Jared St. Clair (Chief Ranger), Joe Pond (Incident Commander), James Latendresse (Operations Chief), and Florie Takaki (Family Liaison) for their dedication and support. We also want to thank the countless other people who helped look for Susan. This includes the ground searchers, pilots, drone operators, dog trackers, technicians, EMS providers, the many teams of tactical climbers and rescuers, and the Tennessee Emergency Management Agency. The kids, her sisters, and I greatly appreciate the intense work they performed for us, and we will be eternally grateful.
An estimated 175 people assisted in the search that covered some of the most rugged terrain in the park, the park's release said.
"I am inspired by, and extremely grateful for, the tireless work of our park staff, as well as the generous assistance provided by dozens of agencies and well-trained search and rescue organizations," Cash said in the release.
Clingmans Dome Road reopened Wednesday evening after the infrastructure that was brought in to manage and support the search was removed.
Organizations that helped park staff conduct the search were numerous.
The groups included: AmeriCorps, Backcountry Unit Search and Rescue, Black Diamond Search and Rescue, Blount County Rescue Squad, Blount County Special Operations Response Team, Blue and Gray Search and Rescue Dogs, Blue Ridge Mountain Rescue Group, Buncombe County Rescue Squad, Catons Chapel-Richardson Cove Volunteer Fire Department, Cherokee Indian Police Department, Cherokee Tribal EMS, Christian Aid Ministries Search and Rescue, Gatlinburg Fire Department, Gatlinburg Police Department, Haywood County Search and Rescue, Henderson County Rescue Squad and EMS, Jackson County Sheriff's Office, Knox County Office of Homeland Security and Emergency Management, Knoxville-Knox County Emergency Management Agency, Maryville Police Department, North Carolina Emergency Management Agency, North Carolina State Bureau of Investigation, Northview Kodak Fire Department, Oak Ridge National Laboratory, Pigeon Forge Police Department, Sevier County Emergency Management Agency, Sevier County Volunteer Rescue Squad, Sevier County Sheriff's Office, Sevierville Police Department, Southwest Virginia Mountain Rescue Group, Seymour Volunteer Fire Department, Smoky Mountain Nordic Ski Patrol, Smoky Mountain Search and Rescue Team, Swain County Emergency Management Agency, Swain County Rescue Squad, Swain County Sheriff's Office, Tennessee Army National Guard, Tennessee Emergency Management Agency, Tennessee Highway Patrol, Tennessee Highway Patrol Rapid Response Team, Tennessee Search and Rescue Team, Tennessee State Parks, The Student Conservation Association, United States Forest Service Cherokee Hotshots, Walden's Creek Volunteer Fire Department, as well as National Park Service personnel from Blue Ridge Parkway, Chickamauga & Chattanooga National Military Park, Shenandoah National Park, and the Investigative Services Branch.
UPDATE (Tuesday, Oct. 2, 2018 at 7:15 p.m.): Crews have found the body of missing Smokies hiker Susan Clements.
Officials with the Great Smoky Mountains National Park said they found her body Tuesday afternoon two miles west of the Clingmans Dome parking area and about a mile south of the Appalachian Trial -- which would put the location roughly near the Huggins Creek and Takassah Ridge area on the North Carolina side of the park.
The GSMNP said it will release further details when they become available. You can read the release below:
Search crews located the body of Susan Clements in Great Smoky Mountains National Park late this afternoon. Her body was found approximately two miles west of the Clingmans Dome parking area, and 3/4 mile south of the Appalachian Trail. Our hearts are with the family and friends of Ms. Clements. The park would like to extend our appreciation to the many agencies and organizations that participated in the search effort.
Updated Monday, October 1, 2018, at 8:30 p.m.
Crews in the Great Smoky Mountains National Park continue to scour the rugged terrain for any sign of an Ohio woman who has now been missing for more than six days.
Mitzie Sue "Susan" Clements, 53, was last seen on the Forney Ridge Trail on Tuesday, September 25, where she was hiking with her daughter.
Park spokesperson Julena Campbell offered more details to explain how and why the mother and daughter were reportedly separated.
Campbell said Clements and her daughter hiked together from Clingmans Dome to Andrews Bald, a 1.8 mile hike on Forney Ridge Trail. The two began hiking back from Andrews Bald to the parking area together. After a quarter-mile, Clements indicated she was tired and only wanted to hike back to the parking area without making the additional trip up to the Clingmans Dome observation tower, one of the main attractions in the park and the highest point in the Smokies. The two decided to separate, allowing the daughter to hike more quickly to make the trip up to the tower and then planned to meet in the parking area.
"They separated at around 5:00 p.m. on September 25. The daughter made it to the observation tower and back down to the parking area, but could never find her mother. Susan Clements was reported missing at 8:00 p.m.," said Campbell.

The search for Clements intensified over the weekend, with additional personnel and specialized equipment arriving at the search site. Searchers, including canine teams, have hiked over 500 miles in the search. Drones with specialized search and rescue equipment are now conducting intensive, off-trail grid searches of approximately 10 square miles.
The seven-mile Clingmans Dome Road remains closed as the search continues. No trails in the area are closed.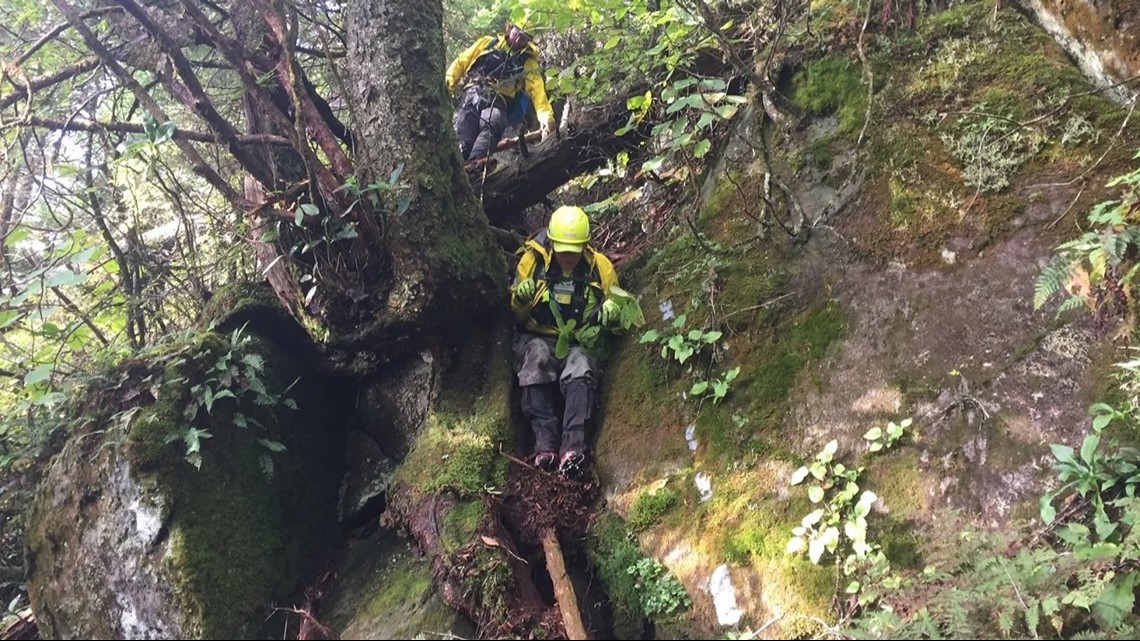 Clements is a white female with light brown hair and blue eyes, is 5'6" tall, and weighs 125 pounds. She is wearing a green zip-up sweater, black workout pants over black leggings, a clear rain poncho, and gray Nike running shoes with light green soles.
She and her daughter were hiking on the Forney Ridge Trail, about a 1/4 miles away from Andrews Bald. Officials said the pair made it to the top and they split up on their way down when the daughter said she wanted to go to the Clingmans Dome tower and Clements wanted to continue to the car. They planned to meet back at the Clingman's Dome parking lot.

According to the Cincinnati Enquirer, Clements is a city of Cincinnati employee. She works for the City Department of Sewers, Acting City Manager Patrick Duhaney told the Equirer.
If you saw Clements on Tuesday afternoon or since then, you are asked to contact the National Park Service Investigative Services Branch through one of the following methods: 1-888-653-0009, www.nps.gov/isb and click "submit a tip," email nps_isb@nps.gov, or via a message on Facebook at "InvestigativeServicesNPS," or Twitter @SpecialAgentNPS.