KNOXVILLE, Tenn. — Wednesday was expected to be a somber day, marking International Overdose Awareness Day. The Metro Drug Coalition hosted an event to commemorate the day at Volunteer Landing, in downtown Knoxville.
It started at 5 p.m. with a resource fair before Knox County Mayor Glenn Jacobs and Knoxville Mayor Indya Kincannon speak about overdoses and their effects on the community. After that, Knox County Sheriff Tom Spangler spoke followed by Judge Chuck Cerny.
Several other guests also spoke in 10-minute increments before the event ended at 8 p.m. with a candlelight vigil commemorating people who lost their lives due to drug overdoses.
"This is something that is so important to myself, everybody that I love, my community," said Jessica Stanley, an organizer of the event. "Tonight is just about hope and awareness. We want everybody to leave with a little more hope than they came in with."
The Metro Drug Coalition was also selling commemorative bricks to honor lost loved ones, or to honor people in recovery. The bricks will be placed at The Gateway and they cost $135. The Gateway is a community recovery center that supports people as they try to recover from addiction.
"It's a good feeling to be able to wake up and know that everything is going to be okay," said Austin Terrill, who is in recovery.
He said that he lost his mother last September because of a drug overdose.
"Ever since then, it's been kind of a big thing for me to help other people because I had to save my own life," he said.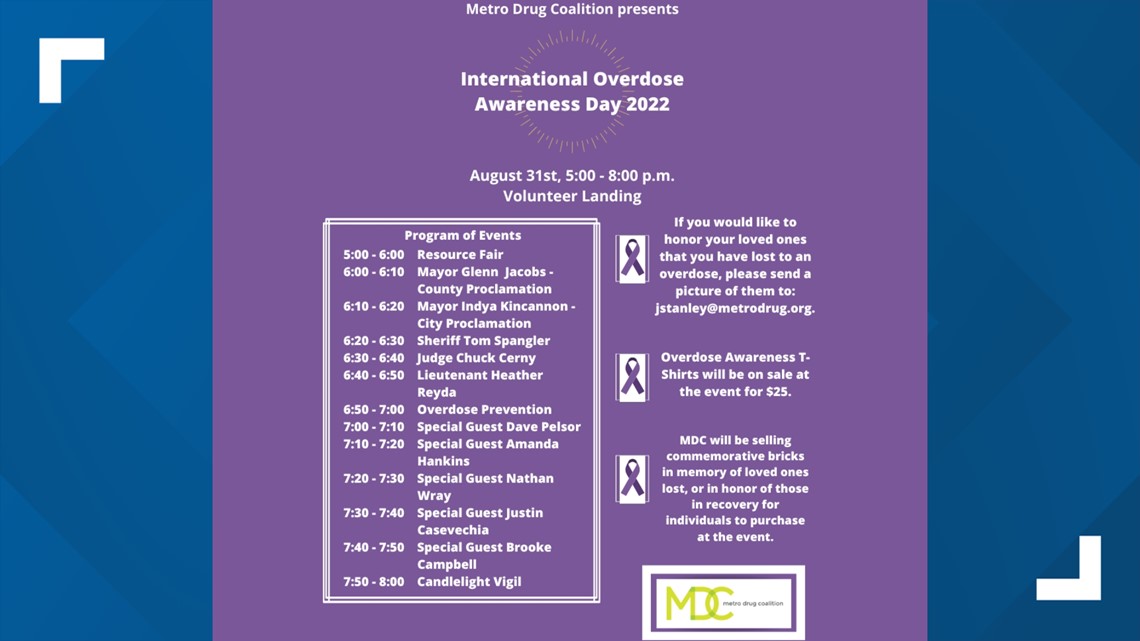 Proceeds from the event will go to the Metro Drug Coalition's Recovery Housing Support Fund. It helps people find a safe place to stay if they are not able to pay the initial fee to find a safe place as they go through recovery.
As part of Overdose Awareness Month, the Knoxville Fire Department also released statistics about overdose response calls each week in August. They said they responded to a total of 194 calls as of August 26. They said that on average, they respond to overdose calls every 3 hours.
Across Knox County, more than 300 overdose deaths have already been reported. The record number of deaths was set last year, with more than 500 reported deaths.