KNOXVILLE, Tennessee — Genoa Clark is always busy. The harm reduction director at Positively Living & Choice Health Network in Knoxville wants to help as many people as she can.
"Harm reduction is very practical," she said. "It's about not judging people — meeting them where they're at."
Choice Health launched its syringe service program (SSP) about five years ago. Now, it's helping people in Knox, Campbell and Cocke counties.
"We've evolved a lot in that time," Clark said. "We went from a pretty small mobile unit to what you see today and serving [650] folks a month."
People struggling with addiction can exchange their used needles for clean ones on Mondays, Wednesdays and Thursdays in Knox County by appointment. Clark said they're met with compassion.
"New injection supplies for folks who use drugs are absolutely critical to preventing the spread of HIV and Hep C. We also know that a lot of illnesses, injuries, abscesses come from reusing injection supplies, or sharing injection supplies," she said. "We sit down with them at a big round table, have a conversation with them, talk about their needs, if they're interested in getting tested, if we can lead them to care."
Clark said building relationships and trust is a key part of their work — especially in more rural areas.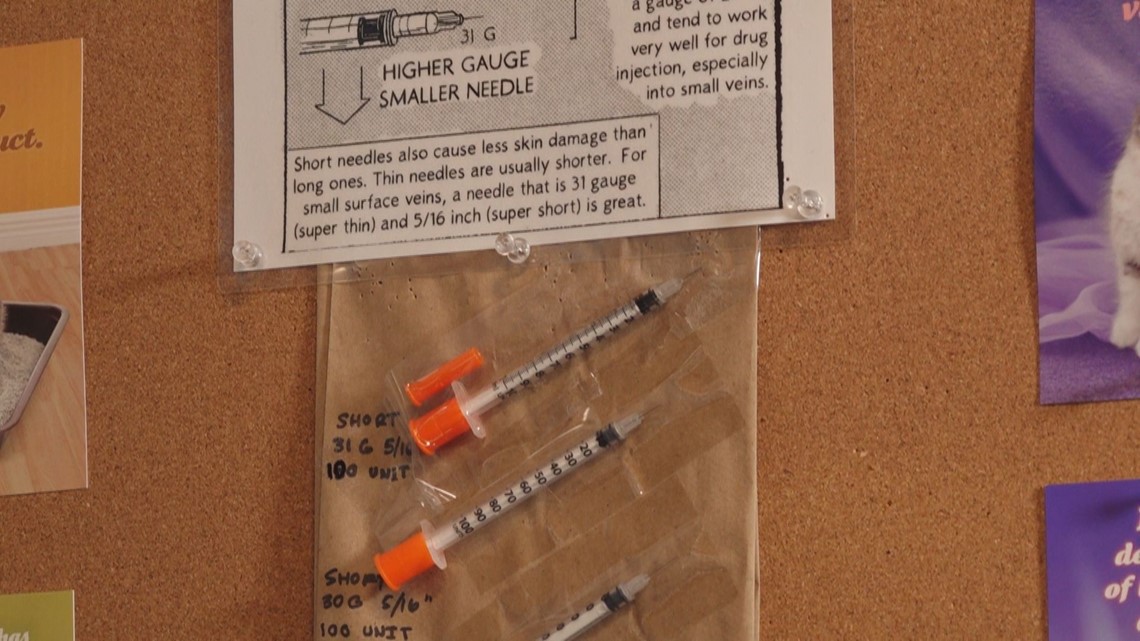 "When you're in a small town, it can be really hard to access services, especially if it's for something as stigmatized as substance use," she said. "We want them to know that we care about them and if you are judging people's behavior or telling them they're doing something wrong, or stigmatizing them, you're never going to be able to get through and help keep people alive and safe for longer."
Just ten of Tennessee's 95 counties have syringe exchange sites. Choice Health Network is the only option in Campbell and Cocke counties.
"We really want to be a bridge to help folks get to whatever resources they need," Clark said. "We want them to be able to stay safe."
In the past three months, the harm reduction team has distributed 20,000 doses of naloxone. They've heard at least 500 reports of people reversing overdoses using that naloxone.
"Sometimes it can be a little grim, but honestly, we do see a lot of great stories," Clark said. "We're just a blip on the timeline for a lot of folks that we really want to be there to let them know we care."
At least 511 people died from suspected drug overdoses in Knox County alone last year, according to the District Attorney's Office. Data for this year shows at least 276 suspected drug overdoses as of July 21.
"We're in the midst of this overdose crisis. It's not just numbers on a page and a lot of us are really personally connected," Clark said. "These are folks whose lives are important, and we want them to know that we care."