KNOX COUNTY, Tenn. — According to the 2022 Knox County Homelessness Report, about 3,500 people are experiencing homelessness on any given night in the county. About 1,200 of those people are in the city of Knoxville and the rest are spread throughout the county.
It's been a growing problem for the county. Now, they're looking at long-term solutions.
"It is growing here in Knox County, we are. It's no longer just a city center issue. We are seeing it in every sector of the county," said Jenny Holden in December, the Senior Director of Community Development for the county.
She presented the homelessness report to the Knox County Commission on Dec. 12. During that presentation, she mentioned a "one day-resource" center for people experiencing homelessness outside city limits. That program is called "Fig Tree."
Katie McIlwain, who works at Cokesbury Church, was one of the people who helped the doors of this day center open. She said it all started with the recognition of need.
"We welcome in our unhoused neighbors into a space where they can build community," Katie said. "It's meant to create a sense of, 'You don't have to walk through the hardest time of your life alone,' but also to connect them to resources."
Katie said the church started seeing more unhoused people in the West Knox County area.
On the map below, blue dots mark areas where known camps exist or people experiencing homelessness. There are six known camps just within the West-Knox County area. Others are located in Powell, Fountain City, Halls, South-Knox and as far out as Carter.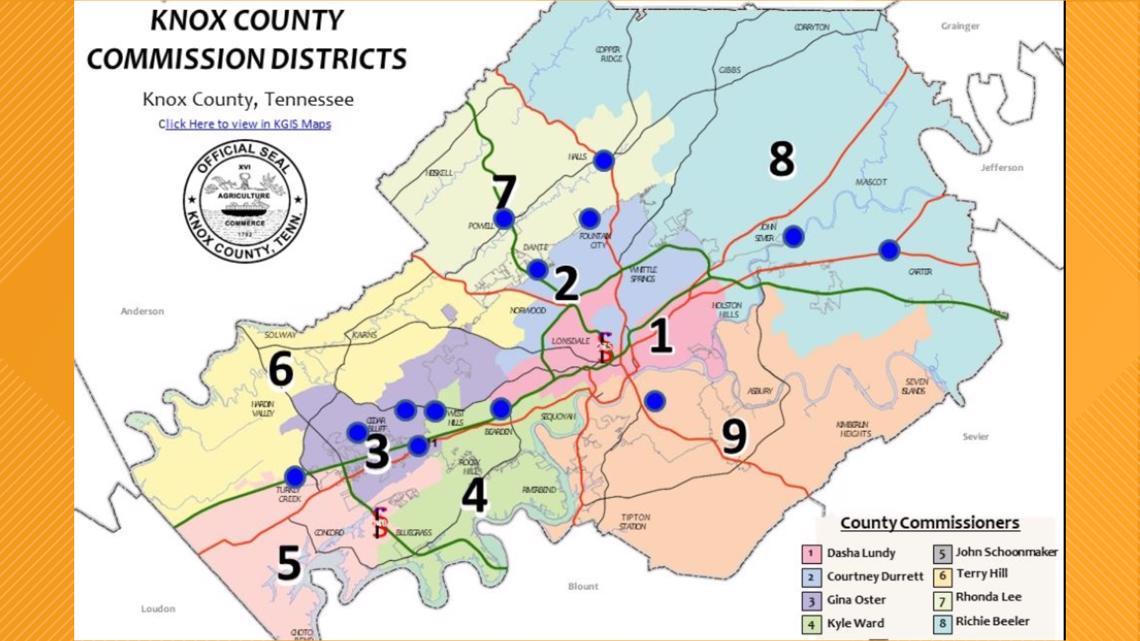 She said many are living in tents in the forested areas of the county, and others are sleeping under the stars in their cars. Katie said some people used to park their cars on church property. They also started seeing more folks asking for help from the church.
"Our typical answer prior to that had been, 'Gosh, here's a bus pass and food to get to resources downtown.' There are just no resources in this part of town. But as we started getting to know those folks, we realized that's not an appropriate response anymore. These are our neighbors," Katie said.
Fig Tree officially opened during the COVID-19 pandemic.
"We have just rolled up our sleeves and jumped in where we can and tried to fill those needs," Katie said.
During the pandemic, Stephanie McBrayer found Fig Tree as she looked for help. She said it saved her.
"We lived in the Fountain City area for a long time. Almost eight years," she said.
Stephanie owned her own cleaning service. She cleaned homes and businesses. In addition, she worked part-time in a nearby deli. Her 27-year-old son, Andrew, lives with her. He has special needs and works part-time at a Food City.
During the pandemic, clients stopped requesting cleaning services. The deli closed temporarily. This family of two's income was cut by 75%, Stephanie said.
All the while, Stephanie said they were renting a home month-by-month for $550. She said the owner of the home decided to sell during the post-pandemic real-estate boom.
"He was just like, 'I'm gonna move back in again.' He was gonna try to fix it up before putting it up for sale," Stephanie said.
Stephanie and Andrew had about ten days to move out. This is the first time in Stephanie's life that she was homeless, she said.
With no rentals available within their budget, the two moved into a motel paying about $55 a night. The monthly cost of that was $1,650 a month, which more than tripled their housing costs. When that cost ran them financially dry, Stephanie said they moved into her car.
"It broke my heart just to be living like that, having to live like that," Stephanie said. "But at least he and I were okay. At least I know, we were okay together."
They parked wherever they could — in grocery store lots, churches and strip malls.
"If you had to go to the restroom, you would have to leave somewhere. If it's cold, you're hoping you have enough gas to keep your vehicle running," Stephanie said.
Stephanie didn't want to stay at a place like KARM, because they separate men from women which meant she and Andrew could not be together.
Instead, they got plugged in with Fig Tree.
"I think what they do here is a blessing," Stephanie said.
Fig Tree opened its doors up to people like Stephanie and Andrew. They could come in eat breakfast, shower, do laundry, find community, and resources to get back into housing.
"They provided the services we needed when we were homeless, to providing the resources that we needed to get in touch with the right people to get you into the housing," Stephanie said.
Through the help of Fig Tree, Stephanie is housed in an income-based housing facility in Fountain City.
"I am so grateful," she said.
The county wants to see more success stories like Stephanie's. In December, Jenny Holden said the county has plans to create more partnerships to expand its homelessness services.
"We are looking to do going into the future is partnering with the city-county-nonprofit agencies. We know that communities that have seen success in this realm have done that through working together, everyone's pulling towards the same goal. And that is absolutely what we want to do here," she said.
Stephanie said she would like to see more day-center programs in different areas of the county.
"The things that offer were great. But yeah, there needs to be more," she said.