On the boundary of the Great Smoky Mountains National Park in Sevier County, the charred landscape from the 2016 wildfires provided a clean and fertile slate for a new lush landscape.
"This area along Cove Mountain Trail had some high-intensity heat that killed the tops of a lot of trees, but they're sprouting at the base. There is lots of vegetation here where it would have been barren earlier this year. It has just really grown as the fire releases lots of nutrients and basically provides a shot of fertilizer," said Glenn Taylor, a biologist with the Great Smoky Mountains National Park who specializes in vegetation management.
While life has quickly taken over the burned areas, Taylor is concerned about the foreign invaders that are taking the place of the previous inhabitants.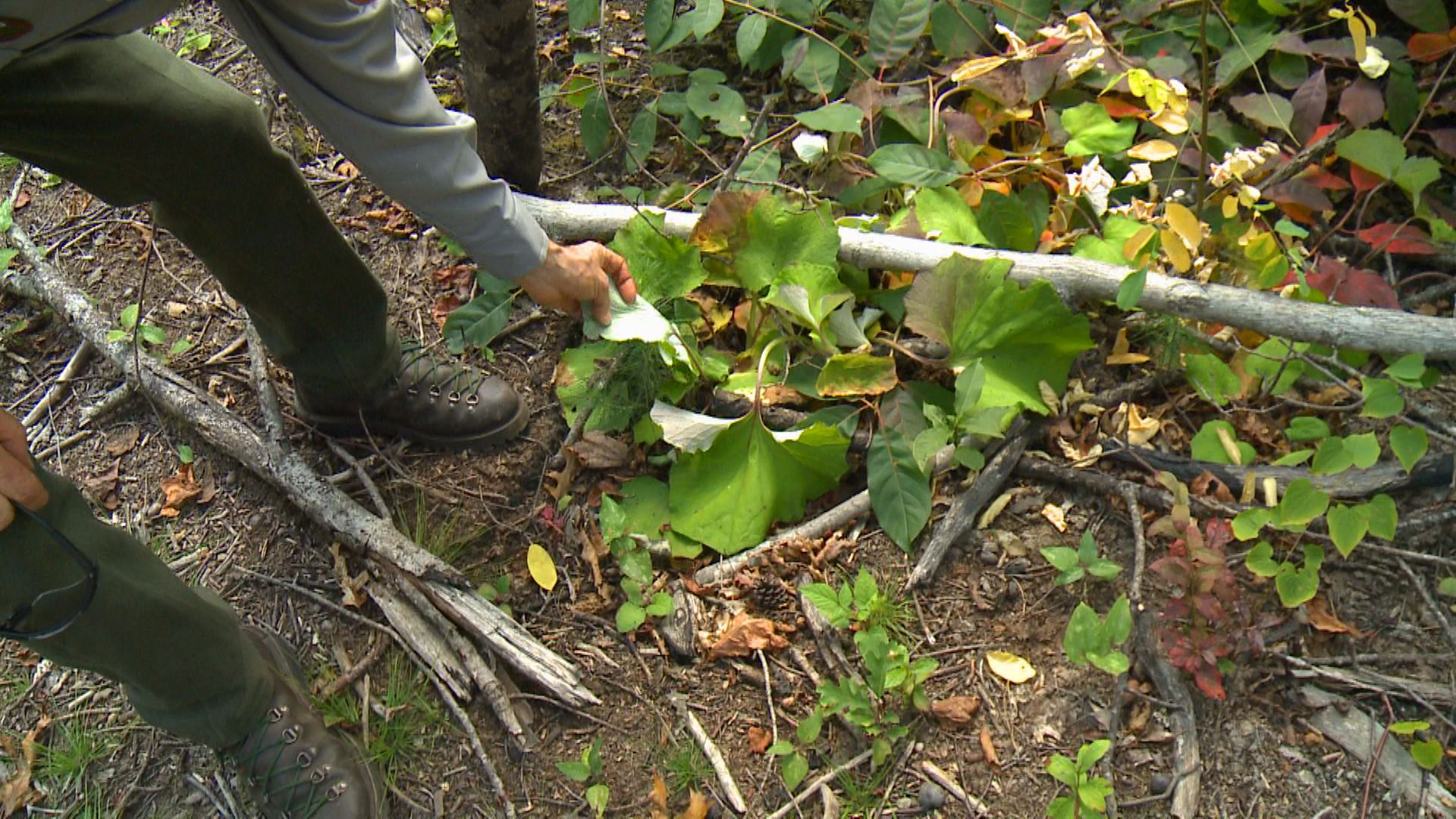 "When you have a disturbance like this [wildfire], these invasive plants have a chance to get established and start to inhibit the growth of the native plants," said Taylor. "It is a real problem. Two-thirds of the areas we have surveyed for fire damage had non-native plants move in. That's around 800 out of 1,200 acres we surveyed and non-native plants and more than a dozen species of non-native plants."
The invasive vegetation originates in the neighborhoods that border the park, where non-native plants are commonly used in landscaping. Ornamental grasses, flowers, and other vegetation have seized on the vacant spaces charred by wildfire.
"We see a lot of coltsfoot, which has big and distinctive leaves that are kind of white underside. Without being controlled, it will spread very quickly. The problem is when the landscape changes, it changes the wildlife that comes with it. The birds and insects and other animals you're used to seeing will not be where invasive plants take over," said Taylor.
GSMNP crews have been pulling up some species of invasive plants before they take a firm root in the ground. Other plants are killed with herbicide.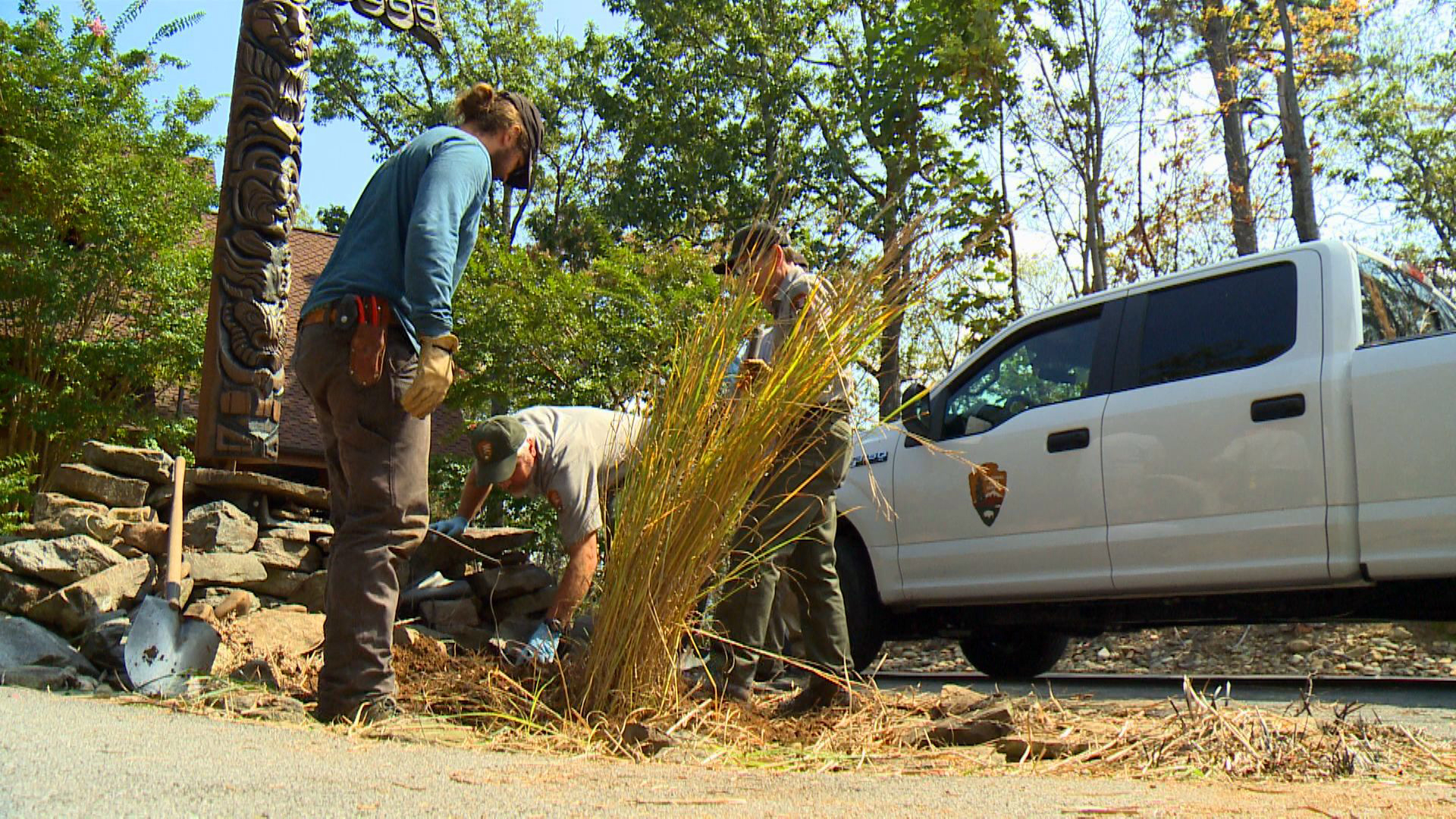 As people rebuild their homes in areas such as Chalet Village and other areas that directly border the park, Taylor wants residents to reconsider their landscapes. The National Park Service, the Tennessee Division of Forestry, and other agencies ask homeowners to take the opportunity to replace any foreign vegetation with native species.
On Tuesday afternoon, crews helped one homeowner near Ski Mountain Road replace ornamental miscanthus grass plants with a native species known as big blue stem.
"The native species is commonly found in this area, especially Cades Cove, and looks very similar to the miscanthus. We don't have the plants available to just hand out to everyone. But in this case, it worked out that we could help a homeowner and help our efforts and all parties were happy."
Homegrown species as down-home decorations help the birds and bees of Appalachia bounce back better than ever if the Smokies ever burn again.
"Where you have native flowers and golden rod, you can see all the native pollinators all over them. That's just the kind of thing you want to see," said Taylor.
Brook Smith works for the Tennessee Department of Agriculture's Division of Forestry and serves as the area forester for Knox, Anderson, and Sevier Counties. He strongly encourages people in all areas to use some online resources to educate themselves on non-native species.
"There's good information on the website for the Tennessee Invasive Plant Council. You can also find information on invasive species and native plants at ProtectTNforests.org. The Tennessee Department of Agriculture Pest Plant Rule has a list of invasive plants that, if you put them in your yard, you're going to see them take over and you're going to have to deal with in the future. Plant the right tree in the right place and do not plant exotic invasive species," said Smith.