The criminal trial for four former Pilot Flying J employees accused in the company's multi-million dollar fuel rebate scheme has been delayed by one week.
The four former employees, including former Pilot President Mark Hazelwood, were set stand trial beginning Oct. 31 in Chattanooga. The trial will now start Nov. 6. It has been moved out of Knoxville due to pre-trial publicity.
Federal records don't indicate the reason for the delay.
The four former employees are accused of scheming to defraud some Pilot customers of diesel fuel rebates. The defendants are Hazelwood; Scott "Scooter" Wombold, former vice president of national accounts; former account representative Heather Jones; and Karen Mann, former regional account representative.
The trial is expected to last up to six weeks.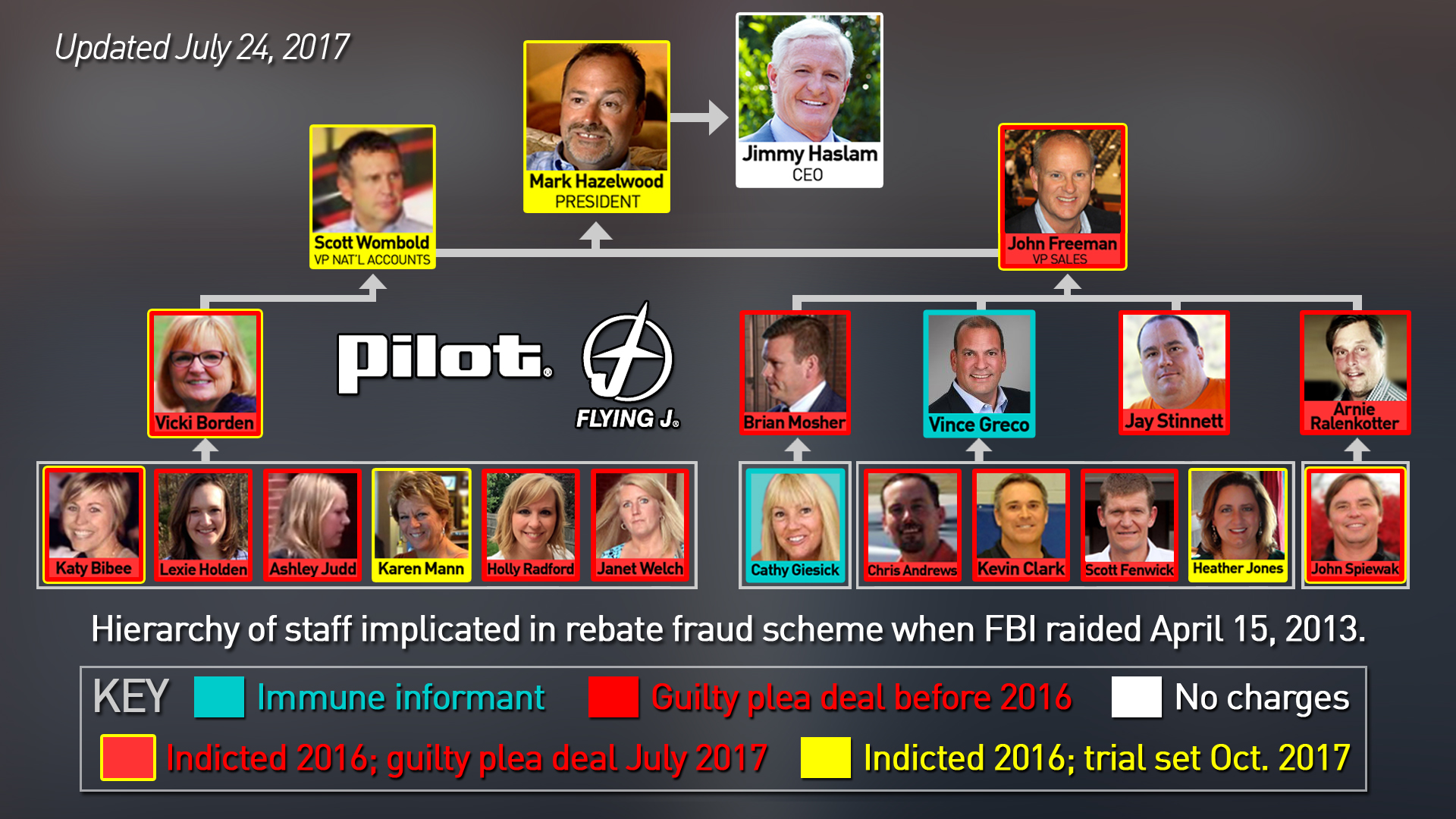 Two former employees have been granted immunity in the case for working with federal investigators. Federal agents raided Pilot's Knoxville headquarters and several other nearby offices in April 2013.
Fourteen other former employees have since pleaded guilty to various charges related to mail fraud and wire fraud in the case. They have not yet been sentenced.
Those 14 former employees are:
Arnold "Arnie" Ralenkotter, Northeast regional sales director; Ashley Judd, an account representative who addressed rebate concerns among the customers; Holly Radford, a regional account representative; Jay Stinnett, who worked with senior sales executives; Kevin Clark, regional sales manager out of Kansas City, Mo.; and Scott Fenwich, western regional sales manager out of Salt Lake City; Janet Welch, former Pilot senior account manager; Christopher W. Andrews, a regional sales manager based in Dallas, Lexie Holden, a sales representative in Knoxville; John "Stick" Freeman, former vice president of sales; John Spiewak, former regional sales manager in Ohio; Vicki Borden, former director of wholesale and inside sales; and Katy Bibee, a former account representative.