Knoxville is a city that's playing catch up when it comes to public murals, but people in the art community say they'll be caught up very soon.
Murals are popping up all over the city, and Curtis Glover is playing a big role in the movement.
He juggles several projects at once, working during the day and through the night.
"You don't really get a break," Glover said.
Business is booming for Glover and you've probably seen his work around town without even knowing he created it.
He's created dozens of murals including the backdrop behind Boyd's Jig and Reel's stage, the girl on the outside of the building, the mural out West on the 10 Mile Creek Greenway, the blast of color on the side of the East Tennessee Technology Access Center in South Knoxville and has contributed to the art at Beaumont Academy.
Photos: Murals of Knoxville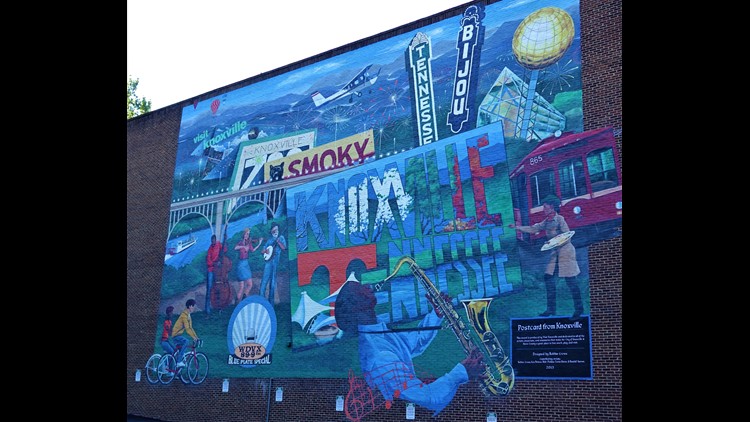 While business is booming now, it wasn't always like this
"There was a breaking point for me," Glover said.
Curtis' dad passed away three years ago, and that's when he decided life is too short not to chase your dreams.
"Once he passed, I said to heck with it, what are you made of?" Glover said.
The answer to that question is talent. Curtis has now contributed to exploding mural scene in Knoxville.
His leap of faith led to the koi fish mural in Bearden and the rose mural in Strong Alley. His work can be found all over town.
One project he's working on is a 40 x 18 mural at Pond Gap Elementary School. It's one of many he's done around Knoxville, a city trying to catch up to Asheville and Chattanooga one project at a time.
"These other cities got a head start," Liza Zenni, the Executive Director of the Arts and Cultural Alliance of Greater Knoxville, said.
Zenni said Mayor Medline Rogero is the first Mayor of Knoxville to fund public art.
"So we are a little behind but we are trying to catch up," Zenni said.
The city has already paid for several murals downtown like the steps on UT's campus and the musicians on Gay Street. The city is now in the process of commissioning a $151,000, 4,300 sq. ft. mural on the Market Square garage.
"It's thrilling! We are all very proud of it. One aspect of public art is that is has to do something with the people that live there. With your history or personality or sense of humor," Liza Zenni said.
"The art scene In Knoxville is on it's bubble in a good way," Glover said. "I expect a more frequency of mural work in the city and more competition out of it, but that only means better work."
As for his next project, Glover is in the process of lighting up the Old City with another larger-than-life mural on the side of DreamBikes bike shop on Central Street.