Less than a week after photos of a group of tourists mingling with some bears in Cades Cove circulated social media, videos from a tourist show even more people crowding a mother black bear and her cub.
"Our first visit to Cades Cove. We saw around 13 bears. These 2 videos are the ones that made my blood boil," Stacey Sykes wrote in a post she put in the Facebook group called "Cades Cove Forever..."
Sykes says she was visiting the area from Mooresville. She and her family come to the mountains a few times a year.
"The mother was just trying to get her cub safe. Look at the people around her. One woman even slipped. I was in our truck with my camera on zoom so I was not even close to her," she wrote in the post.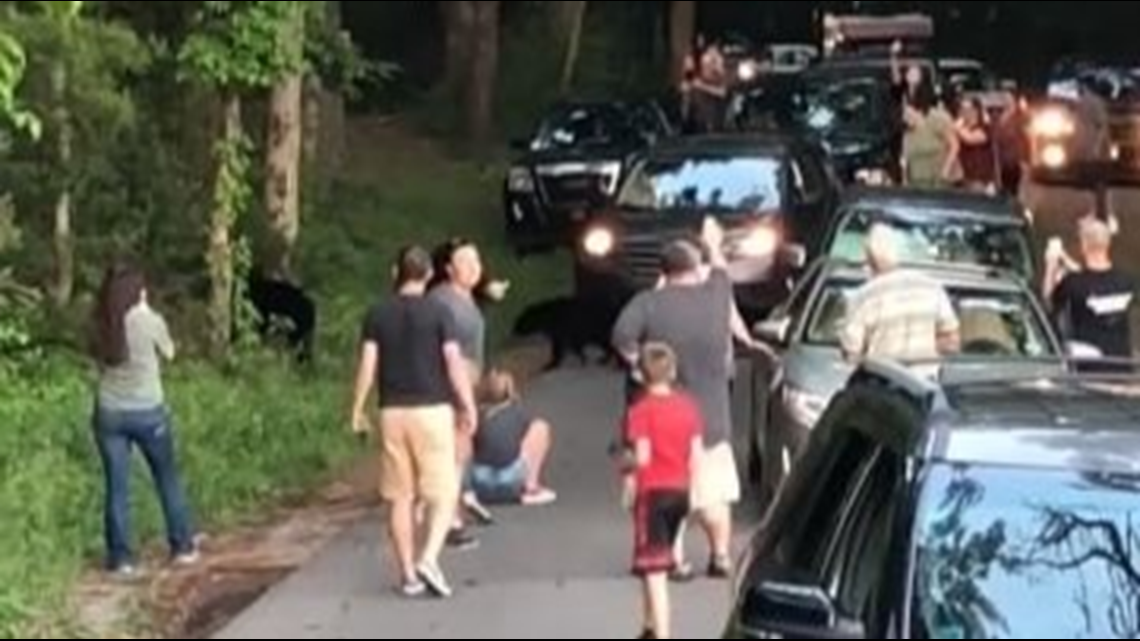 In the video, you can see several cars parked along a road in Cades Cove as the mother bear and her cub were trying to cross through. Roughly 15 people, including children, can be seen running around and getting close to the two bears.
Park regulations require you to stay 50 yards away from bears at all times, according to Great Smoky Mountains National Park Spokesperson Dana Soehn.
To put that in perspective -- 50 yards is 150 feet. The distance from home plate to first base is 90 feet. So - you need to be almost double that distance away from the bears to avoid a citation from the park and to stay safe.
The video started to get lots of shares and comments on Facebook.
In a comment to another person, Sykes said she posted the videos to "maybe make the park think a little more about extra rangers. I love these or any animals as the next person and I respect them. I was in their home and I gave them their space. Some don't and that's what makes me mad. Everyone would blame the bear if she attacked."
She said she didn't want the posts to discourage people from visiting. She just wanted everyone to be safe while doing so.
One woman commented on her post thanking her for bringing awareness to the topic.
"Thank you for posting Stacey Sykes! We can obviously see that people are too close. I hope they see this and realize the harm that can come from a situation like this! And maybe other people will see it too and know better the next time this happens to them," Amanda Yarnell said.
Just last week, local photographer Jackie Gilbert said she was out at Cades Cove taking photos when she saw a group of people crowding the bears.