SEVIERVILLE, Tenn. — UPDATE (10 p.m.): Officials said that two people were charged in connection with a reported armed shooter incident at a Walmart in Sevierville on Wednesday.
They said that Pedro Salisipan Ngayan, 65, from Pigeon Forge, was charged with two counts of aggravated assault. Dashawn Leon Bonner, 22, from Pensacola, Florida, was charged with one count of misdemeanor assault.
Officials said that Bonner allegedly pushed Ngayan down during an argument. Then, police said that Ngayan pointed a handgun at him before Bonner retreated to another place in the store. Ngayan followed him, according to a release from officials, before Bonner pointed his own handgun at him.
No shots were fired during the altercation, according to police.
Ngayan was transported to the Sevier County Jail for booking, while Bonner was cited and released.
Earlier, police said that three people were in custody. They later determined that the third person was not involved in the incident and was not charged.
UPDATE (7 p.m.): Officials said that at around 3:30 p.m. on Wednesday, Sevierville Police as well as responders from several other agencies responded to a reported active shooter at the Walmart store at 1414 Parkway.
Officers entered the store to search for suspects, as well as to help employees and customers exit the store, officials said. They located three suspects who were taken into custody, according to a release from officials.
They said that no shots were fired and no one was injured during the incident. A preliminary investigation indicated that the incident was likely a dispute between store customers and that multiple guns were displayed during the dispute.
"Once inside the store officers started searching for active shooters," said City of Sevierville representative Bob Stahlke.
Their search found no victims inside. A Tennessee Highway Patrol helicopter searched for victims outside the store and also found none.
The incident sent people running for safety.
John Ownby at Five Oaks Tire Service directly across the street saw that first hand and let people inside his business.
"It's kind of unbelievable," he said. "We offered to let them come in and sit inside."
Businesses closer to Walmart, like Baskin Robbins, went on lockdown immediately. "We work with stores all the time to go over procedures such as this so those stores that did that did the right thing," said Stahlke.
Ownby said it's surreal something like this happened in their community. "It's always been a safe community and everyone feels safe to walk up and down the streets and especially go to Walmart. It makes you think of what can happen when something does happen."
Several law enforcement agencies responded Wednesday afternoon to a reported shooting at the Walmart in Sevierville.
There is a heavy police presence on the scene. The Sevier County Sheriff's Office responded as well.
City of Sevierville spokesman Bob Stahlke told 10News authorities were dispatched on a report of an active shooter.
Three people were being detained Wednesday afternoon. There were no known victims, Stahlke said.
Officers on the scene were checking the building and scene.
Sheriff's PIO Sgt. Phil Davis, speaking on the scene, told 10News "there is no ongoing danger" at the Walmart.
According to the Sevierville Police Department, the North and South bound lanes are closed and traffic is not being moved at Cate Road intersection to Collier Drive intersection on Parkway.
As of 5:52 p.m., all lanes of traffic are back open in the area of Cate Road and Collier Drive on the Parkway, police said.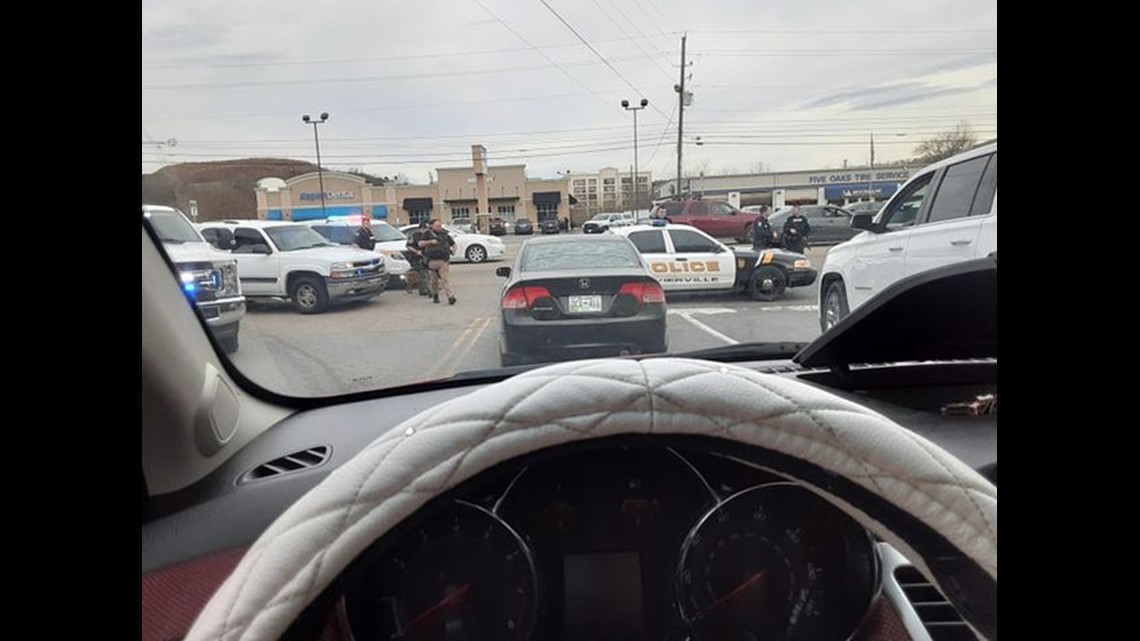 An employee at a nearby Baskin-Robbins on the Parkway said that the store has gone on lockdown as a precaution. The employee said police cars were all around the area, and officers were prohibiting people from coming or going from the scene.
Law enforcement respond to Sevierville Walmart incident
Stay with WBIR for more updates.