Dolly Parton's career in music, movies, fashion, business, and philanthropy have made her an international icon for decades. In 2015, Billboard published a ranking that named Dolly Parton and Johnny Cash as the two most well-known country musicians worldwide.
With millions of fans across the globe, two of Dolly Parton's biggest fans now live in Sevier County where she was born and raised. They've transformed their Pigeon Forge home into a shrine for all things Dolly.
"Our house is 2,400 square feet, three levels, and every room's got something Dolly in it. Almost every inch is covered in Dolly artifacts, pictures, clothes, everything," said Harrell Gabehart. "Every wall, every floor, every hallway, every bathroom is covered with Dolly memorabilia. It's like a jigsaw puzzle to get everything to fit on the walls."
Gabehart's husband, Patric Parkey, claims responsibility for "Dolly-izing" their relationship. Parkey began collecting Dolly artifacts more than 30 years ago and continued with encouragement from his friends.
"A friend of mine in Nashville said, 'You have a lot of unique stuff. You know, you don't need to stop.' As you can see, I haven't stopped," said Parkey while standing beside a wall of custom mannequins showcasing outfits previously worn by Dolly Parton.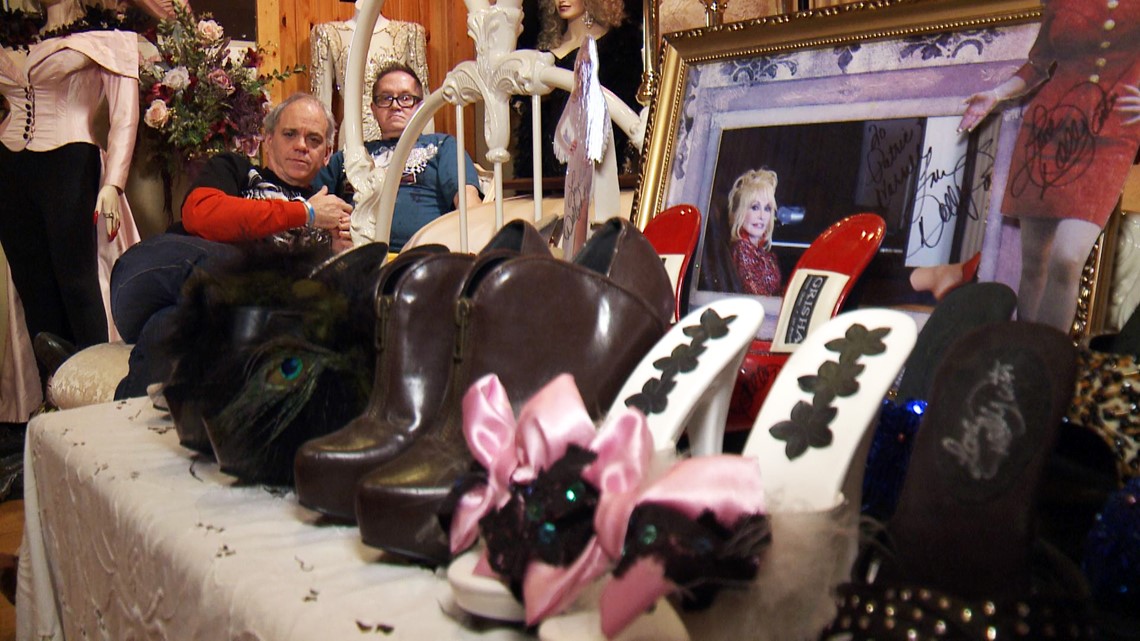 The couple owns 50 outfits from Dolly's past. They've ordered custom mannequins with Dolly's measurements at the time she wore each dress. The mannequins' heads truly feature Parton's face. The collectors were able to buy 80 authentic heads used to sell a line of Dolly Parton wigs manufactured by Revlon.
"We got a call from someone from a wig shop that closed in Memphis and had all of these Dolly heads. We drove all the way to Memphis as fast as we could and about had a heart attack the whole time," said Parkey.
The collection of outfits, album covers, photographs, a pinball machine, an original autographed courtroom chalk drawings from when Parton won a 1980's copyright lawsuit, and just about anything else Dolly-related is staggering. The couple even bought the bed that was in Dolly Parton's apartment at Dollywood.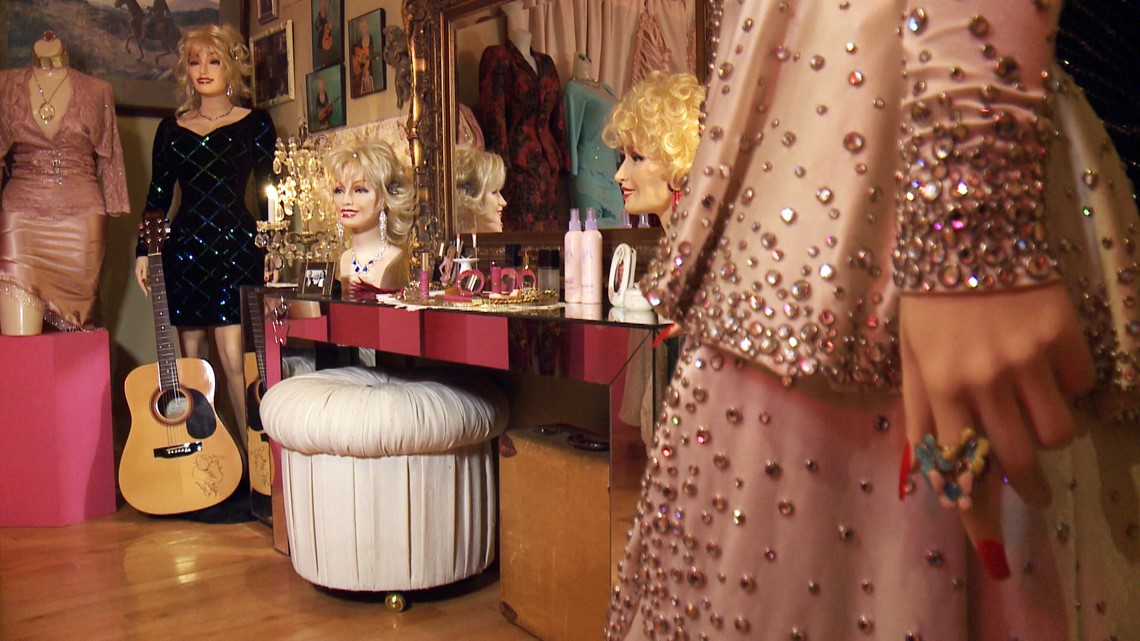 "It's a handmade iron bed made by the Blalocks that was a gift when she opened Dollywood. It took some time, but we were able to get the original mattress, sheets, bedspread, and everything like her apartment," said Parkey.
Parton visited the couple's home on one occasion and was astonished at the massive collection.
"That woman likes to talk. She walked through our house for 30 minutes and didn't say one word. She was speechless," said Gabehart. "It wasn't that she was freaked out or scared. It was like she was reflecting on everything she was seeing. The day Dolly Parton walked into our house was the greatest day of my life. I never imagined she'd come to our house. But I also never imagined I'd have all of this stuff."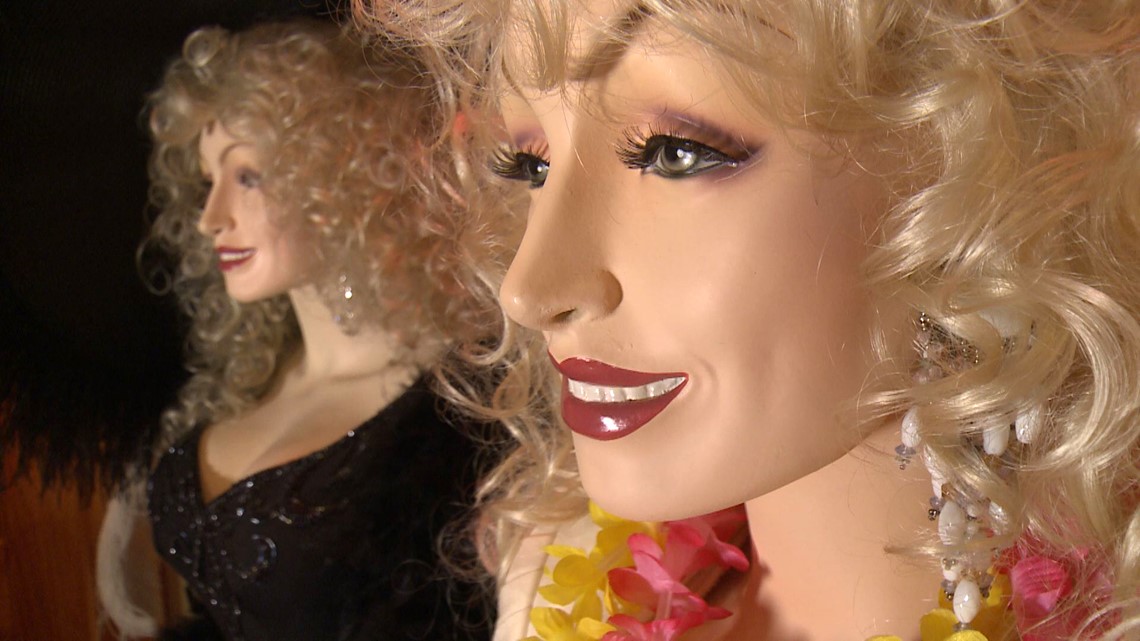 Gabehart works the overnight shift at a local grocery store to help fund the never-ending collection.
"I tell people he works and I spend the money," said Parkey.
Parkey said he does not know how much money he has spent over the last 30 years. The estimated value of his collection ranges widely.
"We've thought it was worth around $300,000 and recently had someone tell us this is worth around $1 million. That's not an itemized appraisal, just an overall estimate. I don't know how much it is all worth, but it is worth a lot to me personally," said Parkey. "When Dolly came to our house, she said we should open it to the public. I told her no way, I'm not letting those crazy people in here. I'd need a fulltime officer on patrol to protect this collection."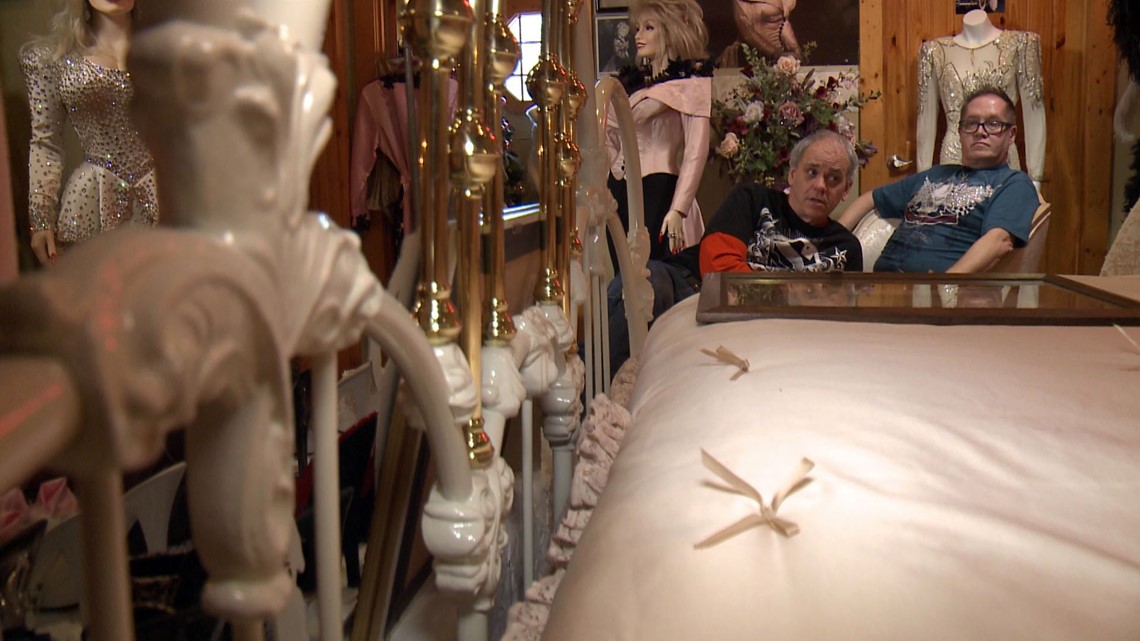 Parkey said some strangers have questioned their sanity for amassing such an overwhelming collection devoted to a celebrity.
"We had a story about our collection recently on Yahoo! and some of the comments were saying things like if Dolly ever goes missing, they'll know we kidnapped her. It's not like that at all. This is something we love to do, like collecting art," said Parkey.
As for why the attraction to Dolly is so strong, the couple insists it is a healthy obsession born from admiration for Parton's genuine appraisal of her self-image.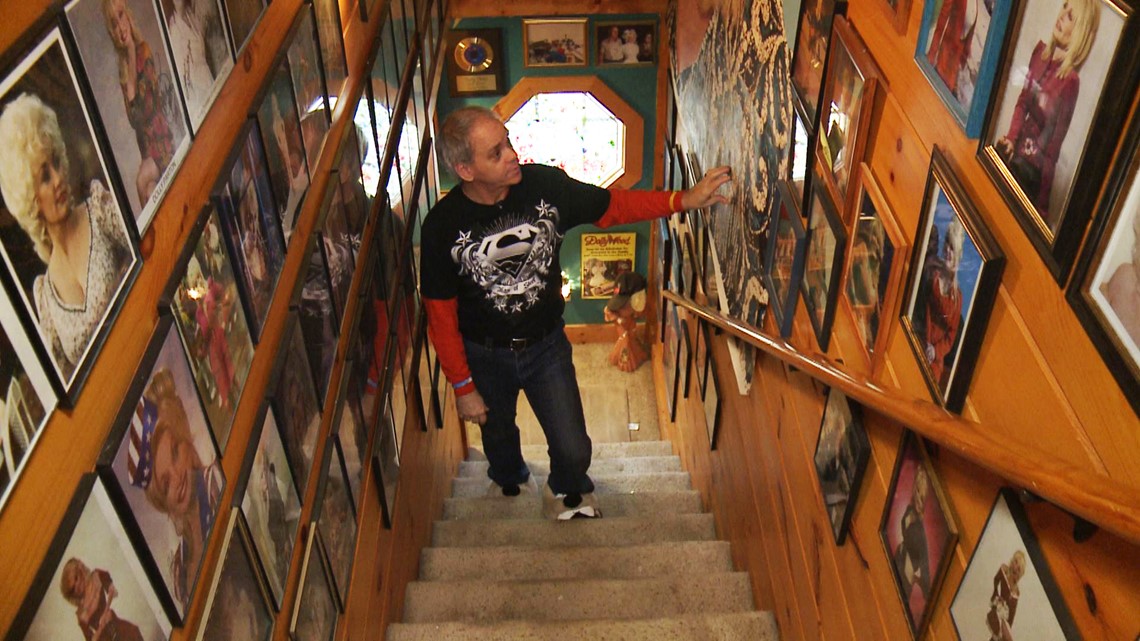 "She's talks about all the ways she is fake, and that's what makes her so real. Underneath all the clothes and the boobs is a heart. She cares so much about people and she's so intelligent," said Parkey. "Just about any situation in life, you can find a Dolly song that fits what you're going through."
"Sure, we have a lot of stuff. But it's the emotions that go along with the stuff. It's a strange feeling," said Gabehart. "For me the emotion is a feeling of acceptance. How she cares so much about everybody. Don't be afraid to just be you."
Parkey and Gabehart said they are considering someday transforming their private collection into a museum open to the public.
"It takes a lot to maintain all of this stuff, especially in your home. It would be nice to be able to have some glass displays so these things could be protected better," said Parkey.