Tennova Healthcare leaders have scrapped plans to build a brand new hospital in Knoxville and will instead reconfigure services at their existing facilities.
Now, they've decided to consolidate some services at specific hospitals and expand the capacity of others to meet patient demands.
"As we reevaluated our strategy for Knoxville, we determined that strengthening our existing facilities and pursuing a new outpatient strategy will allow us to better meet the needs and preferences of today's healthcare consumers and support the way our physician partners prefer to practice," said Tony Benton, chief executive officer for Tennova Healthcare in East Tennessee.
The work will begin immediately and take place over the next two years.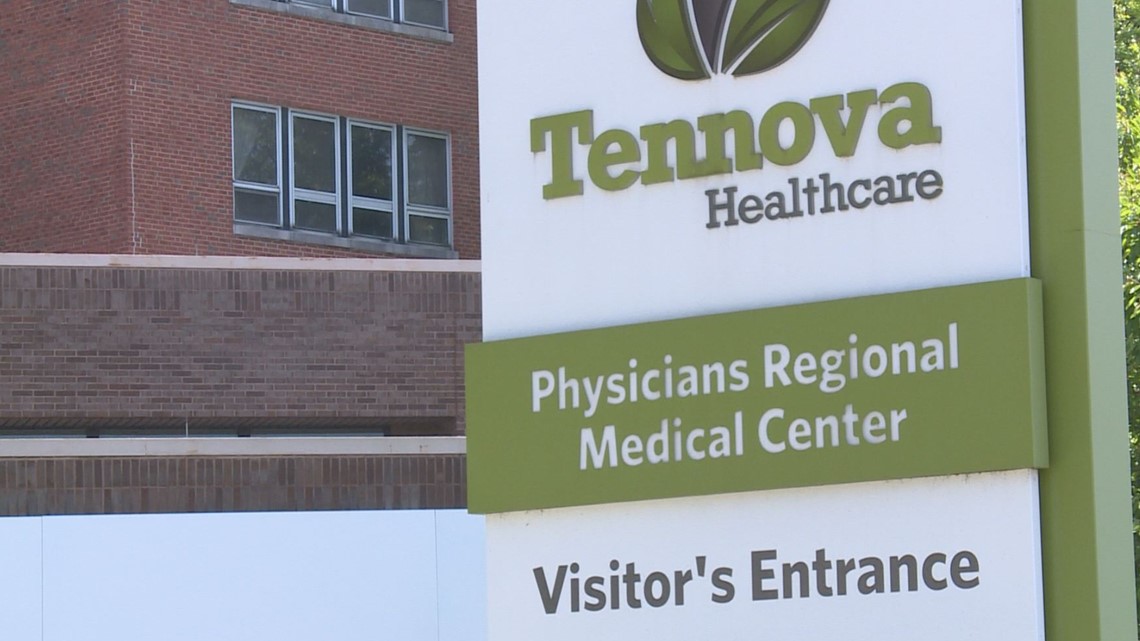 Tennova will begin moving the majority of acute care inpatient services to the North Knoxville and Turkey Creek Medical Centers, where it will renovate existing infrastructure to support care for more patients in targeted service lines. Physicians Regional will eventually become a more specialized campus, focusing on childbirth, inpatient physical rehabilitation, inpatient psychiatric care and emergency room services.
The childbirth services at Turkey Creek will relocate to Physicians Regional, which already performs more than 1,600 deliveries per year and offers a neonatal intensive care unit.
Former Knoxville City Councilwoman Barbara Pelot worked on the plan to bring a new Tennova hospital to West Knoxville.
"(We helped) assist Tennova in getting the property rezoned, being able to work out something that would be a plus for the neighborhood, which is immediately adjacent, and for the hospital as well," Pelot said.
She said there's some concern about the impact on pregnant moms to not have the Turkey Creek location handle childbirth services.
"I have had a text or so today that indicates there's a lot of concern about that," Pelot said.
North Knoxville will strengthen its cancer care services, and will add cardiac catheterization laboratories and operating rooms to help absorb the cardiac care and orthopedic, general and vascular surgeries currently performed at Physicians Regional.
Turkey Creek will convert its existing obstetrical beds to general medical/surgical beds, create additional operating rooms and add intensive care unit beds to accommodate increased and more complex general and cardiovascular surgical cases from Physicians Regional.
"This is the right way to build on the care we've been providing to the Knoxville community for years," said Doug Leahy, M.D., chairman of the Board of Trustees for Tennova's Knoxville facilities. "The board is confident this plan, developed by our local leadership team, will provide a more patient-centered delivery system that emphasizes quality and efficiency of care."
"Narrowing our services at Physicians Regional will allow us to concentrate our resources on a few, core services at that facility and reduce operational challenges associated with the building's age and physical plant," Benton said. "This focus is critical to strengthening our network so we can continue to invest in the high-quality services and outpatient facilities we know patients prefer."
10News asked if jobs could be impacted by the reconfiguration of services.
"Our intention is to work with all employees to make sure they have a role within the network, whether at their current work site or another location," said spokesperson Russell Marriott. "We are excited about our plans and look forward to working with our employees and physicians as we move ahead."
Knoxville City Councilwoman Lauren Rider, who represents District 4, said Physicians Regional has become a part of North Knoxville.
"There are a lot of people in this community that live here because of that hospital," she said. "We have a community where people have depended on healthcare for a long time. It's a large parcel property that's developed specifically for health care for decades."
Tennova will also work with local physician groups to expand and develop new outpatient care sites, including freestanding emergency centers, ambulatory surgery centers and physician clinic offices.
Officials said they will keep the Middlebrook property and consider other opportunities for the site that align with the strategic plan.
Pelot hopes the large West Knoxville property will still house something in healthcare.
"We certainly will stay engaged, I know that, and I know many other people will as well," Pelot said.