In the fall of 1958, dynamite leveled Clinton High School. No one was injured, but the explosion was a fiery mark of what the town had been through in the two years prior.
"They literally had to run a gauntlet to go to school," said Jerry Shattuck, with the Green McAdoo Cultural Center.
Their figures are statues today, but 60 years ago, the future of the Clinton 12 felt anything but rock solid.
"A mob was on either side of the street," Shattuck said.
They were 12 teenagers who helped transform East Tennessee.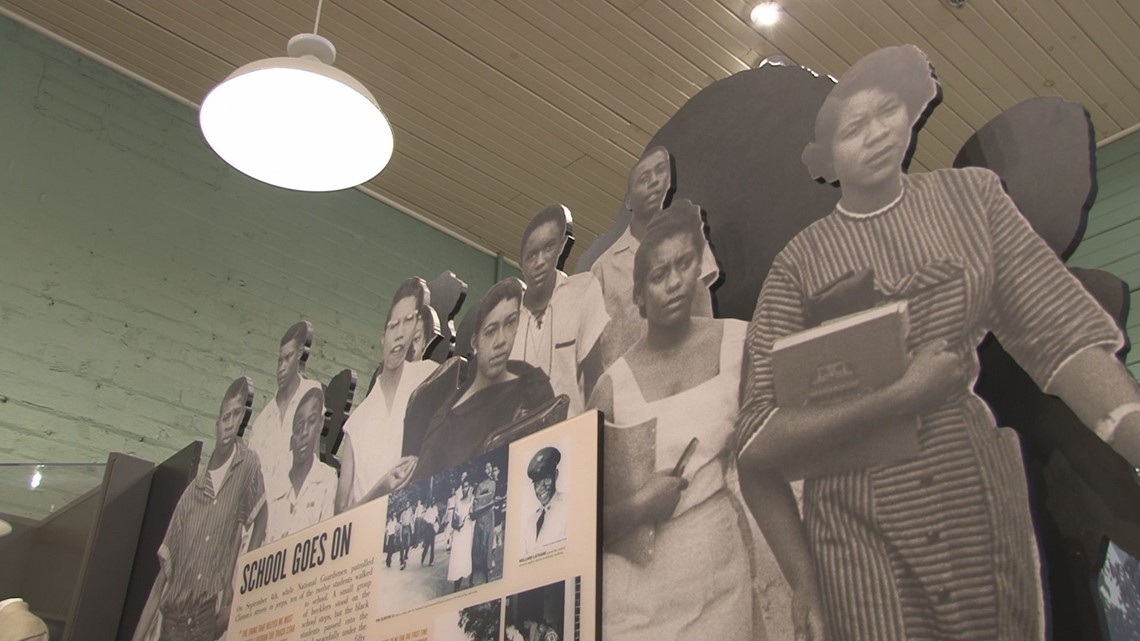 "Screaming and spitting and cursing and throwing things," Shattuck said.
In the late summer of 1956, every step changed history as the Clinton 12 faced racism and the status quo just to get to class.
"Once inside the school, it was sort of, a sanctuary," Shattuck said.
It was a sanctuary of desegregation. Clinton High was the first high school in Tennessee to integrate.
"It was national news," Shattuck said.
Shattuck was captain of the Clinton football team that fall. He now helps run the Green McAdoo Center. This museum is dedicated to the events that put Clinton, Tennessee, in the spotlight.
"60 black children went to school here in this grammar school, and when it came time for them to go to high school, they had to be bussed to Knoxville, and it was that situation that they black parents contested," Shattuck said.
The order came to desegregate, and that brought in troublemakers from all over.
"The town was inundated with these rabble rousers, the head of the White Citizen's Council in Washington D.C. and northeast Alabama," Shattuck said.
Leading their charge was John Kasper.
"As you grow up in a little town, you know everybody, and everybody loves you, and here we are, with this mob violence," Shattuck said.
Kasper championed anger and hate in response to the Clinton 12.
"You have these hordes of people coming in, really embarrassing your little town, and you resent it, so that makes your feeling even stronger about making this successful," Shattuck said.
With just 6 officers at the police department, a home guard of some 40 people mobilized to contain a mob of 3,000.
"Which was obviously a difficult task," Shattuck said.
Tennessee Gov. Frank Clement sent in state troopers and put the town under martial law, putting a stop to violence for the moment.
A few months later, a jury acquitted John Kasper of charges he incited a riot.
His trial pushed Clinton back into the national spotlight.
"The black parents were very concerned for the safety of their children," Shattuck said. "So they kept them out of school for about two or three days and about the third day, the white minister of the First Baptist Church came up here to Green McAdoo School and escorted the kids to school. On his way back, a part of the mob peeled off and beat him up."
Federal marshals shut that violence down, ending trouble for the school year.
"The first black student to graduate from a desegregated public high school in the south graduated that May in 1957," Shattuck said.
Today's students hear the story of the first 12 black students to integrate Clinton High School.
"It is a wonderful, real-life teaching opportunity that we can take advantage of," said Anderson County Director of Secondary Education Eric Snider.
Snider said learning about the Clinton 12 is part of the curriculum.
"It's not necessarily a black mark," Snider said. "A lot of positive things came out of it as well."
Including the community's reaction in the face of evil.
"That's the thing that impressed me the most," Snider said. "We live in times where everything seem to go very negative easily, and it's easy to get on that bandwagon. And to see people stand up, and literally stand up, and take a stance for what is right, is such a breath of fresh air and is so impactful and is such a teachable moment for our students."
And these 12 students of the past have a lesson for the rest of us, too.
The Green McAdoo Cultural Center opened in 2006.
It's open Tuesday through Saturday from 10 a.m. to 4 p.m.