SH Data Technologies will break ground later this month on what the company says will be Tennessee's first high density data center.
The data center will be in East Knoxville at the site of the former Fort Hill Building, 901 E. Summit Hill Ave.
In a news release, SH Data Technologies said they plan to call the data center "The Fort." It will handle data storage, cloud services, data security, disaster recovery and network and hosting services through connectivity providers like AT&T, the company said.
"This facility will be the cornerstone of a broader strategy to provide technology solutions with unlimited scale," CEO Butch Smith said in the news release. "This data center will be Knoxville's first Tier III data center, and will attract businesses from other regional cities outside of Knoxville to use our technology to manage, scale, and protect their highest priority data."
A groundbreaking is scheduled for Monday, Jan. 29.
The company did not say how many jobs the data center is expected to create.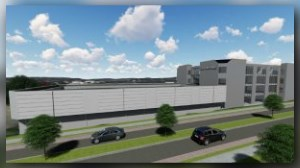 Knox County Mayor Tim Burchett tweeted Tuesday that the data center "will be huge for our area."
The facility will be a Tier III data center, and will compete with similar facilities in Atlanta and Chicago. Data centers are categorized on a tier scale with Tier IV being the most powerful.
"What makes The Fort unique is our power capabilities," Frank Hutchison, president of SH Data Technologies, said in the release. "We will have two separate power feeds from our partner, Knoxville Utilities Board (KUB), which provides Tier IV power capabilities. Coupled with our cloud services and disaster recovery capabilities, The Fort will offer businesses a way to safely manage and scale their data with first-class technology."
The first phase of construction will be restoring the Fort Hill building. The Fort will have 33,000 square feet of commercial office space and 8,000 square feet for the data center. The company said later phases of the project will include four separate data facilities with an additional 10,000 square feet of space.
SH Data Technologies said it purchased the property in 2014.
Doug Lawyer, vice president of economic development for the Knoxville Chamber, said the data center will be an asset for the region.
"Besides being a huge economic development win, in and of itself, The Fort will be an asset to add to the list of our region's technology infrastructure," Lawyer said in a statement. "I'm confident the data center will help get us on the radar of new business location opportunities from companies considering relocations or expansions."