KNOXVILLE, Tenn. — (UPDATE 9/20/21): Tennessee National Guard members are assisting more hospitals across the state amid the COVID-19 surge, including several in East Tennessee.
As of September 20, the Tennessee Guard said it was assisting 24 hospitals and eight antibody infusion centers.
New to the list in the past couple of weeks were Parkwest Medical Center in Knoxville, Fort Sanders Regional Medical Center, Morristown Hamblen Healthcare System, Claiborne Medical Center in Tazewell, Cumberland Medical Center in Crossville, Roane Medical Center in Harriman, and Fort Loudon Medical Center in Lenoir City.
Starting in late August, the University of Tennessee Medical Center said it requested staffing help from the Tennessee National Guard due to beds continuing to fill up with COVID-19 patients.
"We are looking at all options to help us during the next several weeks," officials with the medical center said. "Our current environment requires us to rapidly adjust."
Officials said at the time the Tennessee National Guard sent 10 guardsmen to support staff as they continue to manage a rise in COVID-19 cases.
Blount Memorial Hospital in Maryville and LeConte Medical Center in Sevierville also requested help from guardsmen to deal with staffing issues and to manage the surge of COVID-19 cases.
As hospitalizations surged, hospitals across the area reported challenges meeting the needs of patients. UT Medical Center and Blount Memorial announced that they would pause some non-essential surgeries on a case-by-case basis again to help alleviate some strain on the hospital.
As of September 20, East Tennessee regional hospitals reported a total of 724 COVID-19 patients. Data trends show hospitalizations in East Tennessee might be leveling out, though, and are no longer accelerating to day-after-day records.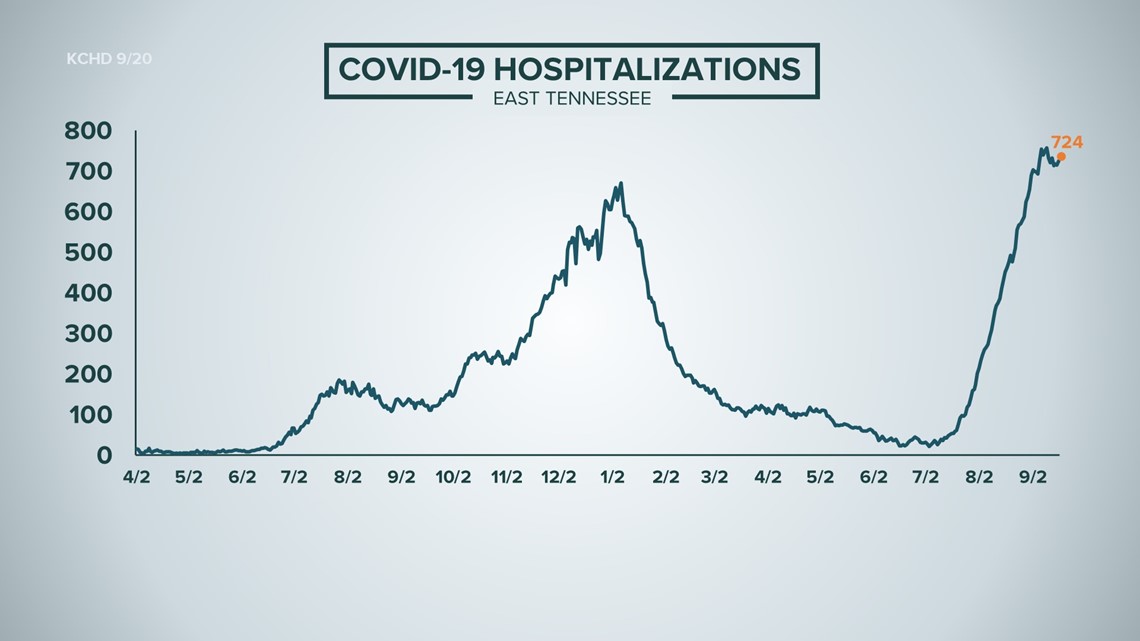 The Tennessee Department of Health said it expects East Tennessee's numbers to begin mirroring trends seen in West Tennessee for the past few weeks -- where hospitalizations are now declining after reaching new pandemic highs. TDH also reported concurrent hospitalizations across the state are on the decline -- though 3,286 people were still hospitalized as of September 20, which is comparable to high levels seen during the winter surge's peak.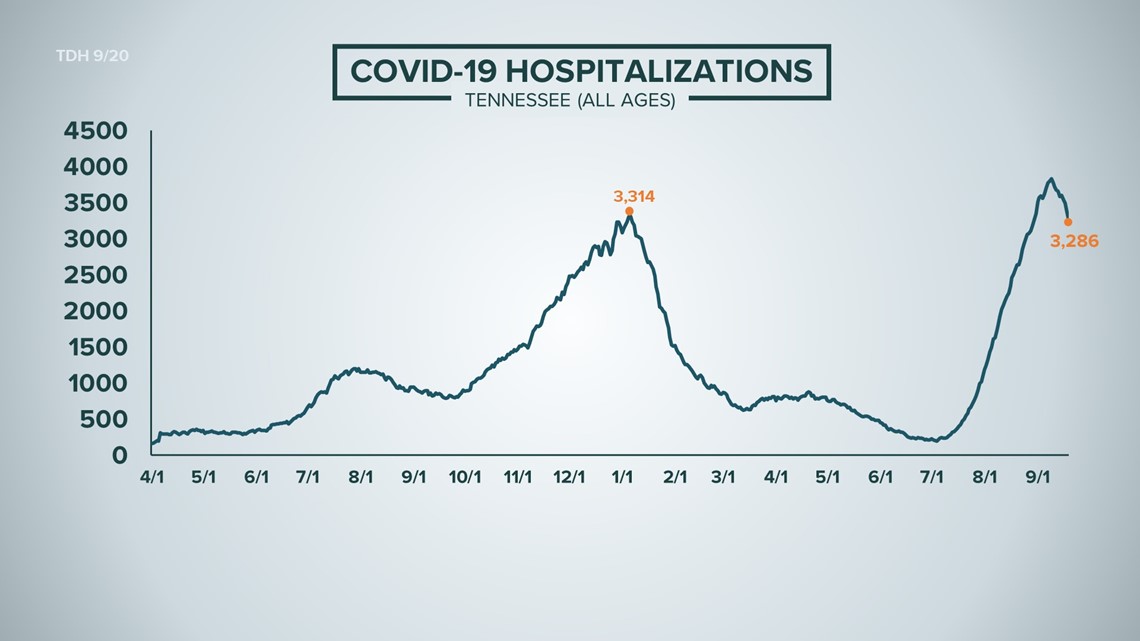 The vast majority of COVID-19 patients, cases, and deaths have been occurring in people who were not vaccinated, according to state and local health officials. From May to August, TDH reported 87% of all cases, 88% of all hospitalizations, and 88% of all deaths occurred in unvaccinated people.