Many evacuees in Gatlinburg and Sevier County say they never received an evacuation notice text alert on their phone.
The reason is part technical, part natural - and part miscommunication.
Officials released details Saturday concerning the coordinated public response in warning the public about the fire storm as it happened Monday.
Officials in Sevier County said the command post contacted TEMA requesting an Emergency Alert System evacuation message to be sent to the Gatlinburg area through the Integrated Public Alert and Warning System to cell phones around 8:30 p.m. However, the NPS said communications were interrupted due to disabled phone, internet and electrical services because of the high winds that day.
Officials said this led to a communication failure, leading to the notification not being delivered as planned to cell phones or mobile devices. The NWS was also unable to reach the local command post, so the EAS messages were only sent out through television and radio. Once communications were reestablished, TEMA was able to send mobile messages later asking people to stay off their mobile devices except for emergency use.
"Despite the catastrophic events that created barriers to communication, officials utilized all resources available to them at the time to warn the public of the impending threat," the NPS release said. "The multi-agency response of firefighters, police, and emergency responders continues to work efficiently as they enter the recovery phase."
The incident all began on Wednesday, Nov. 23, when a wildfire started on Chimney Tops in the Great Smoky Mountains National Park.
At the time, Great Smoky Mountains National Park Superintendent Cassius Cash said at a media conference Friday, officials saw the fire as small and manageable.
"We had the appropriate amount of resources that allowed us to fight that fire in an aggressive but still safe manner," he told reporters Friday morning.
But strengthening winds elevated the situation.
By Monday afternoon, those winds were blowing ash into downtown Gatlinburg, creating a thick, orange haze.
Still, at that time, officials announced during a Monday evening news conference that danger was not imminent for this mountain town.
"We are cautiously optimistic," Gatlinburg Fire Chief Greg Miller said early Monday evening. "We hope to be able to keep these people in their homes, but we will not implement a mandatory evacuation until we feel like they're going to be threatened, their health and their safety would be threatened by staying where they are."
But as history now shows, winds strengthened and this initially small fire spread quickly.
"We weren't blind to knowing that there was a high wind advisory," Cash said at the Friday morning news conference, adding, "the actual wind came in a lot earlier than it was forecasted."
Hours later, by Monday night, rapidly spreading flames took people on the affected mountainsides by surprise, many people having to drive - or even hike - through flaming woods to safety.
Around 9 p.m., Sevier County and Gatlinburg officials coordinated with the National Weather Service to issue an evacuation notice for the city of Gatlinburg, through something called the Emergency Alert System.
That EAS warning is the message that interrupts your TV program or radio station during, for example, a tornado warning.
That went out at 9:03 p.m. Monday on TV, radio and weather radio.
The EAS, however, does not have a mobile text alert component. That's according to Anthony Cavallucci, the warning coordination meteorologist at the National Weather Service in Morristown.
That means people relying solely on their phones got no evacuation alert on their mobile device.
What people did get was another kind of alert at 11:46 p.m., asking "Sevier Co residents please staff[sic] off mobile devices unless emergency."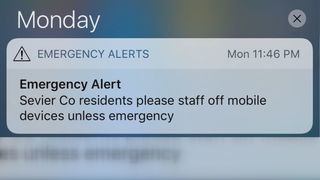 That text alert was accompanied by the same shrill tone that sounds during an Amber Alert.
This system, launched nationwide less than five years ago, delivers messages to people in emergency situations, including tornado warnings and flash flooding. According to FEMA, the WEA messages are not affected by network congestion.
The Tennessee Emergency Management Agency issues WEA messages here in the Volunteer State.
Another alert was sent out Monday night: an evacuation order for Pigeon Forge. Like the Gatlinburg evacuation order, it was sent through the Emergency Alert System. Also like the Gatlinburg evacuation notice, it was not delivered to any mobile device - only broadcast on TV, radio and weather radio.
So why, one might ask, did officials not send the two evacuation notices via the WEA system, which rings the tones and is unaffected by network congestion?
As TEMA spokesperson Dean Flener explained, "It could've been sent, but it would not have been the responsible thing to do because you could not give further instructions as to what people should do to evacuate, especially those who don't live in the city and know the routes."
That's because WEA messages, he said, are limited to 90 characters. (The one Sevier County residents received, for example, contained 72 characters.)
"If you say to a visitor, 'You need to evacuate Gatlinburg' without giving them any further instructions to say, you know, to take this route or go this way, which you can't do in 90 characters, you're really going to put them in more danger," Flener said.
John Mathews is director of the Sevier County Emergency Management Agency. As he pointed out Friday evening, every emergency responder was working feverishly Monday night to save as many lives as possible. This was a fire that quickly grew into an out-of-control disaster, due to high winds and ongoing drought conditions.
In the chaos, Flener said, TEMA officials thought the EAS message would send a push alert to mobile phones.
That, however, is not the case.
Many evacuees have told WBIR 10News their first indication they should leave their home came when they looked out their window and saw flames in their yard.