The operators of the Gatlinburg Sky Lift are working to determine how much damage it suffered from the fires that spread through the city last week.
"The chairlift's upper section and upper terminal appear to have experienced significant heat damage, the degree of which is being evaluated," according to a release from Boyne Resorts, who operates the attraction.
The upper viewing deck, including the gift shop, was destroyed; however, the street-level building and the lift's lower terminal were not impacted by the fire.
Boyne Resorts said they're working to determine whether they'll be able to repair the chairlift or if it will need to be replaced.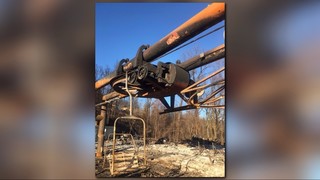 They hope to make a decision in the next few weeks.
But they believe they can re-open in mid/late Spring 2017.
"At this time, we are continuing with focus on our team members who have suffered personal loss from the fire. The Sky Lift is operated by Boyne Resorts and as soon as our recovery plan is finalized, full details will be released," the statement said.