Many of the Sevier County wildfire evacuees are wondering why they didn't get a notice to evacuate pushed to their phones last Monday night.
That comes as many of them tell WBIR 10News their first sign to evacuate came when they looked outside and saw flames in their yard.
In a joint statement over the weekend, officials with Sevier County, Gatlinburg, the Great Smoky Mountains National Park and TEMA cited a "communications interruption" that evening.
Gov. Bill Haslam told reporters Monday that local and state officials need to "go back and find out exactly what happened" as far as emergency notifications the night of the fires.
"We talked a little bit about that this morning in terms of when the notice went out, what happened, how much of that was impacted by cell towers going down, how much that was impacted by people who had phones that weren't capable of receiving the messages, so I think that's what you'll see both the local emergency management people and our folks saying is 'what happened and how can we make certain that in the future that everybody gets the notification that they need?'" Haslam said following an event in Nashville Monday morning.
Asked if he thought officials in Sevier County waited too long to evacuate the city, Haslam said "I think we'll have time to go back and find that out."
"Don't lose the fact that a lot of people did incredible work - first responders, local government officials, state officials. I mean it was, I was incredibly impressed by the great work that happened that kept there from being even greater loss of life," Haslam said.
As 10News has learned, the alert system to send out such an evacuation notice is complicated.
Everyone is familiar with the jarring tones of an emergency alert on television, notifying viewers of, say, an active tornado warning in their area.
But did they go out the night of the fires?
Here, they send out tornado warnings, flash floods warnings and - in special cases - something called a non-weather emergency message, such as an Amber Alert or Monday's evacuation orders of Gatlinburg and Pigeon Forge.
"We select what we want to send, so in this case it was a civil emergency, evacuation immediate," Cavallucci said, maneuvering a drop-down menu on his computer screen.
In all of these types of alerts, the notice goes out over weather radio, radio and television.
"What you see, if you're watching television, scroll across the bottom of the screen," Cavallucci explained.
This type of alert is activated through the Emergency Alert System (EAS).
But the National Weather Service will only push an alert to your phone for one of these seven severe weather warnings -- tornado, flash flooding, extreme wind, hurricane, typhoon, dust storm, tsunami -- and a TBI-issued Amber Alert.
That smartphone push-alert text is called a Wireless Emergency Alert (WEA) message, and other agencies can activate one, too.
Last Monday night, for example, the phones of people in Sevier County started sounding an emergency tone, with a message asking them to "please staff[sic] off mobile devices unless emergency."
That particular WEA message was activated by the Tennessee Emergency Management Agency (TEMA), not the National Weather Service.
"The National Weather Service doesn't have authority to do that and our systems aren't set up to do that," Cavallucci said.
In total, last Monday night, three alerts were issued.
Later came a notice for those in Sevier County to stay off their phones, activated by TEMA and sent to smartphones and other newer mobile devices (WEA).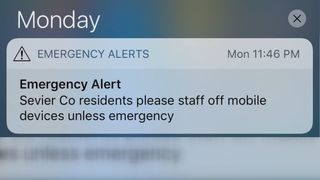 Finally, a second evacuation order asked some residents in Pigeon Forge to evacuate. Like the Gatlinburg evacuation order, this message was activated by the NWS and - also - only distributed over broadcast (EAS).
Both the EAS and WEA are part of something called the Integrated Public Alert & Warning System, or IPAWS.
"The Integrated Public Alert and Warning System (IPAWS) is a modernization and integration of the nation's alert and warning infrastructure and will save time when time matters most, protecting life and property," FEMA says on its website.
When asked Friday why TEMA didn't activate a WEA text message for the evacuation notices, spokesperson Dean Flener said those messages are limited to 90 characters.
"If you tell people to evacuate in 90 characters, without giving them instructions, all you're going to do is make the situation worse," he said.
10News asked Flener Monday why TEMA couldn't have just sent two WEA messages, back-to-back, to overcome that 90-character limit concern.
Flener directed 10News to Saturday's joint statement, in which TEMA and Sevier County officials said, "communications between the agencies was interrupted due to disabled phone, internet, and electrical services. Due to this communication failure, the emergency notification was not delivered as planned..."
"There are numerous layers to all this confusion," Cavallucci said.
Adding to them, he said, is the fact that some news outlets and weather apps may have sent their own push alerts, so some people may actually have received some form of text alert about the evacuation(s)-- just not any official WEA alert.
It's also worth noting Sevier County has an emergency notification system called CodeRED. Like other systems some might know, like REVERSE 911 and Everbridge, CodeRED is a commercial "opt-in" notification system, with which municipalities can contract for communication with residents during emergencies.
However, people have to SIGN UP for that before getting alerts.
10News asked Sevier County emergency management agency director John Mathews how many people were signed up for CodeRED as of that Monday and whether CodeRED was used.
"Officials are working on the sequence of the events around the disaster," he replied. "We will be back in touch regarding your interview requests."
The National Weather Service out of Morristown has compiled a list of all of its notifications leading up to and on the night of the devastating wildfires. That's HERE.