A timeline of recovery: Sevier County remains Smokies Strong more than 6 years after wildfires
In the more than six years since the wildfire, some scars from the can still be seen in the mountains, but they continue to heal.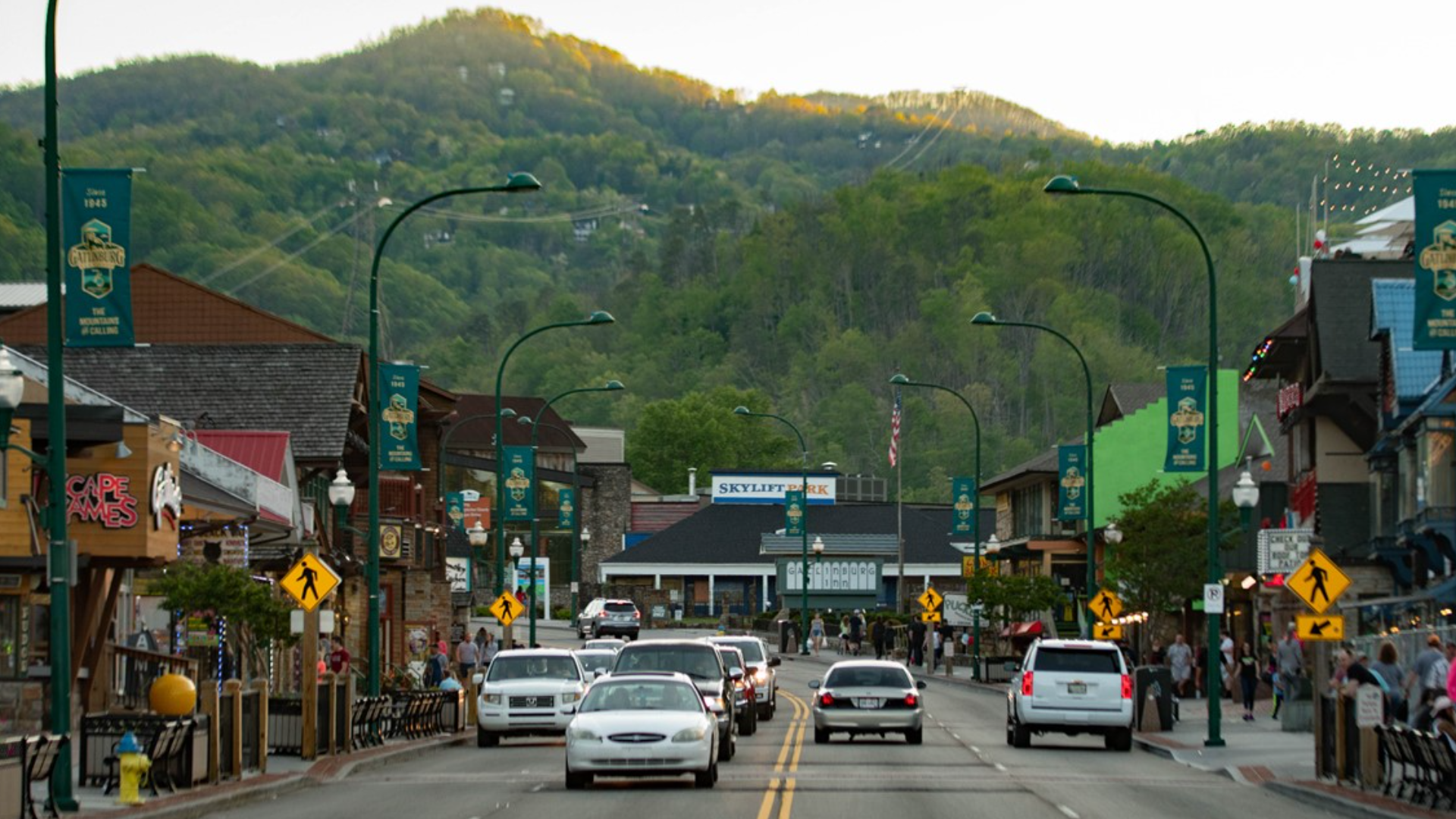 It's been more than six years since the Chimney Tops 2 fire spread out of control into populated areas in Sevier County, devastating portions the area in 2016 and claiming 14 lives.
There were 1,032 structures destroyed or substantially damaged in that fire. But after the smoke had cleared, East Tennesseans worked together to quickly rebuild.
In the years since, some scars from the fire can still be seen in the mountains, but they continue to heal. From the initial recovery to present day, it's been through the hard work and large hearts of countless people -- both named and unnamed -- that the area has been able to rebuild and moved forward since those harrowing days.
2017
:
The year 2017 began with hardship for many as they worked to recover what they could from the fires. As the year went on, the initial recovery began to hit its stride.
Almost six months after it was damaged by fire, the rebuilt Gatlinburg Sky Lift reopened just before the Memorial Day weekend. Gatlinburg Mayor Mike Werner and Sevier County Mayor Larry Waters rode the celebratory "first chair" up the lift.
For years, Gatlinburg had flood warning sirens downtown, but the devices were destroyed in the 2016 fires. Several new warning sirens were installed across the area, with the system designed to have redundant backups in case one system fails, using computer, hardwired and radio-based methods to activate sirens.
301 days after burning to the ground in the November 2016 Wildfires, the Alamo Steakhouse in Gatlinburg rebuilt. At the time, 95 percent of the original staff from before the fire went back to work serving once again.
An after-action report issued by the National Park Service found "preparedness and planning weaknesses" hindered the response by Great Smoky Mountains National Park officials to the devastating Chimney Tops 2 fire in November 2016, but there was no evidence of negligence on the park's behalf.
For more than 10 months, bright orange barriers had blocked the trail head to one of the most popular hikes inside Great Smoky Mountains National Park. In October 2017, the Chimney Tops trail was once again open to the public. The trail work cost roughly $90,000, which came from a combination of federal funds and Friends of the Smokies.
One of the powerful stories from the 2016 Sevier County wildfire came from a family trapped at the Park Vista hotel in Gatlinburg. As smoke overwhelmed the building, Christa Fordan feared death and wrote what she believed were her final words. The family's recovery transitioned from a list of final words to a new list of things they would like to do with their lives.
In Gatlinburg, 2017 will be marked by strength, resiliency and healing after the wildfires. It was a year the community was thankful to put behind them.
"Material things just don't mean that much. It's the people who matter," said Gatlinburg Mayor Mike Werner. "Time heals but my gosh, it's still just hard to believe it happened when you look back."
2018
:
In 2018, recovery efforts rapidly progressed -- and tourists once again began heading to the mountains in record numbers. By the end of the year, those who had led the initial recovery efforts would announce their mission was complete.
In the days after the fire, Dolly Parton and the Dollywood Foundation established the My People Fund to help wildfire victims, promising a $1000 a month for six months to families who lost their homes. In the final month, she gave each family a $5000 check.
The researchers found that the cash donations were by far the most helpful for victims, when compared to donations of food, clothing, or other goods.
Nearly a year and a half since wildfires destroyed their church, Roaring Fork Baptist in Gatlinburg held its first service under a new roof. Music poured out of the new church that Sunday morning for the first time since being rebuilt. Nearly 200 people, all dressed brightly and singing loudly, were thankful for the work and volunteers that brought them into their new, permanent sanctuary.
Sevier County's tourism bounced back tremendously in 2018 and people returned to visit the Great Smoky Mountains National Park in record numbers.
"They thought the park burned down. It was very hard. It took a long time for the people to realize the park was open," Jan Caughron, a park volunteer, said.
On the night of the fire in 2016, executive director Bill May fled the Arrowmont School and returned to nearly a quarter of the campus burned. In late 2018, gone were the many of the construction crews and burn marks, replaced two years later by buildings and homes stronger than before.
New businesses steadily opened in Gatlinburg two years after the 2016 wildfire disaster.
"The future's bright for Gatlinburg," Chamber of Commerce President and CEO Mark Adams said. "But not only Gatlinburg--but Sevier County, and tourism. So Sevier County is the number three county in the state of Tennessee for providing tax dollars back to the capitol. So we're excited about that."
An organization founded to help Sevier County residents recover after the 2016 wildfires said it had completed its mission in December 2018.The recovery team assisted people on a case by case basis, helping out with things like cleanup, home rebuilding and more.
The Mountain Tough Recovery Team helped hundreds of people who applied for assistance. On September 2018, the group said out of the 600 people who registered, 70 percent met the criteria and received some type of help or have been identified as 'recovered.'
2019
:
2019 saw businesses working to expand once again, with several noteworthy additions.
Roughly two years after repairing and reopening its lifts, SkyLift Park made progress on renovations and opened a new record-breaking attraction that captured attention from around the world: The SkyBridge. The SkyBridge measures 680 feet in length, making it the longest pedestrian suspension bridge in North America.
The FBI Knoxville branch honored Sevier County's most beloved daughter for her and the Dollywood Foundation's recent work to help those devastated by the 2016 wildfires. The FBI awarded the Dollywood Foundation with the 2018 Director's Community Leadership Award.
"May y'all continue to have the faith, the strength and the vision to make your dreams come true," Dolly said.
Nearly three years after the Gatlinburg wildfires, University of Tennessee librarians began work on a special project to archive that history. It's expected to be completed sometime in 2022. The purpose is to speak with people who were impacted by the fire and preserve their experiences for the future. From survivors, first responders, UT researchers and park employees, the project is expecting to document what the fire meant through hundreds of on camera interviews.
The 2016 wildfires drew the interest of researchers looking to learn about the impacts to the mountains. UT biologist Brandon Matheny and fellow UT biologist Karen Hughes are part of a team of researchers who studied how fire-loving fungi helped reconstruct the Smokies. They teamed up with the University of Illinois to forge new paths into how forests grow back successfully.
Buckberry Lodge, situated on top of a mountain in Gatlinburg with stunning views of Mount LeConte, was almost a total loss after the fires. It was made up of 46 suites in four buildings, along with a lodge building that held a restaurant. The family managed to reopen for business with one building in the year after the fire. In 2019, they said they hoped to do more to eventually expand the resort again.
The 2019 Thanksgiving season held a lot of meaning for the Gatlinburg Church of Christ. It was their first Thanksgiving service in the new building, almost exactly three years after they lost their original building that dated back to 1964. It took a lot of time, effort and donations from people across the globe to build a new church.
Their new mountain home was called "New Bear" -- but the significance only stands out if you know what happened to the old one. The Gatlinburg wildfire destroyed Pete and Joy Jucker's Chalet Village house in 2016. Three years later, the Juckers not only had a place to live, it was a model of Firewise development.
Through the ups and downs of the year, a high point for Reba Williams of Alabama is her traditional trip to Westgate Resort in Gatlinburg.
"It is a pleasure. Every year, I get my calendar and say, 'Now when am I going to Gatlinburg?' I love it," said Williams.
Williams and her former husband made the trip in November 2016. Someone knocked on their door on the fourth floor and told them there was a mandatory evacuation.
"We didn't know it was an emergency and just got on the elevator," said Williams. "It went down half a floor and then the power went out."
Williams pressed the emergency buttons and called 911 at around 8:00 p.m. The dispatcher said help was on the way.
Reba and her husband waited. And waited. She called 911 a few more times. Despite assurances crews were on the way, nobody showed up.
The dispatcher learned crews tried and failed to reach them through a tangle of burning trees and power lines for eight hours. The elevator was surrounded by fire and soon filled with smoke. Reba prayed to die from smoke rather than fire. Embers were already starting to burn her clothes.
With a fiery hell creeping up from below, Reba and her former husband made plans for up above.
"We said our goodbyes to each other and said, 'See you in heaven.' We just, we knew that was the end," said Williams. "I passed out. I saw Jesus in the white light in a tunnel. And I remember his arms were not extended out, so maybe he's not ready for me yet. And about that time I heard someone say, 'Ma'am, you've got to stand up.'"
Fire crews finally reached the elevator and pried it open.
"I'm a walking talking miracle. I should not have come out of that thing alive. But I did," said Williams.
Williams has returned to Gatlinburg several times and she'll keep coming back. After a night when they would not go down, the highs of the Smokies feel even closer to heaven.
Three years after the Gatlinburg Wildfire, the community continued to recover in a big way. There were 1,032 structures destroyed or substantially damaged in that fire. Now, hundreds have been rebuilt, and the City of Gatlinburg named 30 things it's doing to protect the community if disaster ever strikes again, such as upgrading emergency alert equipment and improving communication.
2020
:
The 2020 pandemic would put a hold on many projects that had been in the works, at least temporarily as Sevier County dealt with depressed tourism.
A federal survey into the Chimney Tops 2 fire revealed most people were unprepared and largely unaware of danger that was growing up to and during the night of November 28, 2016. Its findings were eye-opening: The majority had been largely unaware of wildfire risks after days and weeks of smoke in the air, had never been through an evacuation before, and only a small percentage said they were warned or received information the fire was present through official sources or an evacuation notice.
Survivors and victims of the 2016 Gatlinburg wildfire disaster could proceed with negligence lawsuits seeking damages from the federal government following a 2020 ruling from a federal judge. The government sought to dismiss several lawsuits, including one involving a Gatlinburg man who lost his wife and two daughters in the Nov. 28, 2016, disaster.
The judge found that the National Park Service failed to follow mandatory steps in its own fire management plan in notifying its neighbors about the fire. The Park Service said it put out numerous notices about the fire over the long Thanksgiving weekend, but the judge ruled the government failed to adequately prove its case.
2021
:
In 2021, tourists would once again flock to the area, and nature continued to heal the scars left behind from the fires. While housing issues remained present, people reflected on just how the area has come five years later.
More than four years after wildfires swept through Sevier County and the Great Smoky Mountains National Park, the forest continues to recover and grow.
A park scientist has been tracking the area's recovery using repeat photography by returning to the same location and capturing the same photo year after year, according to the national park.
The 2016 wildfires destroyed some 2,000 structures. Some chose not to rebuild, others converted their properties into lucrative rental developments. Joel Poole was one of the unlucky many, saying rebuilding would have cost double the insurance payout. After initially living in a trailer and then another cabin, he and his family finally moved into a condo near Downtown Gatlinburg this spring.
Five years after the fires, construction on a memorial honoring the victims and survivors of the 2016 Sevier County wildfires has yet to begin — more than two years after it was initially scheduled to be completed. A city of Gatlinburg spokesperson said bureaucratic review as part of a state grant process is responsible for the delay and construction is now not expected to start until spring 2022.


At a glance, visitors might miss the scars left behind by the 2016 Sevier County wildfires. New growth and rebuilt structures fill many of the areas that were affected.
"We knew that if we stayed strong and worked together as a team, that things were going to ultimately be be for the better," said Marcus Watson, marketing director for the SkyLift Park. "We went through some hard times and persevered... we're seeing record numbers."
Marci Claude, the public relations manager for the Gatlinburg Convention & Visitors Bureau, said that spirit of resilience is what Mayor Mike Werner meant went he said they would be "mountain strong."
An ongoing lawsuit against the National Park Service over its handling of the 2016 Gatlinburg Wildfire is on hold as a federal judge considers a motion to dismiss the suit. Nearly five years after the devastating fires, in which 14 people died, there is still no resolution in the case. Judge Ronnie Greer had set a trial date in 2023.
"Sometimes the wheels of justice turn very slowly and there's always the possibility of appeal," attorney Sid Gilreath, who initially filed the lawsuit, said. "We're hoping it'll get started up again soon."
From his new condo on Gatlinburg's Ski Mountain, Bob Ward still remembers how close he came to the flames of the 2016 Sevier County Wildfires. The fire interfered with cell service and internet services. No text alerts were ever sent. The directions that helped Ward get off the mountain came from neighbors who were trying to do the same thing.
5 years after the fires, Sevier County's Emergency Management Director said communication methods have improved. Sevier County and Gatlinburg now have access to send phone alerts, text messages and calls. Mass notification can be sent via an AM radio station and with new warning sirens in the mountains around downtown.
It's been five years since Pete Jucker and his wife, Joy, lost their home in the Chalet Village neighborhood to the 2016 Gatlinburg wildfire.
"I don't remember having a dream about it for two or three years now. I used to dream about it, but the images are still pretty vivid in my head," Jucker said.
Fire may have consumed his home, but flames have not touched Pete's spirit.
2022
:
Brooke Kizzire very vividly remembers the day thousands were evacuated from Gatlinburg, her parents included.
She was in school, afraid for her parents' lives as a fallen tree blocked their only escape from the blaze.
Today, her parents are safe and her home still stands while many of their neighbors were not so lucky.
Kizzire wrote "I am Fire" in the perspective of the wildfire that took several lives, injured hundreds, and destroyed countless homes and dedicates her poem to them.
"The prompt was 'my nature' and at first I felt that I wanted to write about the beauty of nature but this was just heartbreaking," Kizzire said. "After a while people usually move on from things but when you've experienced it personally it's hard to just move on, so I hope this has touched them in a way so that they know they're not forgotten even though it's been years since the fact."
Kizzire is a sophomore at Oak Ridge High School where she will continue writing while pursuing a career in nursing.
The following poem is written by Brooke Kizzire:
I am summoned by the will of children.
Their physique is of a man;
but children none the less.
Oh, how the spark of life is so addictive.
By the strike of a match, I have been born.
On this day of stillness,
a sudden wind comes from an unknown place,
as if to greet my arrival.
It is strong, but welcoming.
I slowly creep across the earth;
staining the world in ash.
The dry leaves dissolve at my touch
and the wind gets stronger, to show approval.
The swaying trees cackle tauntingly.
I put the insult to rest.
I must continue on my path of expansion.
As I crawl, I feel my strength increase
and my capabilities broaden.
My heat radiates onto the surrounding wildlife,
causing them to scurry away in fear.
Climbing up trees come easily to me,
as the branches that once mocked me burn to charcoal.
I grow, but I still want more.
Trailing the mountain range,
A sunrise in the middle of the day,
As I look down, the people still underestimate my abilities,
I can bring a grown man to his knees;
have him cry out to his God.
During the 2022 Wears Valley fires, Savannah Badalamente watched the smoke grow from the porch of a rental cabin on Hatcher Mountain.
Visiting with her family from Macomb, Mich., she heard sirens and assumed firefighters would quickly get the blaze under control. It wasn't until her phone buzzed with an evacuation notice that she knew they needed to get out.
"At that point we all panicked," Badalamente said. "We all turned and looked at each other and said, 'We got to grab a few things, whatever we can grab quickly in the next 30 seconds and hop in our vehicles and leave.'"
That notice was one of half a dozen alerts sent to phones across Sevier County during the fires. It was sent because of lessons learned after the 2016 Gatlinburg Wildfire according to Joe Ayers, the EMA director, at a press conference last Thursday.
After 2016's wildfires, Sevier County implemented a streamlined phone alert system and added an FM radio station and warning sirens. The emergency manager activated all three systems during the fire last week.
"[The alert] allowed us to give them specific instructions to hopefully get them out in time before any injuries or loss of life," Ayers said. "I believe that it worked well. We were able to get the messages out."
Sevier County Mayor Larry Waters credited those developments to recommendations made in an after-action report following the Gatlinburg wildfire.
According to a federal study, the majority of people had been largely unaware of wildfire risks after days and weeks of smoke in the air and had never been through an evacuation before. Only a small percentage said they were warned or received information that the fire was present through official sources, or received an evacuation notice.
By contrast, when the fires began in Wears Valley last week, every phone in the county lit up with the evacuation alert. It's what got Savannah Badalamente and her family off the mountain.
"Remember that material things can be replaced, but lives can't," she said.
The Anna Porter Public Library in Gatlinburg partnered with the University of Tennessee Libraries and the city of Gatlinburg to host an art exhibition that hopes to heal scars after the deadly November 2016 Chimney Tops 2 wildfires.
The exhibition "Wildfire Recovery Through Art and Public Memory" opened on August 1 at the Anna Porter Public Library. It features part of more than 40 drawings that show the impact of the fires and the response by the community in and around the Great Smoky Mountains.
"It's a very unique way of commemorating a tragic event, a once-in-a-century, maybe even more, event, and I think the various ways the libraries have approached this with the interviews and the art and all the different ways they are archiving this information so it's not lost... I think that's, I think it's an historic event," artist Danny Wilson said.
The Gatlinburg City Commission approved a contract with Whaley Construction for the Chimney Tops II Wildfires Memorial, which will be located at Mynatt Park.
Plans call for honoring first responders and the 14 lives lost in those wildfires. More than 300 agencies from across the state pitched in to assist Gatlinburg first responders. They will be individually named in the memorial. That includes Pigeon Forge Fire Department.
"It was a relief because we were out there for a while on our own. When you start seeing apparatus and departments from Chatanooga and Nashville and Murphysboro and places we never thought we would see come into the city, it was just an amazing feeling to know we had some help coming," Pigeon Forge Captain John Carr said.
At the time, it had been five years since the city said it would build a memorial to honor victims and survivors. The project faced several years of delays. In August 2019, the original downtown Gatlinburg site where they planned to build it was damaged by heavy rains, so the city decided to move the memorial site to Mynatt Park.
After the vote Tuesday evening, dates began falling into place and city leaders said construction would soon be underway.
"Long overdue. It's going to be a beautiful addition to the city and we can't wait to memorialize that event and the things that happened because it's so emotionally impactful to people and it's time that we got that put into place," Gatlinburg Commissioner Ryan DeSear said. "It will forever be etched in our mind and now we get to memorialize it in the right way."
2023
:
The fate of hundreds of people seeking money from the federal government over the 2016 Gatlinburg wildfire disaster now rests in the hands of three appellate court judges in Cincinnati.
Lawyers for people such as Michael Reed, Jackie Barnes and Jim Vance as well as the government argued in Jan. 2023 over whether a federal judge in Greeneville was right to dismiss their years-old lawsuits last year.
Senior U.S. District Judge Ronnie Greer ruled in February that plaintiffs in a half-dozen or so lawsuits against the United States had failed to fully state the basis of their claims on a routine piece of paper -- what's called an SF-95 -- as required under federal law.
They didn't come out and say, as they alleged in lawsuits, that National Park Service employees had inadequately warned the public at large about a huge fire in Great Smoky Mountains National Park in November 2016 that was bearing down on Gatlinburg and other parts of Sevier County, the judge found.
His decision dealt a heavy blow to people who lost both property and family, such as Reed, whose wife and young daughters perished when the fire consumed their neighborhood.
In all, 14 people died in the fire or while fleeing it. It caused more than $1 billion in damage. It was one of the worst disasters in the state's history.
The plaintiffs hope to revive their lawsuits through the Sixth Circuit, U.S. Court of Appeals.