"You were and you remain a guardian angel to us," his mother Zenobia Dobson said in Los Angeles, addressing her late son while accepting the award on the 15-year-old's behalf.
Many in the crowd, including professional football and basketball players, brushed away tears during a 12-minute video tribute to Zaevion.
Zenobia Dobson and her sons Markasin Taylor and Zack Dobson addressed the crowd after an introduction by Golden State Warriors star Steph Curry and a screening of the video.
The Arthur Ashe Courage Award is one of the most prestigious in sports, though it really transcends athletics. ESPN says its recipients should "reflect the spirit of Arthur Ashe, possessing strength in the face of adversity, courage in the face of peril and the willingness to stand up for their beliefs no matter what the cost."
Some well-known celebrities have won the award, including Pat Summitt, Robin Roberts, Nelson Mandela, and Muhammed Ali.
After a brief introduction by Curry, the audience Wednesday night watched a moving video tribute to Zaevion's life. In the film, actor Michael B. Jordan portrayed Zaevion in voiceover, recalling his life, his family and Dec. 17, 2015 - "the last day of my life."
Family members, friends, teammates and Fulton High School coach Rob Black recalled the teen, noting he had a charisma that drew others to him.
Zack Dobson said he and his younger brother did everything together as children. Sometimes, he said, Zaevion would announce that he wanted to sleep in his brother's bed.
"He would wrap his arm around me and go to sleep," Zack Dobson said.
On Fulton's football team, Zaevion played defense and Zack played offense.
"I was all about defense," Jordan said, posing as Zaevion.
Faith Gordon and Kiara Rucker also were interviewed for the video. Zaevion shielded them the night of Dec. 17, 2015, when gunmen or a gunman fired randomly in the Lonsdale neighborhood where Zaevion lived. The teen suffered fatal gunshot wounds while on a back porch.
"When I arrived on the scene, I saw yellow tape," Zenobia Dobson recalled. "Zack told me what happened to Zaevion."
Coach Black said "I can't think of anything more courageous to do than what Zaevion did."
Knoxville Police Chief David Rausch marveled that Zaevion would act so instinctively.
The video's closing moments showed Zenobia Dobson visiting her son's grave, carrying Denver Broncos banners.
"From my heart to heaven, always," she said. "Thinking of you, missing you. Love you so much, love you so much."
Zenobia Dobson told the audience her son wasn't the only young man to die because of gun violence in Knoxville. She described Zaevion's younger cousin, 12-year-old Jajuan Latham, who was killed by driveby gunfire in April. His case remains under investigation.
She also called on Americans -- and athletes in the audience -- to act to stop gun violence.
"We as a country need to take a stand," she said.
After the presentation, the audience rose as one in a sign of love and respect.
Even President Obama has acknowledged Zaevion's selflessness, calling it, "An act of heroism a lot bigger than anything we should ever expect from a 15-year-old."
"He'll always be in my heart," Zenobia Dobson told 10News in California before the ESPY awards started. "He's going to speak through my heart. I'm so glad to be here in his honor."
Other athletes with Tennessee connections also were being honored Wednesday night, including former Vols Peyton Manning and Eric Berry and the late Lady Vols coach Pat Summitt.
PREVIOUS STORY: This year's recipient of the Arthur Ashe Aware is not a household name around the world.
Instead, it will go to an ordinary teen that was a standout high school football player, a young man with a bright future, who became an innocent victim of gang-related violence.
Zaevion Dobson, 15, was hanging out with friends on a front porch one December evening when gun shots rang out. Without hesitation, investigators say the teen used his own body to shield his friends from danger.
His death brought us to tears, but his life inspired us.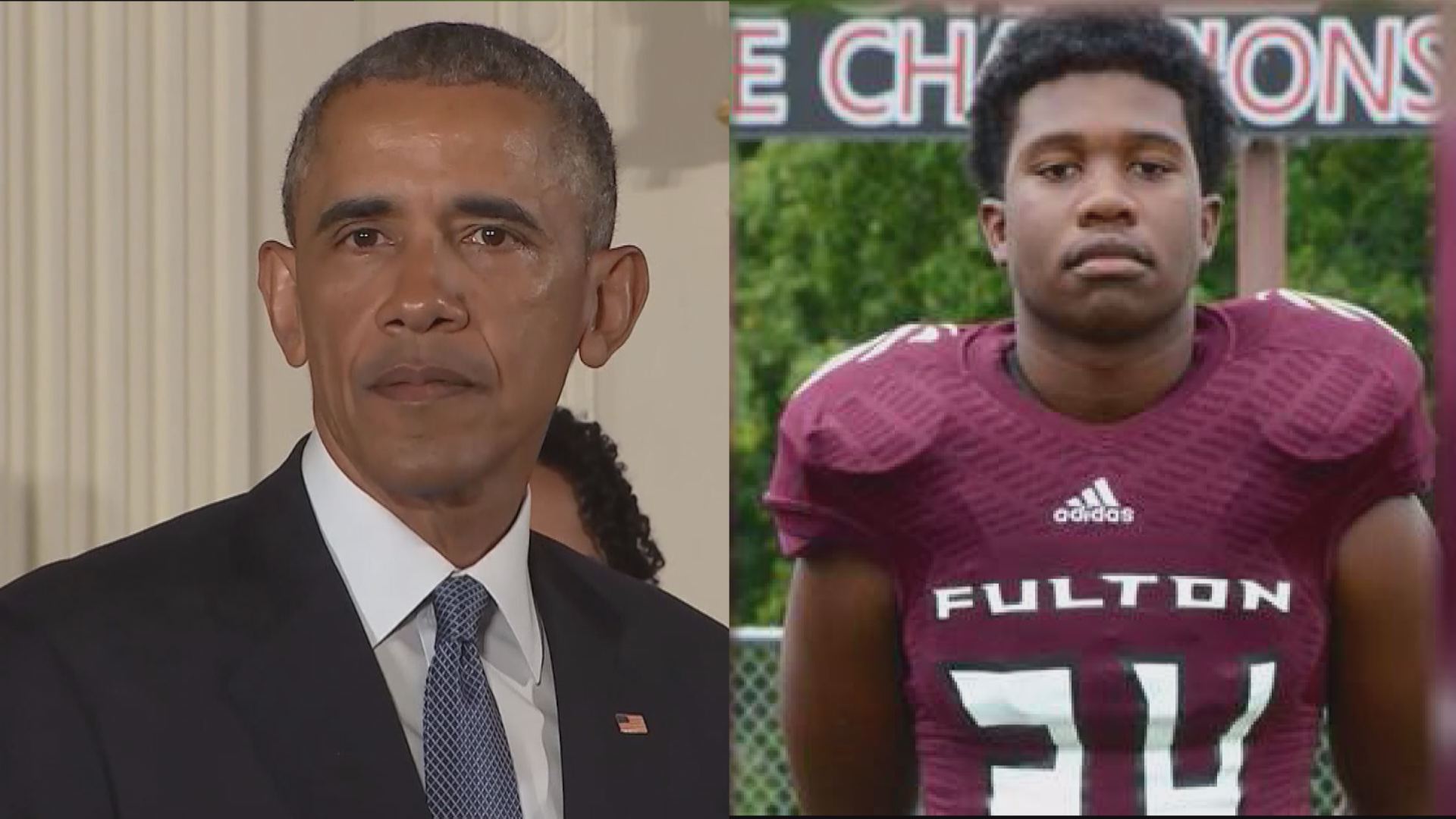 Members of the Dobson family including Zaevion's mother Zenobia Dobson and brothers Zack and Mark attended the event Wednesday.
"He'll always be in my heart," Zenobia Dobson told 10News outside the event. "He's going to speak through my heart. I'm so glad to be here in his honor."
Zenobia is accepting the award on her son's behalf, an honor she says he deserves for a senseless death he did not deserve.
"My voice needs to be heard about how I feel about gun violence. Laws need to be changed. We need to save our innocent lives," she said.
Zack, who was also Zaevion's teammate on the football field, was also looking forward to sharing what happened to his younger brother.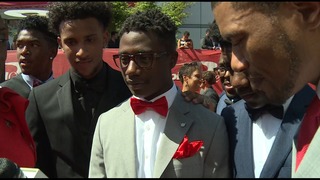 "It's mixed emotions. Sometimes I feel sad, I think about my brother and the situation. But on the other side, they're in a positive way that everyone's going to know the story," he said.
Video: The day Zaevion Dobson died: friends recall tragic night
Zaevion's friends and family want to tell the world his story, and they will never forget that day in December.
"We had a basketball game here at Futlon that night. Zach and Zaevion and a bunch of his buddies where here at the game," remembers Fulton football coach, Rob Black, who will be in the audience at the ESPY's
After the game, the brothers and their friends went to a restaurant, then to a friend's house.
"We were hanging out and then we were sitting on the back porch. I think there were like four guys that walked up, I don't really remember," recalls friend Xavier Malone. "Dewy was like, something don't look right. So we stepped off the step. Next thing we heard was gunshots."
The boys scattered, except for Zaevion, who police say was shot when he jumped in front of some girls who were also on the porch.
"I realized he wasn't with us when we jumped the fence. When we jumped the fence and we looked back and he wasn't behind us I was like, oh yeah, he didn't run," says Malone.
"I got a call from my girlfriend. She was like, 'did Zaevion get shot?' I was like no, I don't think so," friend Chaton Mobley says.
"I probably hadn't been in my door 15 seconds when I got the first text asking is it true?" says Black.
"I started making phone calls to KPD officers, to some of his friends."
"It didn't seem real. When I got the phone call from Zack, he was like I've got something to tell you. Zae didn't make it," remembers Malone. "I was like whoa. It didn't seem real. So when we got back to the scene and he wasn't alive I was like this is crazy."
Black immediately focused on the family. "I remember getting in my car and going back to be with his mother and Zach. We talk about preparation all the time in this sport, but dealing with the death of a 15-year-old, one of your own players, is not something I was ready for."
"It takes a courageous person to do what he did. I ran, so I mean, for him to do that, he's a special person," says Malone.
"We want to do everything here to make sure his legacy lives on and that his story continues to be told because when you hear the word courage, I know I'll never be able to hear that word and not think of Zaevion," says Black.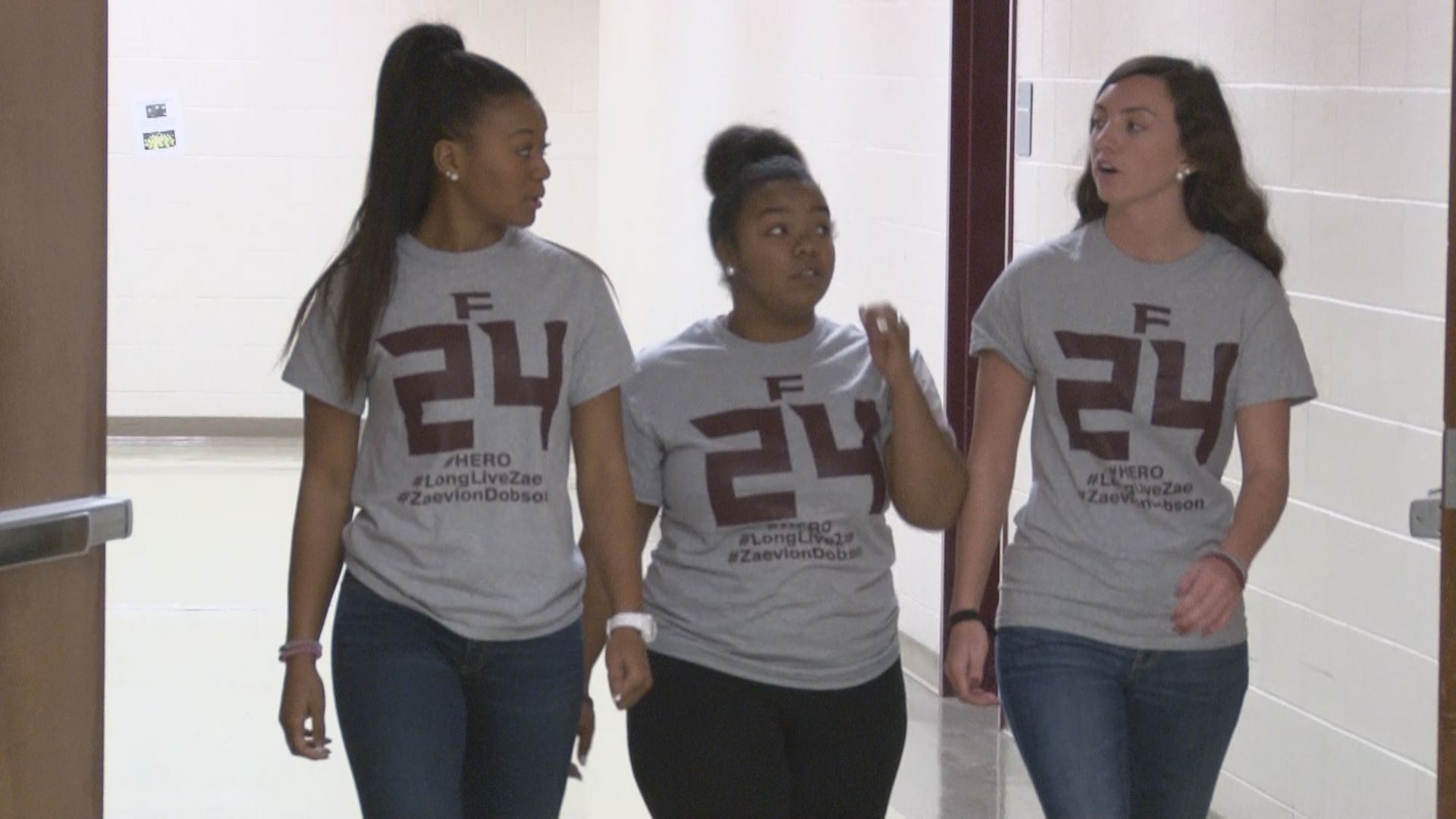 Zaevion's name is forever etched in the Knoxville community.
T-shirts bearing his name and football jersey number were worn by friends and classmates.
His number was placed on Fulton's new football field.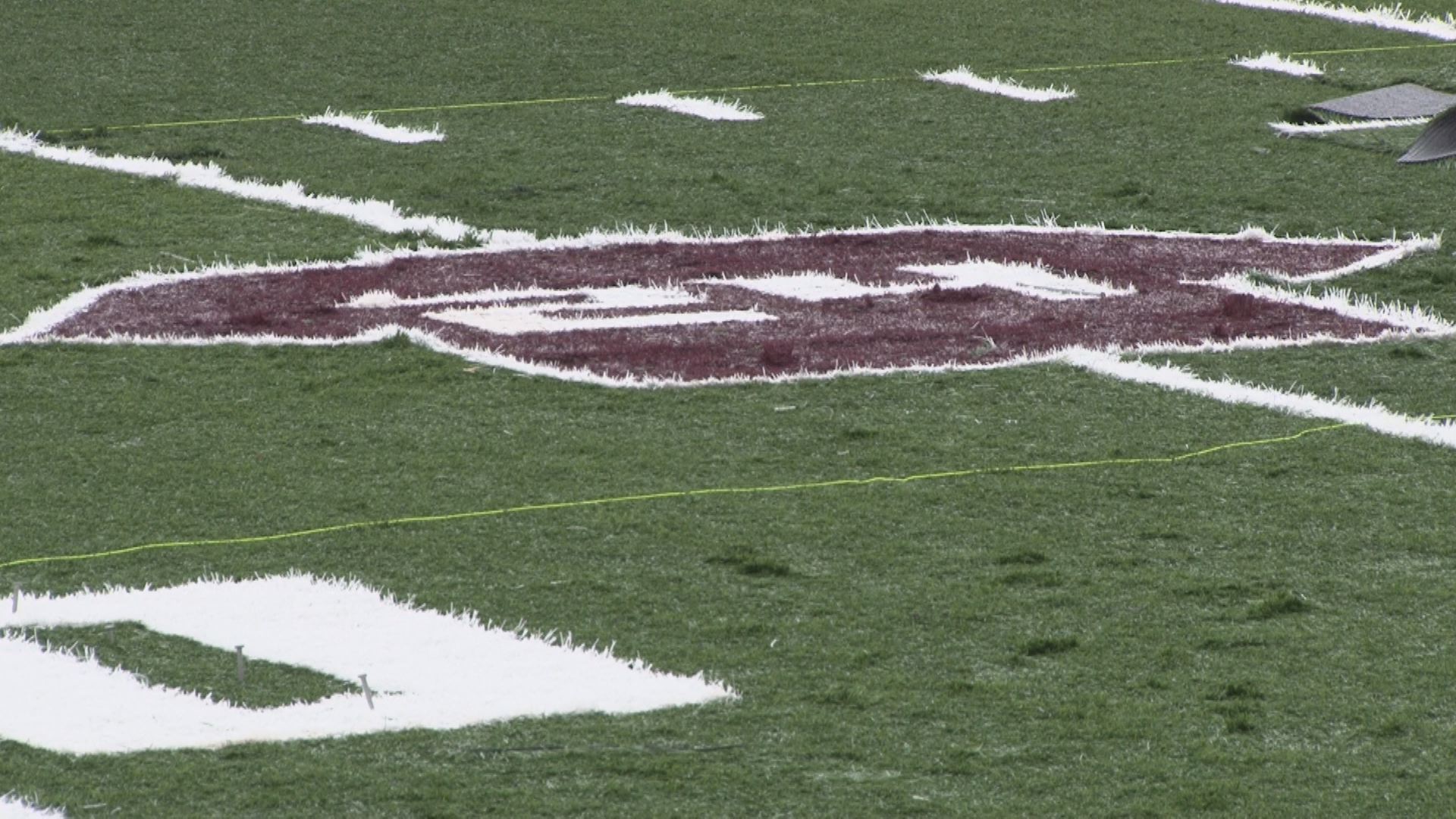 The city will soon name a community park in Lonsdale after him.
Two scholarships were created in his honor. One of those went to Fulton student Uriah Richey, who will be the first member of her family to go to college.
City leaders say Zaevion's positive example is needed now, more than ever.
"We still need the example that he set going forward right now there's so many things going on right now in the city and across the country, and when you think you are going to give up and you've lost the wind in your sails, you think about a young man like Zaevion and how he had an act of selflessness to give his life. It makes you not want to quit and keep going," says Rick Staples of the group 100 Black Men.
His death sparked a dialogue to address the issue of gun violence.
A Stop the Violence forum at Fulton High School brought local, law enforcement, and religious leaders together with the community to talk about the problems facing the city's youth, and how to address them.
Out of that forum and continued efforts, the idea for a new place for Knoxville's young people to gather and enjoy was born.
The Change Center, projected to open in 2017, will be located on Harriet Tubman Street, a safe and entertaining place for teens and young adults to hang out on evenings and weekends.
It will include a multi-purpose sports venue, roller skating rink, concert stage, movie wall, game room, places to eat, and a job center.
"We have heard over and over from teens and young adults in our neighborhood that we need safe places to go, to hang out with friends," says Knoxville Mayor Madeline Rogero. "The Change Center will help fill that gap."
Zaevion's death was an unspeakable tragedy, but its impact will forever be felt in the city he called home. A city that's now being inspired not by how the young man died, but how he lived.
While Zaevion's family will be in Los Angeles for the ESPY awards, many of his closest friends, classmates, and teammates will be watching in Knoxville.
The event is free. 175 tickets will be given out at the theater beginning at 7:15 p.m.
From the red carpet and the ESPY Awards to the Regal Theatre in Knoxville, stars and coaches alike took to Twitter to talk about Zaevion and his courage.
Not a dry eye in the Jones household after that Tribute and Speech from the Dobson's. #Zae 🙏🏽 pic.twitter.com/rcltbXbOP8

— Butch Jones (@UTCoachJones) July 14, 2016
Nice night for TN at the @ESPYS!👏🏽#NoPlaceLikeUT🍊
Petyon Manning #16
Doug Atkins #91
Coach Pat Summitt #1
Zaevion Dobson #24
Eric Berry #29

— Josh Dobbs (@josh_dobbs1) July 14, 2016
This is a true story of heroism. #ZaevionDobson