OAK RIDGE, Tenn. — When her daughter Adelaide was born last month, Meagan Peacock remembers being more concerned about her baby girl getting the flu.
" I kind of really freaked out about this. I'm a teacher, so I use hand sanitizer all the time. I wash my hands all the time, like to the point where my hands were cracked and bleeding. I did everything that I could possibly do to prevent getting the flu," Peacock told 10News over the phone.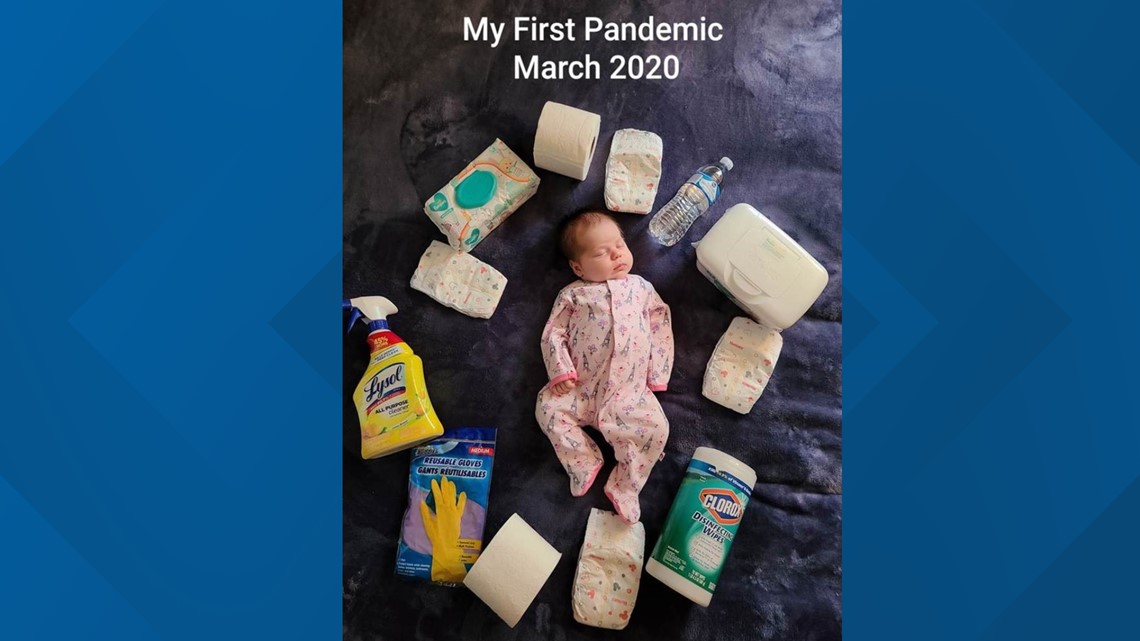 But as Adelaide took her first breaths, rumors of a different virus floating through the air began to circulate.
"We're in the hospital with her, and we start hearing about the coronavirus. And I'm like, oh, my goodness, there's another thing to worry about?" Peacock said.
Coronavirus has shut down cities, cancelled schools, and closed businesses across the world. As everyone braces for the next seemingly inevitable round of bad news, Peacock has to also take care of a fragile newborn.
"When they're so little, you know, they don't have their shots yet. They don't have an immune system built up. And so I think that for us, it's a big, big part of it as we are trying to make light of it, make it seem a little bit less scary than it is," Peacock said.
She is part of a mom's support group on Facebook, February Babies 2020. Within that network of new moms, there is space for them to process the scary reality that the first day's of their children's lives have been spent in the grip of a global pandemic.
In response, they got creative. Using different items that have now become ubiquitous in households around the world - Lysol, Clorox, hand sanitizer.
Peacock was happy to join in.
"It's kind of neat to put something different in the baby book! I just hope that it passes quickly and it's not as bad as we're predicting it to be. But it is a cool little thing to have something different in the 'My First' book! You don't expect my first pandemic to happen."
While some babies will have a 'Baby's First Christmas' ornament, or 'Baby's First Easter' onesie, Adelaide will have a more unique tokein from her childhood when she grows up.
The response to the photo, she said, has been positive.
"Other people said, I think I'm going to do this with my baby or my kids. And nobody is super negative about it. I kind of anticipated a little bit of backlash about it. You know, as you are making light of something really serious in a way. But so far, we haven't had any negative backlash about it," Peacock said.
With a new baby, it would be easy to panic. But Peacock said she hopes this small moment of levity can help bring peace to other people trying to navigate motherhood in the midst of the pandemic.
"I think that for us, it's a big, big part of it. We are trying to make light of it, make it seem a little bit less scary than it is," Peacock said.