Andrew Jansen, Springfield News-Leader via USA TODAY Network
BRANSON, Mo. – Nine members of one family were among the 17 people who died when an amphibious duck boat capsized during a severe thunderstorm in this tourism hot spot, Gov. Mike Parson's office confirmed Friday. Two other members of the family survived.
At least seven other passengers were injured, including two in serious condition.
The names and ages of the victims, including the family members, were not immediately available.
Stone County Sheriff Doug Rader's office confirmed the recovery of the four remaining missing bodies from Table Rock Lake.
The driver of the Ride the Ducks tourist boat was among the victims as the vessel sank in 40 feet of water, Rader told reporters earlier Friday. The captain of the boat survived.
The boat, a hybrid land and water vehicle, had 31 people on board on the lake when the incident happened near the Showboat Branson Belle.
An off-duty sheriff's deputy, who was working on the showboat when a line of the thunderstorms blew through between 6:15 p.m. and 6:30 p.m., jumped in the water to save some of the passengers, Rader said.
Jeff and Jennie Carr, who were boarding the Branson Belle to celebrate their 15th wedding anniversary, watched in horror as wind-whipped waves swamped the duck boat filled with passengers.
"We were halfway to getting on board the Branson Belle when the wind picked up," Carr recalled. "We got over to the other side of the boat and looked out the windows and the water was choppy with white waves on it."
Suddenly, two Ride the Ducks boats came into view, both pummeled by waves.
"I see two boats in the water and the waves were just going over the top of the one that sank," Carr said. "It was awful. It looked like he was having trouble. He was going right into the waves but the wind was trying to turn him around."
Carr said she saw passengers aboard the duck boat sitting down, with the plastic windows rolled down to try to keep the water out.
"You could see water going into the boat," she said. "I did see he was starting to sink. It was leaning to the right."
Carr said the duck boat was blown behind the Branson Belle and she lost sight of it.
"I told another person nearby 'It's going down.' That's the last we saw of it."
Timeline: Fatal duck boat accidents in the past
Four adults and three children were being treated late Friday at Cox Medical Center Branson, hospital spokeswoman Kaitlyn McConnell said. Two adults were in critical condition; the others suffered minor injuries.
Rader said the boat came to rest upright on its wheels in 80 feet of water. The vessel was expected to be pulled from the lake Friday, he added.
Rader said it was too early to know the cause of the incident. He said there were life jackets in the boat but it's not clear if they were used. "It's been a very trying night," he said.
Those who had family aboard were frantic as they waited for word on their loved ones. Mandi Keller spent Thursday night repeatedly calling police stations and sheriff's offices in southwest Missouri, hoping to find out whether her 15-year-old daughter was OK.
Keller said her daughter, Gillian, was visiting Branson from their Texas home to see her father and his family. She along with many of the 31 people aboard the vessel were briefly stuck under the ship's canopy.
"My daughter said she thought she was dead," Keller said.
Keller said Friday she felt lucky her daughter was alive but heartbroken for all the families dealing with fatalities.
"I feel fortunate," Keller said. "God spared my child and she is coming home alive and not in a body bag."
Passengers on a nearby boat described the chaos as the winds picked up and the water turned rough. "Debris was flying everywhere," Allison Lester told ABC's "Good Morning America."
Lester's boyfriend, Trent Behr, said they saw a woman in the water and helped to pull her into the boat. He said he was about to start CPR when an EMT arrived and took over.
Jim Pattison Jr., president of the company that owns Ride the Ducks in Branson, told CBS This Morning that in hindsight the boat "shouldn't have been in the water."
Despite saying that, Pattison — who was interviewed by phone Friday from Branson — also appeared to defend the decision not to halt the tours. He said the lake was hit by a "fast-moving storm that came out of basically nowhere."'
Asked if passengers on the boats were required to wear life jackets, Pattison said no. "Under law they're not required to."
Pattison, whose company bought the local Ride the Ducks operation in December, said Ride the Ducks has operated for 47 years and the captain of the vehicle that capsized had 16 years experience.
He told CBS: "We've never had an incident like this or anything close to it."
Parson, the governor, said other details of the accident remained unclear as local, state and federal authorities began an investigation.
"It's a sad occasion, a lot of people involved," he said. "A lot of families involved, down here on vacation trying to enjoy time, and it ends up with an incident like this."
National Transportation Safety Board investigators were expected to arrive Friday.
A second duck boat on the lake in southwest Missouri, about 225 miles southwest of St. Louis, made it safely to shore. U.S. military in World War II originally used duck boats to transport troops and supplies, and they were later modified for use as sightseeing vehicles.
Duck boats, which can travel on land and in water, have been involved in other deadly incidents in the past. Five college students were killed in 2015 in Seattle when a duck boat collided with a bus, and 13 people died in 1999 when a duck boat sank near Hot Springs, Arkansas.
In 2010, a distracted tug boat pilot, who had been on his cell phone or laptop because of a family emergency, rammed a barge into a stalled duck boat in the Delaware River, in Philadelphia, throwing 35 people into the water. Two Hungarian students died in the incident.
"Duck boats are death traps," said Andrew Duffy, an attorney whose Philadelphia law firm handled litigation related to two fatal duck boat accidents there. "They're not fit for water or land because they are half car and half boat."
Branson is about 200 miles southeast of Kansas City and is a popular vacation spot for families and other tourists looking for entertainment ranging from theme parks to live music.
'Mass casualty event' on Table Rock Lake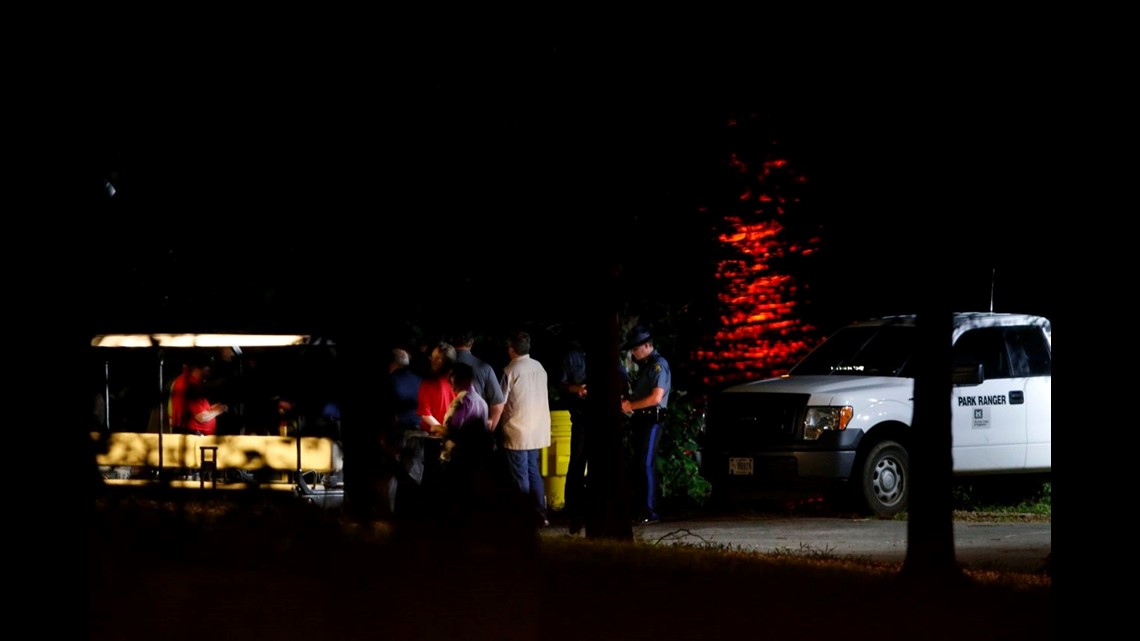 The storm Thursday night in Branson hit the lake with 80 mph winds that kicked up waves 5 feet high, said Capt. Jim Pulley, owner of Sea Tow Table Rock Lake.
"Western Taney County has got divers in the water where the duck boat went down," Pulley said. "The ducks have a ramp access where they put in, and when the wind hit it pushed the boat right square behind the Branson Belle."
National Weather Service had issued a severe thunderstorm warning Thursday evening for the Branson area. Meteorologist Steve Lindenberg said a top wind speed of 63 mph was measured at the Branson Airport near 7 p.m. and likely was stronger over the lake.
"There's nothing to slow down winds in an open area," he said.
President Donald Trump, in a tweet, extended his "deepest sympathies" to those affected by the boat accident. "Such a tragedy, such a great loss. May God be with you all!" he tweeted.
Schmitt reports for the Springfield (Mo.) News-Leader. Stanglin reported from McLean, Va. Contributing: The Associated Press
.