A former student went on a shooting rampage at Marjory Stoneman Douglas High School in Parkland, Florida, on Wednesday afternoon in one of the deadliest high school shootings in modern American history.
How many people were killed and injured?
At least 17 people were killed and fourteen were injured and taken to local hospitals, officials said.
A sheriff said the bodies of 12 of the dead, including a beloved coach and security guard, Aaron Feis, who stepped in front of one spray of bullets to protect his students, were found inside the building.
Three more were killed just outside the school and another two died of their injuries after being taken to the hospital, Broward County Sheriff Scott Israel said. The victims included both students and adults.
Local healthcare providers said that at least five patients remained in hospitals on Thursday. A doctor from Broward Health Medical Center North said three patients were still in that hospital, and one person is in critical condition.
"It's a horrific situation. It's just a horrible day for us," said Broward Superintendent Robert Runcie. "...This is a day we prayed would never happen in our county."
Who is the gunman?
Authorities identified the gunman as Nikolas Cruz, 19. Cruz was a former student at Marjory Stoneman Douglas High School, but had been expelled for fighting and did not graduate, authorities said.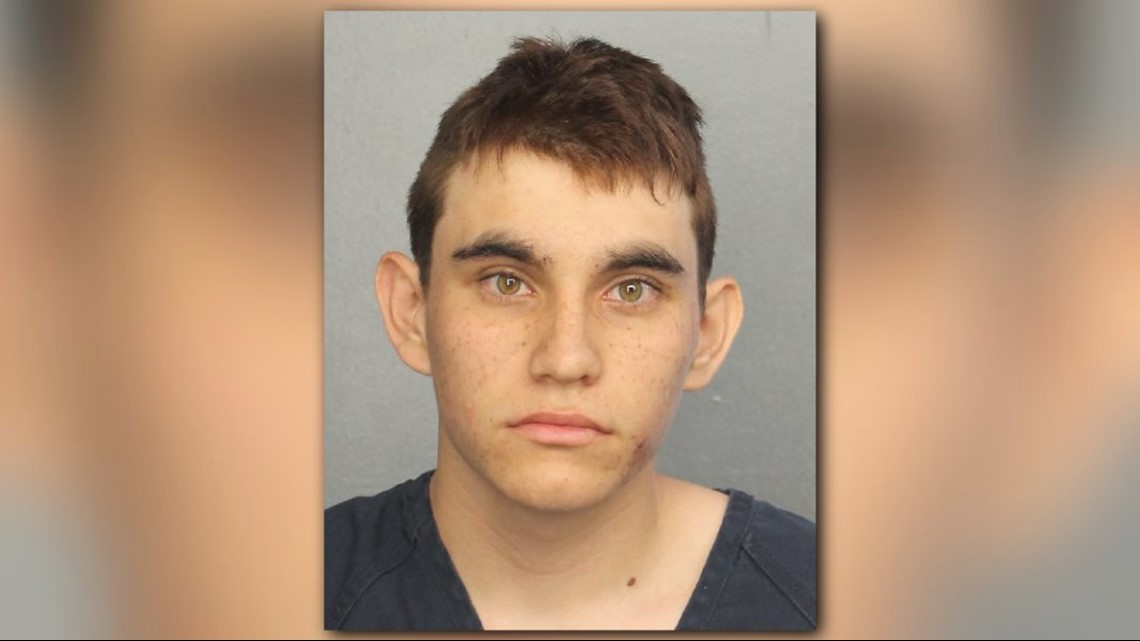 He was booked into Broward County Jail Thursday morning on charges of premeditated murder in the killing of 17 students and faculty at a Florida high school. He is being held without bond.
At least one teacher said he had been flagged as a potential threat and that he was a big enough concern that administrators had banned Cruz from campus.
Jim Gard, a math teacher at Marjory Stoneman Douglas High School, said Cruz had been aggressive towards students in the past.
A former classmate, Jillian Davis, said Cruz had a hot temper and a history of making dark, gun-related jokes.
Cruz's first name also appears as Nicolas in some official records.
After Cruz's mother died Nov. 1, he moved in with a friend's family in northwest Broward around Thanksgiving, the family's lawyer, Jim Lewis, told AP. The family was aware of the AR-15 and made him keep it locked in a cabinet, but he had a key, he said.
How did the attack unfold?
Cruz came to the school bolstered by a gas mask, smoke grenades and multiple magazines of ammunition and a semi-automatic weapon.
Broward County Public Schools reported the shooting began near dismissal time and police say Cruz began the rampage outside before entering the school.
He triggered a fire alarm in a building that normally serves freshmen students, then roamed the schools' corridors — from the first floor to the third — opening fire on students pouring into hallways.
Sen. Bill Nelson, D-Fla., told MSNBC that Cruz wore a gas mask and tossed smoke grenades to draw students out into the hallways.
The school was placed on lockdown. Television footage showed students running from the school with their arms in the air, tossing backpacks into a pile. Some students were being treated on the sidewalks and loaded into ambulances.
Cruz was at large before being taken into custody roughly two hours after the shooting.
Police said he was armed with an AR-15-style, semiautomatic rifle and "countless" magazines. He reportedly bought the semiautomatic legally at a Broward County gun shop last February, law enforcement officials who weren't authorized to discuss the matter publicly told The Associated Press.
How can I help?
The Broward Education Foundation has launched an official GoFundme for those around the country looking to donate money to support the victims.
Donations will be used to provide relief and financial support to the victims and the families of the deadly shooting in Parkland, Florida.
Officials say there have been several fraudulent GoFundMe​ accounts, but the Stoneman Douglas Victims' Fund is an official account that has been verified by the district and GoFundme.
How are politicians responding?
President Donald Trump said he is making plans to visit families and local officials in Parkland during his first public remarks on the shooting on Thursday. Trump said he wants to make American schools safer but offered no specific remedies or policy proposals, such as increased gun control. Instead, most of his comments were aimed at comforting victims and their families.
"To every parent, teacher and child who is hurting so badly, we are here for you whatever you need, whatever we can do to was your pain," Trump said. "Your suffering is our burden also. No child, no teacher should ever be in danger in an American school. No parent should ever have to fear for their sons and daughters when they kiss them goodbye in the morning."
Attorney General Jeff Sessions, addressing the Major County Sheriffs of America conference in Washington Thursday morning, called the shooting "painful."
"It's certainly a tragic event an we're going to work on it in may ways to do something about it," he told the sheriffs. "It cannot be denied that something dangerous and unhealthy is happening in our country. ... We've got to confront the problem. There's no doubt about it."
Florida Gov. Rick Scott said he'll sit down with state leaders and work on how they can make sure people with mental illness aren't able to get guns during a press conference on Thursday. He said leaders will look at how they can make sure something like that never happens again.
"The violence has to stop. We cannot lost another child in this country to violence in a school," said Scott.
Contributing: TEGNA Staff
PHOTOS: Shooting at Florida high school