Up to 200 workers could have been killed after a tunnel collapsed at North Korea's nuclear test site, according to a media report.
Japanese broadcaster TV Asahi said around 100 people were trapped when the unfinished tunnel caved in at the Punggye-ri site, which lies south of the Mantapsan mountain, 50 miles from the border with China.
The Telegraph reported that the incident occurred on Oct. 10, citing South Korean news agency Yonhap.
Another 100 people could have died in a second collapse as they attempted to rescue their trapped colleagues, TV Asahi reported.
The report couldn't be verified by USA TODAY.
In September, Chinese scientists briefed a North Korean delegation in Beijing of the danger of a collapse at the nuclear test site, the South China Morning Post (SCMP)reported.
North Korea said it tested a hydrogen bomb at Punggye-ri on Sept. 3 — its sixth and most powerful nuclear test. A day later, a Chinese nuclear scientist warned that future tests at the facility could blow the top off the mountain and leak radioactive waste, the SCMP reported.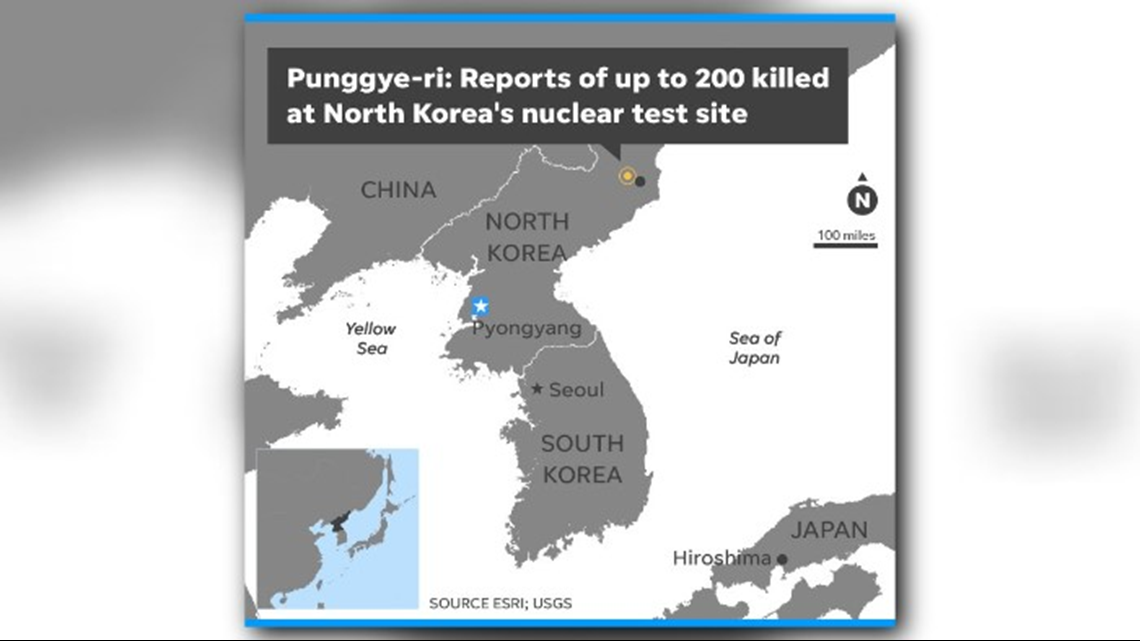 Several small earthquakes occurred following the Sept. 3 test. North Korea monitoring website site 38 North reported that there were suggestions following the quakes that the site may not be suitable for more nuclear testing.
However the report, by Frank V. Pabian and Jack Liu, said,"even in the face of what has been dubbed "Tired Mountain Syndrome," abandonment of the site for nuclear testing should not be expected."
Earlier in the summer, North Korea launched missiles over Japan and test-launched two intercontinental ballistic missiles.