KNOXVILLE, Tenn. — State lawmakers are adding new restrictions for drag performers. The controversial bill that can restrict certain types of drag shows for all ages has advanced to the governor.
Senate Bill 3 will not be the first legislation to place limitations on drag shows. Current law points to location limits for adult-oriented establishments and cabarets, saying they shall not locate within 1,000 feet of a school, park, or place of worship.
The state historically defines "adult cabaret" to include male and female impersonators; however, the current law is not clear on whether this applies to the performers themselves or solely the businesses hosting them. Some lawmakers hope new legislation could prevent children from seeing certain types of drag shows.
"If you don't want to watch a drag show, you don't have to," said Demitrya Kryst, who has been a drag queen for decades. "If you don't want your kids to watch a drag show, you don't have to let them, that's okay."
Drag performers, like Demitrya, think new legislation specifically targets the drag community.
Tennessee Senate Majority Leader (R) Jack Johnson of Franklin proposed the bill. He explained the idea behind it in a bit more depth.
"It just simply says that you can't do or have sexually explicit adult-themed entertainment in two specific places.... one is on public property and the other is in a private venue where kids are present," (R) Sen. Johnson said.
The bill, to no surprise, divided the house and senate.
"On the first day, what is the bill that you think is so important for Tennesseans that you're going to bring it out there? Well, the shock of all shocks, it's a bill about drag shows," said (D) Representative Gloria Johnson.
She was not happy to see the bill introduced. (D) Rep. Johnson requested to be noted as voting "no" in the Criminal Justice Subcommittee.
"It's just outrageous," she said.
The conversation around all-age drag shows took off nationwide sometime between September and October, our reporting shows. States like Florida, Arizona, and Texas tried to crack down. 15 states, by our court have bills going through the legislature to restrict drag shows.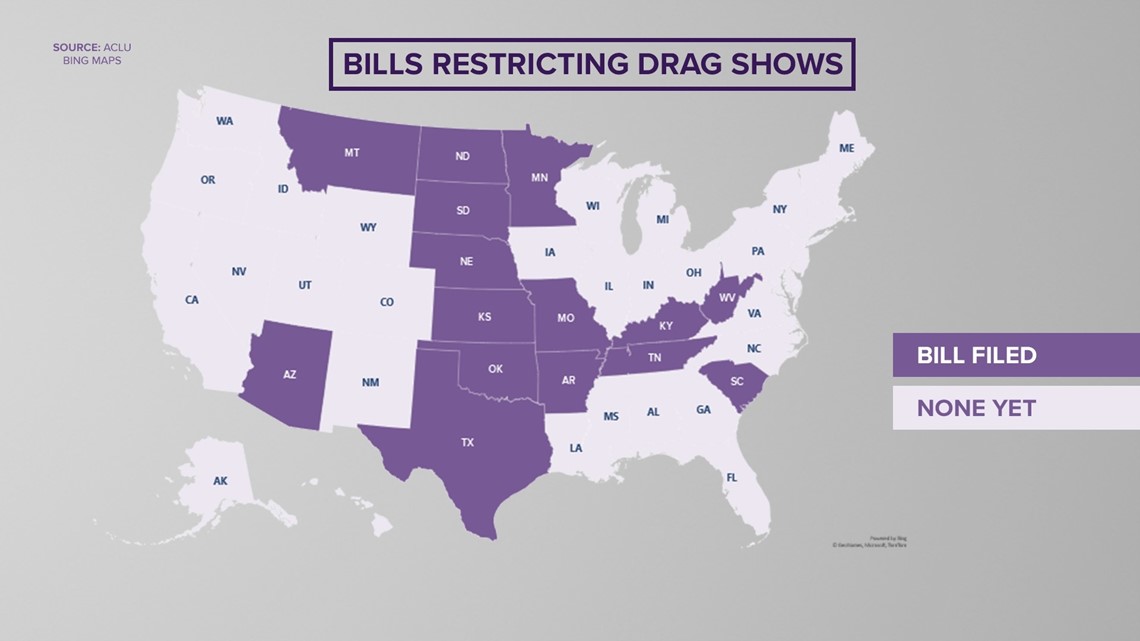 Critics of the shows say they're not suitable for children.
"It doesn't matter if you're dressed in drag, or if you're not dressed in drag, it doesn't matter. We just shouldn't allow sexually explicit, sexually graphic entertainment in public parks and in front of a playground where kids are playing," (R) Sen. Johnson said.
A local example of a drag show proposed at a park is the 'Drag Me to Nature' event that was scheduled at Ijams in November 2022. The event organizer, Joshua Ricker said the event was all about teaching people about nature through performance art. He said performers planned to dress like forest fairies, and other mystical creatures from nature.
"Our mission was to bring magical creatures to Ijams through performance art and ensure it was a safe and fun event for everyone of all ages to enjoy," Ricker said. "There was a strict dress code policy set in place before people were even cast."
However, before the event could take place, people online protested to get it canceled. Ricker said folks claimed the event was not 'appropriate' for children to attend. Ijams canceled. They provided a statement to 10news about the event's cancellation.
"This event was organized with members of the LGBTQIA community to be a family event that involved people dressed in nature themes (birds, butterflies, etc.) and/or magical creature themes (elves, fairies, etc.) with song and dance as part of our Back Patio Social Series. It was never going to be a traditional drag show with burlesque elements. It was to be a celebration of nature in costume and song. Due to this confusion, we canceled the event," said a spokesperson for Ijams.
Although the event was canceled weeks before it came to fruition, (R) Sen. Johnson said events like the one at Ijams Nature Center could still take place under this proposed legislation. He said events like Drag Story Time would be legal as well.
"If someone wants to have a drag show that is totally fine, my legislation doesn't do anything to change that. It's just while you're having your drag show, you can't simulate sex acts," (R) Sen. Johnson said.
But, Tom Lee, an attorney for the Tennessee Pride Chamber says the legislation- as written- leaves too much open for personal bias.
"Prosecutors have the right to choose who and when they will prosecute a crime. But, when the underlying bill itself is so confusing, then that's when the courts tend to get involved and say this bill, this law is void because it's just too vague," Lee said.
Through all this, the "political stage" is not the stage drag performers want to be on.
"We're not trying to shove what we do in anyone's face," Demitrya said.
She has been doing drag for decades and has experienced judgment, but this is new.
"To tell everybody, no, you can't do this. You can't let your kids do this. You can't parent your kids in this way. It's just... it's wow.....like, it's so controlling," Demitrya said.
If the bill passes, drag performers who violate the law could get a misdemeanor on the first offense, and a class E felony on the second.