Remembering 9/11 across East Tennessee: A look back 18 years later
The years go by. The memories never die.


Remembering 9/11 across East Tennessee: A look back 18 years later
:
On Wednesday, 18 years will have passed since the Sept. 11, 2001, terrorist attacks that took the lives of nearly 3,000 people and continue to take a toll on the heroes who answered the call at Ground Zero.
Across East Tennessee, events are planned in remembrance of that day and those who were lost.
The City of Knoxville and Knox County will host a ceremony at the 9/11 Memorial on the lawn of the City County Building at 400 Main Street. The bells of First Baptist Church will toll at 8:46 a.m. to mark the time hijackers crashed American Airlines Flight 11 into the North Tower of the World Trade Center, and again at 9:03 a.m. for the crash into the second tower. Knoxville Police Department Chaplain Pam Neal will say a prayer, then retired Captain Mike Freels of the Knox County Sheriff's Office will perform "Taps."
At 8:30 a.m. at World's Fair Park, the fifth annual Knoxville 9/11 Memorial Stair Climb will be held at the Sunsphere. 343 first responders including firefighters, EMS, police, military and other volunteers from across East Tennessee will climb the equivalent of 110 stories, many in full gear, in remembrance of the 343 New York City firefighters who died at the Twin Towers. Anyone can participate as well in the walkathon version with a donation. Proceeds raised at the climb will go to the National Fallen Firefighters Foundation.
In Oneida, a man will hit the streets of his hometown to honor the victims of Sept. 11. Trinity Smith is making another 50 mile run this year along Alberta Street, this time in full fireman gear. The run starts at 7:30 a.m. and he expects to finish around 8:30 p.m. On the final mile, he will be escorted by other first responders.
Visitors of the Museum of East Tennessee History will have an opportunity to view special items associated with the "Freedom Engine." That was a tribute gift from East Tennesseans to New York City following the events of Sept. 11. East Tennesseans raised more than $940,000 to purchase and equip a ladder truck. The FDNY retires trucks after about 10 years, so the freedom engine retired in 2013. Several artifacts from it were returned to East Tennessee and are on display now until October 13.
The Young Americans For Freedom Foundation chapter at the University of Tennessee will put together a non-partisan display of 2,997 American flags beside the amphitheater along the pedestrian walkway on UT's campus to create a memorial for those lives lost.
Below, we take a look back at stories from over the years as we continue to honor and remember those lost and those who answered the call to help.
Knoxville men saw World Trade Center wreckage up close
:
Steve Tinder and Art Bohanan of the Knoxville Police Department responded to the Twin Towers within hours of the attacks.
Originally published Sept. 11, 2015
The years go by. The memories never die.
Fourteen years ago Friday, al Qaeda extremists hijacked four U.S. passenger jets, from Boston, Washington and Newark, N.J.
Three planes crashed into iconic buildings - the World Trade Center Towers and the Pentagon, home of the U.S. Defense Department. A fourth jet appeared headed for Washington until passengers overcame the hijackers and forced the plane down in a field near Shanksville, Pa.
Among those who responded to the Twin Towers collapse site in Manhattan within hours of the Sept. 11 attacks were Steve Tinder and Art Bohanan of the Knoxville Police Department. They went to help with forensic work.
Crime veterans who have since retired from the department, they still were astonished by what they saw.
"To this day, I can't explain what I felt," Tinder told 10News.
Tinder took photos of his time at Ground Zero. 10News prepared a gallery for you to review.
Sept. 11, 2001 attack: Aftermath and cleanup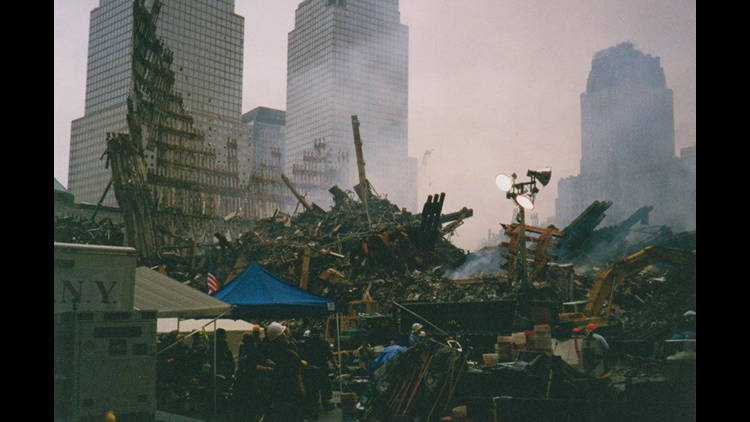 Bohanan, who gained notoriety for developing a novel technique involving Super Glue that picks up fingerprints, recalled being up at night down at the site in lower Manhattan.
"My first time was at night walking around in the rubble and I could see a huge crane ...slowly going over the rubble trying to find anyone that was living," said Bohanan, who spent eight weeks in lower Manhattan.
The shock was palpable across the globe. The attacks killed nearly 3,000 people, many of whom were citizens working here but born outside the United States.
Locally, support poured in for New York authorities, including a fundraising effort involving a partnership between 10News and the News Sentinel to raise money for the "Freedom Engine," which was donated and used by the New York City Fire Department.
East Tennessee man revisits chilling videos taken moments after 9/11 attacks
:
Every year on Sept. 11, an East Tennessee man revisits the harrowing videos and photos he captured at the World Trade Center in the wake of the devastation.
Originally published Sept. 12, 2016
Every year on Sept. 11, an East Tennessee man revisits the harrowing videos and photos he captured at the World Trade Center in the wake of the devastation.
Following the attacks, Morristown native Jason Pack had traveled with a team of photographers to document recovery efforts for the Federal Emergency Management Agency.
"These pictures bring back all of the burning smells, and lots of different emotions," Pack said, scrolling through the photos his team took.

Pack traveled beneath the World Trade Center, into a series of connecting tunnels that led to several abandoned businesses.
"When you go through there documenting things, it's like time was standing still. Everything was frozen. Everybody had dropped everything and gotten out of there," Pack said.
Much of his team's photographs show crews sifting through mounds of rubble. But among the destruction, Pack found a silver lining.

"When I walked into Pier 92, this banner was hanging there – and it was from Bearden Middle School in Knoxville," he said. "That was the school that I lived closest to. And going all the way to New York City and walking into the middle of this unreal tragedy-- it's just very sobering."
The banner, which reads "America the beautiful", wasn't the only symbol of support he ran into from East Tennessee.
Pack said he also ran into several Knox County deputies while in New York.
"The best part about this and the stories that don't get told are the resilience of the people who are facing these tragedies. Not everything that happens is good, but we can find the good that happens in all of these things."
Now Pack is working to share his memories with his two children, in hopes of ensure those stories of resilience and loss aren't forgotten.
"At the time, you didn't know what an impact this day would have. This day changed everything, so it's important to remember that."
East Tennessee remembers the victims of Sept. 11, 2001
:
Fifteen years after the events of Sept. 11, people across East Tennessee spent Sunday remembering victims and praying for unity.
Originally published Sept. 11, 2016
Fifteen years after the events of Sept. 11, people across East Tennessee spent Sunday remembering victims and praying for unity.
A number of services were held in Knoxville to honor victims, first responders and families affected from the events of 9/11.
Crown College and Temple Baptist Church hosted "Knoxville Remembers." The event reflected on why people are proud to live in America through songs and guest speakers. A number of elected officials, military service members and first responders were recognized during the service.
"We had all been attacked, and at that moment, we felt like we all needed to come together and just be Americans. To stand up for what we knew was true and stand up for freedom," said Tim Tomlinson, the Vice President of Administration for Crown Community College.
The city of Knoxville and Knox County held its own service Sunday morning, which was led by first responders.
A moment of silence was held before the names of three 9/11 victims with ties to East Tennessee were read. The ceremony also recognized local first responders who went to New York City in 2001 to help with recovery.
Renowned forensics expert Art Bohanan worked on the site of Ground Zero for two weeks, and said he will never forget what he experienced at that time.
"It was overwhelming. The odors, the workers, the smoke... everything was just absolutely mind-boggling what we walked into, knowing some 3,000 people had died there," Bohanan said.
Bohanan had a message to young people who didn't experience the attacks.
"This is our Pearl Harbor. We need not forget history because we may well have to repeat it one of these days with more attacks. America is not safe. It's not safe with all the crazy things going on in the world, and we just have to be prepared, and when it comes have people who are willing to actively face it and respond to help," Bohanan said.
Health issues arise for responders years after 9/11 attacks
:
The lasting impacts of 9/11 linger with first responders more than a decade after the terror attacks.
Originally published Sept. 12, 2015
Art Bohanan and Steve Tinder worked for Knoxville Police Department but responded shortly after the attack to Ground Zero in lower Manhattan as part of a Disaster Mortuary Operational Response Team, or DMORT. Their roles were to help identify remains in the rubble.
"9/11 was unspeakable," said Tinder. "I am sitting there, you don't know what to think. Is this a dream? A horror in my mind? This couldn't have happened."
Tinder is a deputy commander of DMORT, one of the response teams to disasters around the country.
"9/11 hurt people not only physically, but emotionally deeply, more than any other deployment I have ever been on," said Tinder.
Years down the road, not only are his memories fresh but so are his physical scars. Like many workers, Tinder said working at that site made him sick. He worked closely in the medical examiner's area while responding.
Dust and smoke from the burning rubble hung for days around the scene.
"People in protective suits, masks, gloves - everything you did was the way you were taught to do it. But you still got sick and you still died," said Tinder.
In 2007, he was preparing to retire from the Knoxville Police Department.
"Everything was set up and I was going to enjoy my last year in the department and look forward to retirement. Then I got the news there was some problems and when I found out what it was, it was earth- shattering," said Tinder.
He developed breast cancer. Doctors told him it was rare that a man would develop the cancer form unless it was hereditary. Tests pointed to his cancer being caused by a toxic environment.
"The federal government deemed me ill from 9/11," said Tinder.
After surgery and chemotherapy, Tinder was given a clean bill of health.
"A year later I got a federal physical and they said the cancer is back," said Tinder.
Tinder beat cancer twice in a two-year span and the federal government paid for his treatment. He said government funds assisted anyone impacted in the aftermath while assisting near Ground Zero if they came down with a severe illness.
Bohanan told 10News that he is currently dealing with a growth on his lingual tonsil. Doctors pin that problem on his exposure as well. He hopes surgery will cure the problem, but it still brings more risk and many unknowns.
Here you can find a list from the CDC of some of the illnesses that are tied to the environment at Ground Zero.
Oneida man braves rain, runs in 9/11 tribute
:
An Oneida man took to the streets of his hometown in 2017, as he does every year, in a tribute to the victims of the Sept. 11, 2001, terror attacks.
Originally published Sept. 11, 2017
An Oneida man took to the streets of his hometown Monday in a tribute to the victims of the Sept. 11, 2001, terror attacks.
Trinity Smith ran some 50 miles along one of Oneida's main streets, Alberta Street.
"Honestly, I've had thousands of people blow their horn," said Smith. "Several thousand, no joke."
Although it poured rain from the remnants of Hurricane Irma, Smith said he didn't mind.
"How could we ever forget what happened on 9/11 of '01?" he said. "Very tragic."
While Smith said he didn't know any of the almost 3,000 victims who died in New York, Washington and Pennsylvania, it still affected him personally.
"I think about like, for example, all those that were going in to save people's lives," said Smith. "They pushed their limits to the extreme to do that. So I think about that, that they did that, and I keep pushing myself to the limit."
Running was one way he could show his care and respect for those who died.
On his final lap Monday, in the dark, he was joined by area first responders.
"It's more than I can explain," said Smith. "I mean it's amazing. They come out here and show support and take part in this. I mean, I could never explain how much that means to me."
Smith has run to support causes as well, including in 2014 when he ran 50 miles to help raise money for a friend who was fighting cancer.
9/11 survivor evacuates to East Tennessee to flee Hurricane Irma
:
Sixteen years after the Sept. 11 terror attacks, survivor Jo-Ann Dalessio spent the day wondering if her house in Florida would survive Hurricane Irma.
Originally published Sept. 11, 2017
Most people remember exactly where they were on Sept. 11, 2001. Jo-Ann Dalessio remembers just how close she was to losing her life.
"I didn't know what hit us, but it was a dramatic, tumultuous shaking of the building," Dalessio said. "I was bent over a desk when it first happened. I thought it was an earthquake."
Dalessio was on the 61st floor of the north tower of the World Trade Center in lower Manhattan when the first plane crashed into the building around 8:45 a.m. She fled down the stairs, walking through heavy smoke and broken glass.
She credits a firefighter climbing up the stairs while she was going down for helping her make it out alive.
"He said, you guys are going to make it. You are going to get out of this building," Delassio recalls. "As soon as he said we're going to get out, everything inside me was gone and I felt normal again."
She has been trying to find the name or a picture of the firefighter who helped rescue her for the past 16 years.
Hundreds of first responders, however, were killed that day, when the Twin Towers collarpse.
Although she has been unsuccessful in finding that firefighter, she is forever grateful.
"They were the true heroes and they walked to their death," Delassio said.
Delassio now lives in Port St. Lucie, Florida, and evacuated to East Tennessee with her family, neighbors, and pet parrot to flee Hurricane Irma. In addition to the Sept. 11 attacks, she also survived the 1993 World Trade Center bombing, also by terrorists, and was without power for a week after Superstorm Sandy.
In all of the disasters that she has seen, there is one common thread that has bound everything together.
"The most important thing is humanity and people coming together," Delassio said. "It's people helping people, and that's what makes this country great."