Great Smoky Mountains Natl. Park — One of the most mysterious missing child cases that happened in Tennessee is still unsolved 54 years later.
Dennis Lloyd Martin was just 6, almost 7 years old, when he vanished in the Great Smoky Mountains National Park. Some people figured he was kidnapped, others reckoned he got lost and disoriented in the woods, and a select few imagined a fate far worse.
To this day, nobody knows the truth.
A few months ago, the Federal Bureau of Investigation publically released Dennis Lloyd Martin's case file in its vault. It contains 133 pages of documentation. The FBI held these files for decades. They were released due to relentless, persistent FOIA requests placed by investigator, and author Michael Bouchard.
Bouchard said the FBI denied his FOIA request three times before releasing the information to the public in 2022. The FBI documentation provides new details into the mystery of the case.
It began in the summer of 1969 in Spence Field on June 14.
"I've always thought of that case. You know, when I say my young children and grandchildren reach that age, you know, you think about that, you know, you think how could this person possibly go missing?" said Todd Matthews.
Matthews is the former director of the National Missing and Unidentified Persons System (NamUs). It's a national database that keeps track of people missing across the country.
Dennis Martin was one of the first names on it. It's a name they've never taken off.
"If NamUs is properly used, I think we can drastically cut down on missing and unidentified persons, even some of the older cases," Matthews said.
According to the National Park Service incident report, Dennis was last spotted at 4:30 p.m. on the night of June 14. He had been on a camping trip with the family for Father's Day weekend. He was wearing a red shirt.
According to the incident report, Dennis had been playing a game of hide and seek. He was out of sight for just a few minutes. Minutes turned to hours.
Spence Field is nestled just off the Appalachian Trail. Martin's family members hiked for miles in search of Dennis. By 8:30 p.m., those family members hiked six miles to the nearest ranger station in Cades Cove to alert authorities.
That night, rain delayed the search efforts.
"The rain, I'm sure it, made it harder to travel on foot, the people that were looking for remains or whatever was left it makes it harder to track," Matthews said.
Searchers from all over came in to help, both trained and untrained. NPS reports showed nearly every inch of the mile-radius that Dennis vanished from had been walked by volunteers.
At the peak of the search, 1,400 showed up to look for Dennis, the biggest national park search of all time.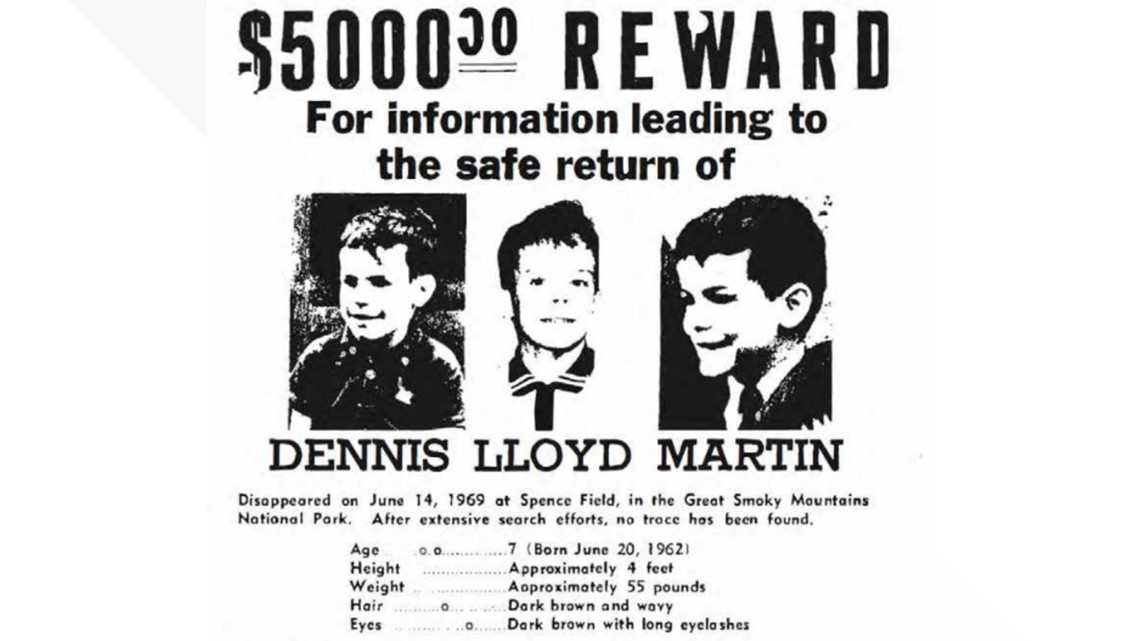 "Actually, in the history of search and rescue in the United States in general, it was a very large search and rescue effort," said Liz Hall, the Great Smoky Mountains National Park's emergency manager.
Hall said the number of people was detrimental to the effort.
"From Dennis Martin, we learned that more resources isn't necessarily the right answer," she said.
Hall explained so many people could trample over evidence and miss things that a more trained eye could have spotted.
Hundreds of rescue crews, hikers clubs, Boy Scouts, sheriff's offices, firefighters, and community members showed up to help. The Red Cross provided food. Helicopters and K-9 Units were deployed to search.
According to NPS reports, the final cost of the search was $50,000. That was in 1969. If you compare that cost with inflation in 2023, that would be equivalent to $415,000.
By June 25, 11 days later, the case expanded nationwide.
Bouchard shared those documents, obtained from his FOIA request through the FBI.
"I have a letter that one of the Martin family members sent to Richard Nixon. That's how big, you know, we're talking. This wasn't just like a small case. This was, this was a nationwide case," he said.
That's not the only act. The FBI holds dozens of letters exchanged between the Martin family and other representatives, pleading for federal help.
The Martin family insisted the FBI step in to help with the investigation; however, the FBI said in the reports that it only steps in if there was proof of foul play.
Meanwhile, a number of rumors started making the rounds as the days ticked by with no evidence.
Those theories are known as Lost and Disoriented, Abduction, Suspicious Man, Eaten by Animals, Serial Killer, or Mystery is worth a buck.
The NPS wrapped up the search on June 29, 1969.
"I know they wanted to find him alive. But no trace was ever found. I mean, nothing. And that seems almost impossible. With so many people there to get ahead had been something," Matthews said.
The mystery theory supports the mystical, unknown factors. Bouchard calls this very, very far-fetched.
"An example, the first one is that he was to he was kidnapped by Bigfoot. Okay, I hate to be a bomber in this game, but there's no such thing as Bigfoot," Bouchard said.
He also said the serial killer theory was a common rumor; however, the FBI files proved this was not a viable theory.
"There was only one serial killer that was active. But that was after the case. That was after his disappearance, months after the disappearance," Bouchard said.
Taken by animals, he said, was more likely.
"That's a... that's like a semi-plausible thing, but not really because, like if something really big would have had to take them," Bouchard said.
The FBI's records from the vault show a man at the search quickly became suspicious. That's where the suspicious man theory was born.
"If you look at everywhere, the suspicious man, the suspicious man, even in the U.S. Coast Guard, search and rescue guide, under FBI and NPS reports, they have this suspicious man," Bouchard said.
Bouchard said he reached out directly to the man identified as the suspicious man. 10News could not get a hold of him. Since his information is redacted in the FBI reports, 10News will not release his name.
The FBI said, "we discreetly established that this man had not been present in the park on the day of disappearance."
That theory was also laid to rest.
So, the public's minds went elsewhere. Bouchard said the two most plausible theories are abduction or lost in the mountains.
"It was one of the most massive park searchers ever and there was a lot of people so they're not finding anything. You know, it makes me almost like, 'Was he even there?'" Matthews said.
If Dennis had been abducted, the National Center for Missing and Exploited Children released an age-progression photo to show what Dennis would look like 50 years later.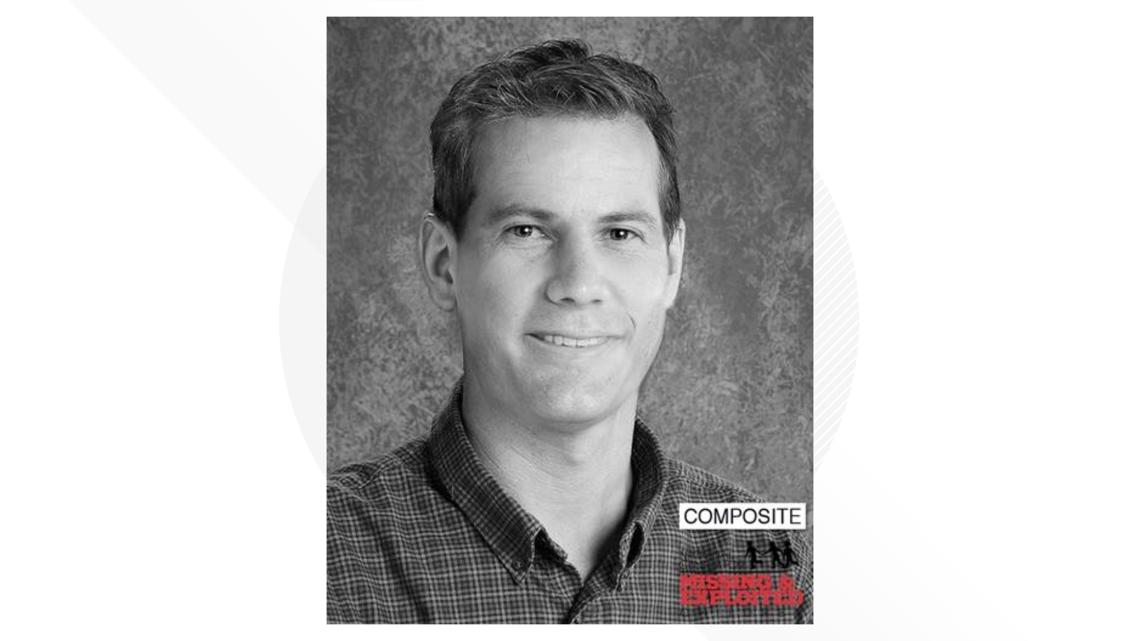 "It's important to realize it's not a portrait, this is an approximation," Matthews said.
But, Bouchard believes abduction is very unlikely.
"There's not enough evidence to prove that there was abduction. You know? There just wasn't," he said.
The FBI agrees with him. Reports from 1969 said, "There has been absolutely nothing to indicate this occurred." In fact, the FBI repeatedly refused to get involved due to the lack of evidence of foul play.
"If you look at the woods, especially in that area, you could disappear within a couple of footsteps and never be found," Bouchard said.
The thickness of the GSMNP has not changed in the last 55 years, but the methods of search and rescue have.
"The Dennis Martin case changed everything. Prior to Dennis Martin, we weren't familiar with really regimented search and rescue practices. So we went out in the woods, did our best look for him wherever we could, but didn't actually have a pragmatic and systematic way of addressing where he might be," Hall said.
Now, she leads a regimented rescue effort in the Smokies.
"Based on a course called 'last person behavior,' we identify the areas based on the activity they were engaged in, that that person might be located in," she said,
The hope is to prevent something like the Dennis Martin case from ever happening again.