UPDATE: Friday, Sept. 8, 2017 at 2 p.m.
Wacker Chemie temporarily shut down operations at the Charleston facility Friday.
It comes after Tennessee Occupational Safety and Health Administration officials arrived at the facility to continue their investigative work.
"Tennessee OHSA started an inspection last week at the Wacker facility related to the employees who were hospitalized after an accident there," said Steve Hawkins, Assistant Commissioner, TOSHA. "The agency will now expand that inspection to include the event that occurred Thursday afternoon. Two inspectors returned to the facility Friday to determine what led to this latest incident."
WRCB requested inspection reports from TOSHA over the past two years. From September 2007 to September 2017, TOSHA has investigated 3 incidents, not including Thursday's "chemical release".
On Feb. 16, 2016, Wacker was charged a $6,450 penalty with two serious violations. This investigation has been closed, according to WRCB's research.
The next investigation happened a little over two weeks later. On March 2, 2016, Wacker was charged with a $3,500 penalty for one violation considered 'serious'. That investigation has been closed as well.
The third case is still pending from Aug. 30, 2017, and this investigation is still open.
UPDATE 10:00 P.M. The Bradley County Sheriff's Office said that 7 people were taken to a local hospital for treatment by private vehicle, in addition to a firefighter who was suffering from heat exhaustion. The shelter in place order has been lifted for people living near the plant.
As a precaution, Bradley County Schools will closed on Friday.
UPDATE 9:00 P.M. Bradley County EMA officials say a wind-shift forced the closing of a portion of Lauderdale Highway Thursday night, following a mechanical incident earlier in the day.
The portion of Lauderdale Memorial Highway between I-75 and Highway 11 is closed.
EMA officials are asking residents within 1.5 miles south of the Wacker plant to stay inside until notified.
The sheriff's office said a Wacker firefighter was transported to a local hospital due to heat exhaustion.
UPDATE 6:15 P.M. The Bradley County EMA tweeted at 5:35 p.m. that the shelter in place had been lifted, and people could resume their normal activities. We could see traffic moving once again on the interstate, though we still haven't heard official word that it was reopened.
Shelter in place is lifted. Resume normal activity. All roads open. https://t.co/tOdGkOKpww

— Bradley County EMA (@CBCEMA) September 7, 2017
Wacker released a statement stating at around 3:40 p.m., a mechanical incident caused a hydrogen chemical release.
"WACKER's immediate emergency response to contain the release resulted in a visible steam cloud. WACKER is continuously monitoring air quality and measurements confirm air quality is not harmful. All WACKER employees and contractor employees are accounted for. The plant is temporarily closed.
In accordance with WACKER's standard protocol the plant's incident response team immediately dispatched and was joined by Cleveland-Bradley County Emergency Management Agency."
A fire at a chemical plant in Charleston, Tenn. sent a large plume of smoke into the air that can be seen from I-75 and has prompted officials to warn residents to stay inside. The interstate is shut down in that area.
Firefighters were called to Wacker Chemie AG in Bradley County for a reported fire Thursday afternoon.
Bradley County Fire Chief Shawn Fairbanks told Channel 3 his department was working with Wacker to "stop a leak." Bradley County Sheriff's Office spokesman James Bradford said the smoke was caused by a low concentration of hydrochloric acid.
Eyewitnesses said they heard a loud sound and then saw heavy smoke coming from I-75 north. We've heard from viewers in McMinn and Monroe counties who said they heard the boom.
The Bradley County Sheriff's Office posted a warning on their Facebook page telling people to shelter in place. Employees at a nearby Hardees told 10News they were told to shut the doors and turn off the air conditioning.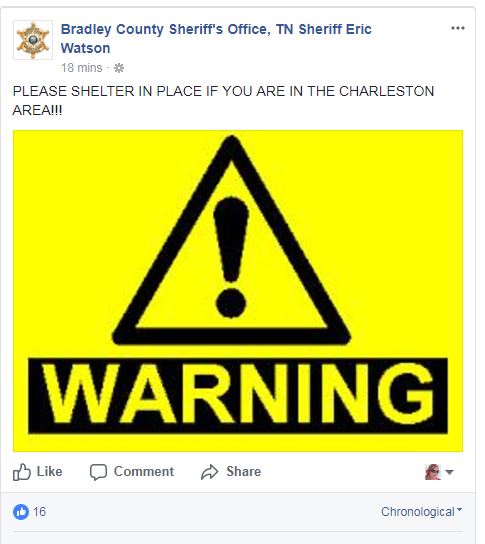 The Bradley County EMA tweeted that a local school was sheltering in place, and telling people to avoid the Charleson area.
Stay out of the area of Charleston. Emergency personnel responding to Wacker. https://t.co/k3SBPq8TNk

— Bradley County EMA (@CBCEMA) September 7, 2017
I-75 is closed from mile markers 26-37. A portion of Highway 11 in McMinn Co. is also closed .
Charleston is located in Bradley County, between Athens and Cleveland.
EMA officials called the fire a level 3 incident, and said the company's own fire department was responding, along with the Charleston Fire Department.