Supporters of Jair Bolsonaro, the former Brazilian president who lost a reelection bid last year, stormed government buildings in the country's capital of Brasilia on Sunday, Jan. 8. His supporters claim Bolsonaro, who was elected in 2019, should not have lost the race. Current President Lula Da Silva III was inaugurated on Jan. 1, 2023.
The scenes of supporters in Brasilia have been compared to what was witnessed on Jan. 6, 2021, when supporters of former President Donald Trump stormed the U.S. Capitol.
Both incidents were fueled by claims from defeated populist presidents that fraud cost them reelection. Both were amplified by social media. And the two presidents share some common advisers.
One protester who was photographed, purportedly during the January protests in Brazil, was dressed in similar 'shaman' garb as what one insurrectionist wore at the U.S. Capitol on Jan. 6. Both men wore a fur and horned headdress, and bore the respective flags of their country.
"Brazil has their own damn shaman too," one tweet, with nearly 5 million views, said.
Another tweet that has the same picture and was posted on Jan. 8 says: "#Brazil is having their own Jan6 moment. Bolsanaro's supporters have stormed government buildings. They even have their own QAnon Shaman!" That tweet has nearly 45,000 views.
THE QUESTION
Was the viral photo of a protester dressed as a 'Q shaman' taken during the January 2023 protests in Brazil?
THE SOURCES
THE ANSWER
No, the viral photo was taken in September 2021 during a separate protest in Brazil.
WHAT WE FOUND
Using RevEye, a reverse image search tool, VERIFY traced this specific photo of the costumed protester to another pro-Bolsonaro protest, held in Sao Paulo, in September 2021.
The photo was posted by photographer Guilherme Gandolfi on Sept. 7, 2021, which was Brazil's Independence Day. Gandolfi posted the photo on Sept. 7, 2022, and wrote it had been taken in at the 2021 Independence Day rally. According to news reports, Bolsonaro hosted large Independence Day celebrations in Sao Paulo and Brasilia at the time in order to garner support.


"Q shaman" or "QAnon shaman" was a term that was used to describe Jacob Chansley, following the Jan. 6, 2021 insurrection. Chansley wore a headdress and carried a sign during the Capitol riots that said, "Q SENT ME."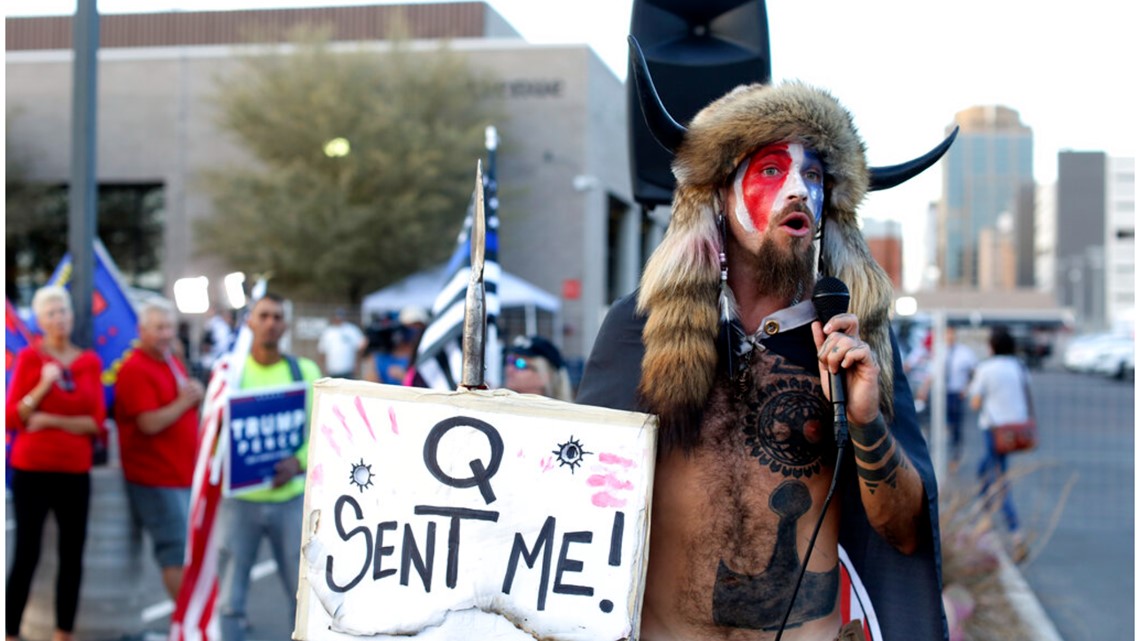 QAnon, or known simply as Q, is a conspiracy network that began in 2017 after Trump was elected, and many posters believe there was and is a concerted effort by the deep state to remove Trump from office.
So, we can VERIFY that while it would appear the man seen in the Brazilian protests from September 2021 dressed similarly to Chansley, the photo is not from the 2023 protest in Brazil.
The Associated Press contributed to this report.