The Lady Vols and UConn will renew their heated rivalry in the 2019-20 season--- while raising money for two very important causes.
Two of the most successful women's basketball programs in history, the two teams account for 19 national championships. Many times from 1995-2007, the teams led by Pat Summitt and Geno Auriemma met in both the regular season and NCAA tournaments.
The two teams haven't met on the basketball court since then, but have agreed to a two-season renewal of the rivalry, presented by the Naismith Memorial Basketball Hall of Fame.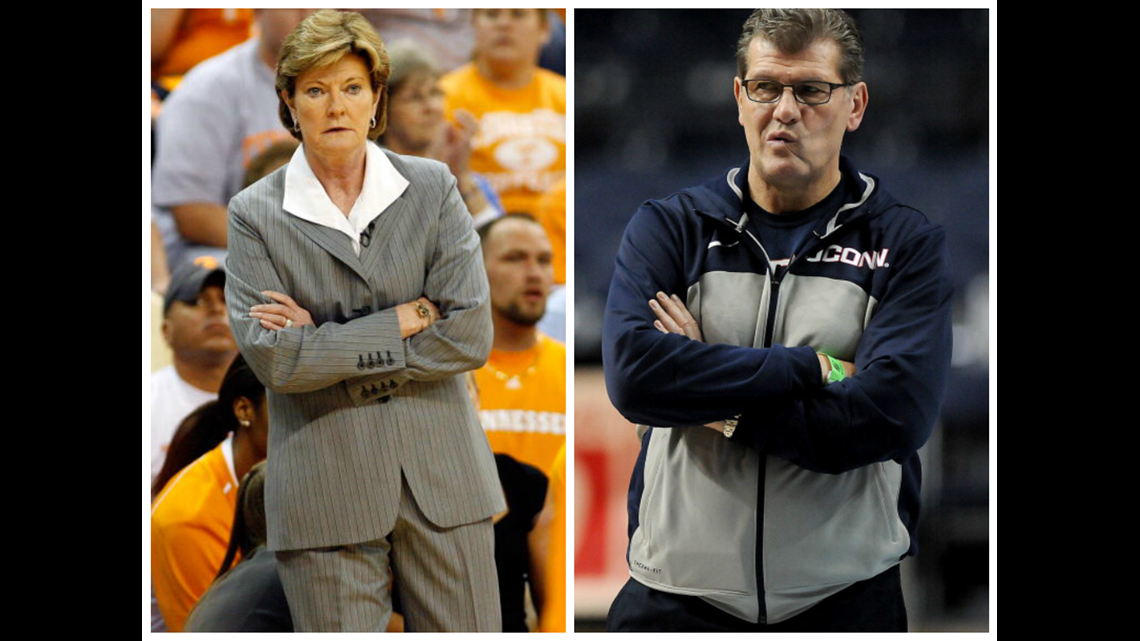 "When it comes to women's college hoops, there's no match-up more highly anticipated than that of UConn versus Tennessee. We're so proud to unite these teams in a contest benefiting great causes and honoring the late Hall of Famer Pat Summitt," said John L. Doleva, President and CEO of the Naismith Memorial Basketball Hall of Fame.
The first game will be hosted at UConn, with a portion of the proceeds benefiting the Pat Summitt Foundation and the Naismith Memorial Basketball Hall of Fame. The series will return to Knoxville the next year, benefiting the same two organizations plus the Women's Basketball Hall of Fame, located in Knoxville.
"Basketball fans will be intrigued to watch these two programs meet on the court again, and I know Lady Vols and Huskies fans will be eager to pack arenas, cheer on their teams and make a difference for some very worthy causes, including one bearing the name of my coach, mentor and friend," Tennessee Head Coach Holly Warlick said.
UConn head Coach Geno Auriemma echoed this by saying, "I am happy to have the Lady Vols back on our schedule and am thrilled that proceeds to our games will benefit such an important endeavor like the Pat Summitt Foundation. I know our fans will be excited to renew the rivalry with Tennessee and expect them to fill the building for some good basketball and a great cause."
The games will be televised on the ESPN family of networks.
"It is only fitting that this game returns to ESPN," said Carol Stiff, ESPN vice president of programming and acquisitions. "'For the Good of the Game' was Pat Summitt's famous quote back in 1994 when accepting the challenge to travel to Connecticut in January 1995. The two teams faced each other twice that season, with UConn going undefeated and ultimately defeating the Lady Vols to win their first national championship. In those moments, one of the richest rivalries in women's basketball was born. We look forward to showcasing this event during the annual We Back Pat week."
Game dates, ticket information and any other events will be released at a later date.
The Lady Vols and Huskies rank one-two in all-time NCAA wins with 1,344 and 1,119, respectively. UConn stands first in NCAA titles (11) and NCAA Final Fours (19), while Tennessee is second with eight NCAA Championships and 18 NCAA Final Fours.