KNOXVILLE, Tenn. — The University of Tennessee has released a new timeline for proposed renovations of Neyland Stadium.
The initial $180 million plan was approved in 2017 but put on pause last November by Director of Athletics Phillip Fulmer so it could be reviewed and refined.
"I appreciate the patience of our fans and donors as we've worked through a very thorough review of our plans to start preparing Neyland Stadium for its next 100 years of service," Fulmer said. "I'm very pleased about where we've landed. It was important to me that the earliest work of the upcoming renovations focused on areas that impacted the fan experience for everyone in the stadium."
Some work has already been completed, like the 360-degree LED ribbon board around the stadium that debuted this season.
Another addition made this season was beer sales at Neyland Stadium, made possible by a change in SEC policy and state law.
The big goals for the next phase of the renovation will be to give the stadium a consistent exterior appearance and improve fan experiences.
Here's the timeline for future renovations, as it stands now:
The stadium's sound system will be replaced and significantly upgraded prior to the 2020 football season.
A renovation of The Lauricella Center for Letter Winners and Wolf-Kaplan Hospitality Center, and the conversion of fifth-level media facilities on the stadium's west side into a unique, open-air donor lounge. As a result, facilities for working press on gamedays will be relocated to the stadium's east side, in closer proximity to the Stokely Family Media Center. Broadcast media—TV and radio crews—will remain in the current west-side location.
The completion of main level-one south concourse renovations that includes improvements to restrooms and concession stands.
They'll also add a north-side videoboard and rebuild the lower-west-side seating deck.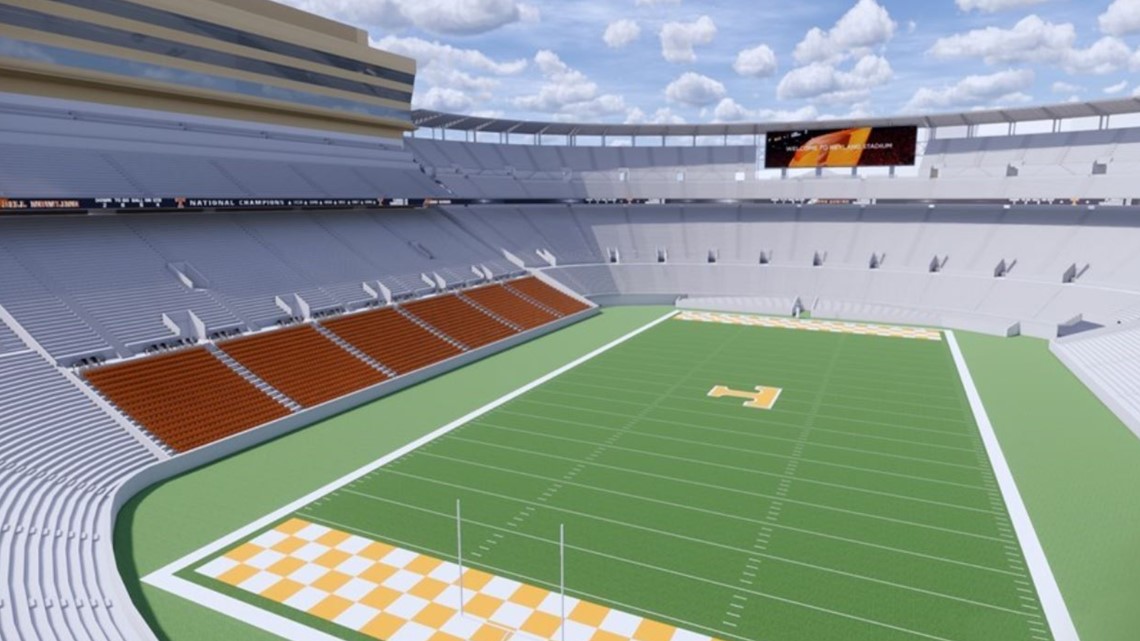 New entry plazas in the southwest and southeast consolidate stadium entry for easier access and improved security. It will give the entire stadium a consistent exterior look, enhance security, and make it easier for fans to get in and out.
A new signature indoor/outdoor gathering space and amenity area serving select food and beverages will also be added.
UT said in a release that the overall exterior design will dramatically improve pedestrian traffic and will help with getting fans into and out of the stadium.
The university also emphasized in the release that the renovations will continue to be made possible by a funding model that does not require any state funds or subsidies.