Butch Jones is out at Tennessee.
UT has parted ways with Coach Jones, who has led the Vols to a 4-6 record so far in the 2017 season. He's posted a 34-27 record in his four-plus seasons at Tennessee, including a 14-24 mark in Southeastern Conference play.
UT Director of Athletics John Currie said it became clear late Saturday night that this was the right decision, though it was a difficult one.
"We are standing here because we haven't won enough," Currie said in a media conference on Sunday afternoon.
He met with Jones earlier in the day to inform him of his decision. He said Jones was very professional and he has never had more respect for his integrity and commitment. He said Jones really cares about his players and the University of Tennessee.
Currie said finding a new coach will be his top priority, and he does not intend to hire a search committee to assist in the search.
Someone with "integrity and a commitment to doing things the right way," he said. "We expect a coach to have a dynamic that will enable him to lead us where Tennessee football can and should be."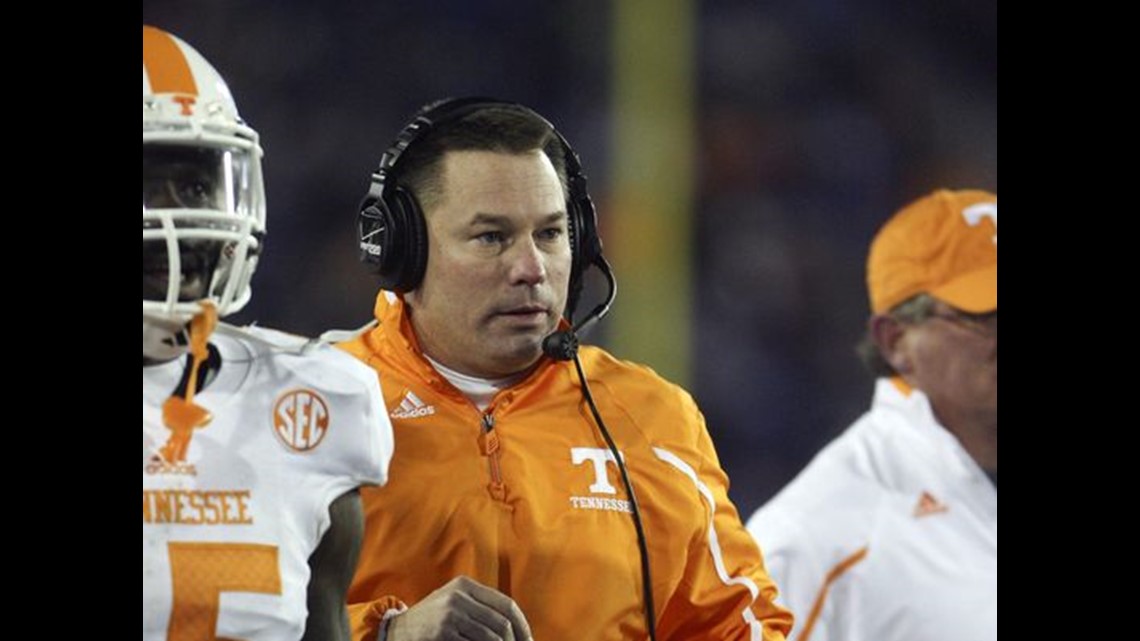 There are lots of relevant experience when it comes to being a head coach, Currie said, but he wants someone who understands the magnitude of the responsibility of leading the University of Tennessee football team.
"We're going to hire the best coach for the University of Tennessee," he promised.
Jones had three years remaining on his contract, which owed him $4.1 million annually through the 2020 season. His buyout is around $8.5 million. In total, if all of Jones' assistants are let go, this move could cost the university up to $13 million dollars.
"We don't take that lightly," said Currie, when asked about the financial implications of letting Jones go.
But Currie said he won't let money keep him from making the right hire.
"We're lucky to have the resources (at UT) to make the right decision," he said.
He gave Jones credit for his successes in his tenure, especially the academic achievement. The football team has the highest GPA in its history right now, because Jones made performance in the classroom an expectation of every player on the team.
BREAKING Butch Jones is out as #Vols head coach, source tells me. He just informed his staff.

— Bruce Feldman (@BruceFeldmanCFB) November 12, 2017
Currie also credited UT's excellent facilities and campus, tradition, its fans, and the city of Knoxville for what helps make this such an attractive job for prospective candidates.
"I believe the opportunities at UT are extraordinary," he said, calling it a special and vibrant place.
Tennessee still has two games to play, both at home, against SEC foes LSU and Vanderbilt. The team needs to win both to become bowl eligible.
"I believe our former players and fans will rally behind our team this weekend," Currie said.
Athletics Director John Currie said Sunday that Brady Hoke will be the interim coach. He said the two met shortly after Jones was dismissed, and that Hoke's focus was on the players and helping them finish the season strong.
He did meet with the players after Jones spoke with them, and said is praised them for their continued commitment to the program and their focus on the next game, and finishing up the academic year.
"They respect Butch Jones," he said, but are committed to doing things the right way.
Currie said he also called former Coach Phillip Fulmer to let him know what had happened, and called Fulmer a great resource he will make use of as needed. He also said he sent an email to former players about his decision.
Tennessee (4-6, 0-6 SEC) parts ways with Jones on a sour note after 50-17 drubbing at the hands of Missouri.
The Vols are currently set to host LSU on Saturday, Nov. 18.
"We have two games left in Neyland Stadium," Jones said after the Vols' loss at Missouri. "And again, how do you want to be remembered? How do you want to finish this off? Seniors, same thing. Same thing -- these kids have to come to work every single day. They have really been remarkable, and they're playing hard. You just, you have to go back to work. That's all I can say, and they're very prideful and they understand what's at stake.
Jones said earlier in the season he "absolutely" felt he still had the support of Currie and the administration. He also said he didn't feel any more pressure mounting during the Vols' four-game losing streak.
"I coach for my job every single day," Jones said. "That hasn't changed since the minute I walked in here in Year One. That's always a mindset I've had."
The season was a roller coaster for Jones, who departs with a career 84-54 record as a head coach.
AD John Currie letter to Butch Jones: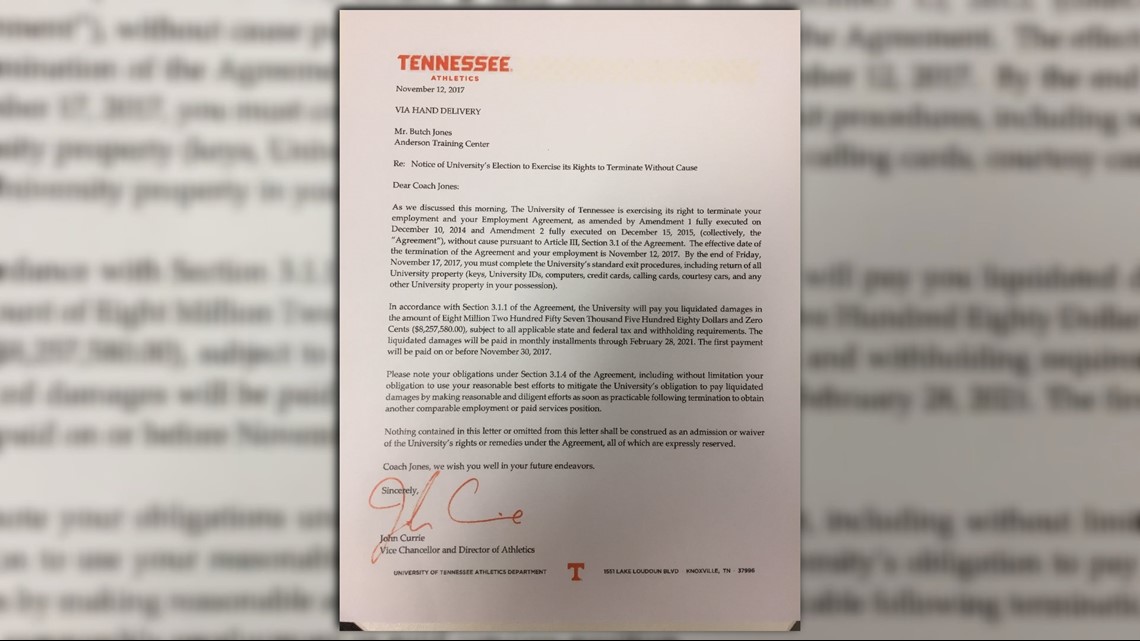 As we discussed this morning, The University of Tennessee is exercising its right to terminate your employment and your Employment Agreement, as amended by Amendment 1 fully executed on December 10, 2014 and Amendment 2 fully executed on December 15, 2015, (collectively, the "Agreement"), without cause pursuant to Article III, Section 3.1 of the Agreement. The effective date of the termination of the Agreement and your employment is November 12, 2017. By the end of Friday, November 17, 2017, you must complete the University's standard exit procedures, including return of all University property (keys, University IDs, computers, credit cards, calling cards, courtesy cars, and any other University property in your possession).
In accordance with Section 3.1.1 of the Agreement, the University will pay you liquidated damages in the amount of Eight Million Two Hundred Fifty Seven Thousand Five Hundred Eighty Dollars and Zero Cents ($8,257,580.00), subject to all applicable state and federal tax and withholding requirements. The liquidated damages will be paid in monthly installments through February 28, 2021. The first payment will be paid on or before November 30, 2017.
Please note your obligations under Section 3.1.4 of the Agreement, including without limitation your obligation to use your reasonable best efforts to mitigate the University's obligation to pay liquidated damages by making reasonable and diligent efforts as soon as practicable following termination to obtain another comparable employment or paid services position.
Nothing contained in this letter or omitted from this letter shall be construed as an admission or waiver of the University's rights or remedies under the Agreement, all of which are expressly reserved.
Coach Jones, we wish you well in your future endeavors.
Vice Chancellor and Director of Athletics"
The Vols began the season on Labor Day with a double-overtime thriller in Atlanta against Georgia Tech, culminating in a 42-41 victory.
From there, bad fortune hit some of the Vols' high-profile players. Star wide receiver Jauan Jennings injured his wrist against the Yellow Jackets, and was later ruled out for the season. Defensive back Todd Kelly Jr. suffered a lower body injury that cost him most of the 2017 campaign. Defensive tackle Shy Tuttle, kick returner/defensive back Evan Berry and center Jashon Robertson also missed significant time.
Tennessee suffered a heartbreaking loss in Gainesville to the Florida Gators in the aftermath of Hurricane Irma. The Vols' kicking duo of Brent Cimaglia and Aaron Medley missed a combined three of their five field goal attempts as UT struggled to put up points. With the game 20-20 and time expiring in regulation, Florida quarterback Feleipe Franks evaded Tennessee defenders and threw a 63-yard pass to receiver Tyrie Cleveland for a game-winning touchdown. The Vols lost, 26-20.
A seemingly lifeless team eked out a 17-13 win over Massachusetts the next week. The anemic Vols' offense scored no touchdowns in the second half.
"Just flat out unacceptable," Jones said after the game. "The performance is unacceptable."
Jones blasted the local media just two days later for negativity in its coverage of the team.
"Sometimes the negativity is overwhelming," Jones said. "If everyone is Vols fans, how do we let our opponents use this in the recruiting process with fake news?"
Tennessee followed its lackluster performance against UMass with a devastating 41-0 loss to Georgia. It was the first time an opponent had shut out the Vols since Florida did it in Knoxville in 1994.
"Right now, we're being tested," Jones said. "There's no excuses. There's no hiding behind it. We're going to find out who the true leaders are. We're going to find out who the true competitors are."
The Vols dropped a game to South Carolina after a bye week, 15-9. They then floundered in Tuscaloosa against No. 1 Alabama in a 45-7 blowout loss.
"Like I told them, our leadership's being challenged, our maturity's being challenged," Jones said after the game. "But we have to continue to stay together and work. How you feel in that locker room right now, you have to apply it during the week – Sunday, Monday, Tuesday, Wednesday, Thursday – all that in terms of sacrificing and committing."
UT introduced Jones as its 23rd head football coach in program history on Dec. 7, 2012. Tasked with a rebuild in the wake of his predecessor, Derek Dooley, Jones led the Vols to a 5-7 record in 2013.
The 2014 Vols finished the regular season 6-6, earning a bid to the TaxSlayer Bowl in Jacksonville, Florida. There, they beat Iowa 45-28, securing their first bowl win since 2007. Jones' 2015 Vols finished their season 9-4, including a 45-6 rout of the Northwestern Wildcats in the OutBack Bowl.
Jones began to draw ire from the Tennessee fan base in 2016. After leading the Vols to a 5-0 start - their best since their national championship season in 1998 - Jones saw his team drop three SEC games in a row. The losing streak was capped by a loss at unranked South Carolina, effectively eliminating Tennessee from its division title hopes. The Vols would finish the regular season on a sour note with a 45-34 loss at Vanderbilt, dropping to 8-4. The team later defeated Nebraska in the Music City Bowl in Nashville. With the win, Tennessee had won three straight bowl games for the first time since 1994-1996.
Prior to his time with the Vols, Jones served as head coach at Cincinnati from 2010-2012, where he posted a 23-14 record at the helm for the Bearcats. Jones coached at Central Michigan from 2007-2009, compiling a 27-13 record (21-3 in the Mid-American Conference).
Jones has served as an assistant coach at Rutgers, West Virginia, and Central Michigan, among other schools. He started his career as an intern with the NFL's Tampa Bay Buccaneers in 1987.