(WBIR - KNOXVILLE) Neyland Stadium has gone through many changes across the decades, but it's always stood for one thing: the symbolic might of the Tennessee Vols football team.
The first athletic field on the site opened for play in 1921. Compared with how it looks now, Shields-Watkins Field was pretty modest, featuring a west grandstand and mostly open ground.
A train used to run along the south side. The field gets its name from the businessman who put up money to get it built, banker W.S. Shields, and his wife, Alice Watkins-Shields.
The stadium formally became Neyland Stadium in October 1962, honoring Gen. Robert Neyland, the coach now associated with Tennessee's lasting reputation for excellence. Neyland was head coach through most of 1926-52 and then was athletic director. He had died in March 1962.
Home of the Vols: Neyland Stadium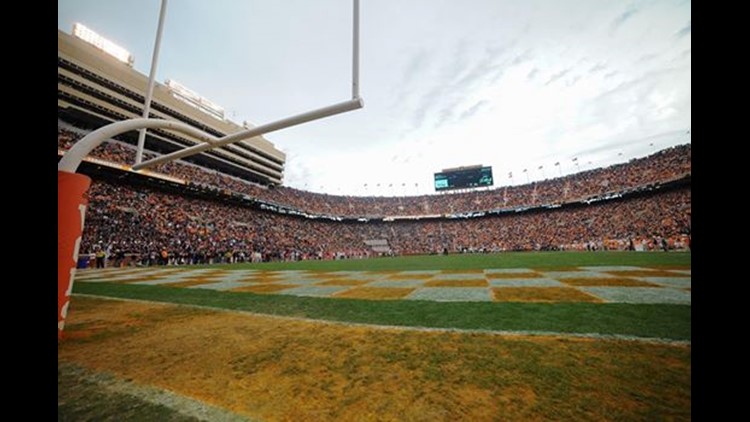 Things you may not know about Neyland Stadium and Shields-Watkins Field:
-The first game was played at Shields-Watkins Field in September 1921. UT beat Emory & Henry, 27-0.
-Artificial turf was installed in 1968, with Tennessee and Georgia playing to a tie, 17-17. The last time the team played on fake turf there was Nov. 27, 1993, when UT beat Vanderbilt 62-14. It's been grass ever since.
-Capacity has mostly grown through the decades. Current capacity is 104,079, according to the UT Athletic Department. The largest crowd was 109,061, when UT beat Florida 30-28 in 2004. During the team's great run of the 1990s and early 2000s, it was regularly at or close to full on game days.
-Tennessee's home winning percentage up through 2014 was .799 percent. It's won 398 games, lost 94 and tied 17, according to the Athletics Department.
-UT began charting home attendance in 1946. Back then average attendance - with a smaller stadium - was 31,167 for home contests. Today, it's greater than 68,000 a game.
-The first night game was Sept. 16, 1972. The Vols beat the Nittany Lions 28-21.
TEN BIGGEST NEYLAND STADIUM CROWDS:
1. Sept. 18, 2004 against Florida: 109,061
2. Sept. 16, 2000 against Florida: 108,768
3. Sept. 21, 2002 against Florida: 108,722
4. Sept. 6, 2004 against UNLV: 108,625
5. Sept. 29, 2001 against LSU: 108,472
6. Sept. 2, 2000 against Southern Mississippi: 108,064
7. Oct. 2, 2004 against Auburn: 107,828
8. Sept. 1, 2001 against Syracuse 107,725
9. Oct. 21, 2000 against Alabama: 107,709
10. Sept. 7, 2002 against MTSU: 107,672
Source: University of Tennessee