Former Tennessee guard Kevin Punter has finally found a spot at the next level.
Punter, 23, will play for the Minnesota Timberwolves in the NBA Summer League.
The news comes days after UT teammate Armani Moore agreed to play in the summer league with the Indiana Pacers.
Moore and Punter both went undrafted in the 2016 NBA Draft.
Punter had his first public workout with the Los Angeles Lakers on June 14 since his season-ending surgery to repair a stress fracture in his right foot.
The 6-foot-2-inch, 190-pound guard still has a long road to the NBA.
Tennessee G Kevin Punter is going to #NBA summer league w/the #Twolves, league sources tell @CSNMA ....

— J. Michael (@JMichaelCSN) June 26, 2016
Kevin Punter, '11 (@KPJunior_ ) workout with the LA Lakers! Stay posted for updates. #NBADraft2016 pic.twitter.com/9DJd6V444p

— Salesian Athletics (@SHSAthleticsNY) June 15, 2016
Prior to coming to UT
Punter graduated from Salesian High School in New Rochelle, N.Y., in 2011.
From there, he spent one season at Body of Christ Christian Academy, a prep school in Raleigh, N.C., and two seasons at State Fair Community College in Sedalia, Mo.
Punter played with two future Division I players at State Fair alongside former Baylor point guard Kenny Chery and former Wright State guard Joe Thomasson.
Statistics show Punter improved in nearly every facet of his game from his freshman year to his sophomore year during his time in Sedalia, Mo. His 20.3 points per game ranked 26th in the country in 2013-2014, and Punter was selected as a first-team NJCAA All-American at season's end.
Mobile Users: Comparing Punter's two seasons at State Fair Community College
After two seasons at State Fair, Punter earned his associate's degree and committed to the University of Missouri.
However,
Frank Haith left Missouri to accept a head coaching job at Tulsa
two weeks after Punter committed to the Tigers. With Haith's departure, Punter reopened his commitment.
I Will Be Spending My Next 2 Years of College Basketball As A Mizzou Tiger !! #SEC#Tigers#Blessed

— Kevin Punter Jr (@KPJunior_) April 4, 2014
Punter's first season at UT
Eventually, Punter signed with the University of Tennessee under Donnie Tyndall, who was in his first and only season as the university's head coach.
Tyndall added eight players in a three-week span in May 2014 to fill a depleted roster from the previous season with head coach Cuonzo Martin's departure. Jordan McRae, Jeronne Maymon, Antonio Barton and D'Montre Edwards had completed their eligibility.
Jarnell Stokes bypassed his senior season to enter the NBA Draft. Darius Thompson, A.J. Davis and Quinton Chievous transferred. Rawane Ndiaye tore his anterior cruciate ligament, effectively ending his Tennessee career. All four recruits to sign with Tennessee in November 2013 opted for releases after Martin's departure.
Tennessee's only returning scholarship players from the 2013-2014 team were future NBA player Josh Richardson, Robert Hubbs III, Armani Moore and Derek Reese.
On top of all of this, Tyndall had to
prepare for his wedding
in August 2014.
"I read a book a few years ago (that said) the three most stressful things you can do in your life are take a new job, get married and buy a home," Tyndall said at the time. "I'm going to do all that in about a two- to three-month window. It's been crazy."
As a junior in the 2014-2015 season, Punter played in all 32 games, starting in 31 of them in his first year as a Vol. Punter managed to score in double figures in 19 games, including 13 contests in SEC play.
Punter showed flashes his junior season, scoring a season-high 18 points in a 67-55 upset win against No. 15 Butler on Dec. 14, 2014. He also scored in double figures in 10 out of 11 games in January and February.
Tennessee finished the 2014-2015 season with a 16-16 record, and lost seven of its last nine games.
UT fired Tyndall two weeks after the season ended amid the NCAA's investigation into his tenure at Southern Mississippi. The NCAA imposed a 10-year show-cause penalty on Tyndall.
UT hires Rick Barnes as basketball coach, Punter changes form on jump shot
Former Texas coach Rick Barnes was hired at Tennessee just four days after the university fired Tyndall.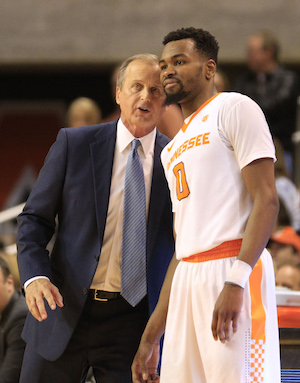 Barnes spent 17 seasons at Texas as the all-time winningest coach in program history. In his tenure as a coach, Barnes has produced 24 NBA Draft picks, including 14 first-round selections.
One of the first adjustments Barnes made in Knoxville was adjusting Punter's unorthodox shooting form. Punter made the change while transitioning to point guard with Richardson's departure to the NBA. It paid off.
Barnes said he never had a player embrace a new jump shot quite like Punter just days after the senior guard scored a career-high 36 points in a 78-69 win to hand South Carolina its second loss of the season on a frigid January day. The Gamecocks came into Thompson-Boling Arena with a 17-1 record. Punter's 36-point output marked the most points scored by a Vols' player since Ron Slay posted 38 points against New Mexico in 2003.
"He showed great determination (and) discipline," Barnes said in January of Punter's adjustments. "What he did was pretty drastic when you think about it."
Barnes said in the offseason when he went on recruiting trips, UT staff would send him footage of Punter's jump shot, and he'd call back to provide feedback.
"He went through some real frustrations. You go watch NBA teams' training camps, and you watch how they're willing to change players' shots at that level, I think it just proves that you should be willing to do that," Barnes said. "I think those guys that coach at the highest would tell you that, same thing, it can't happen unless the player wants to do it, and buys into doing it."
A little more than a week later, Punter scored a game-high 27 points to lead Tennessee to a 84-77 upset victory over No. 20 Kentucky. At one point, the Vols trailed by 21 points in the game. UT athletic department spokesman Tom Satkowiak told ESPN he believed the 21-point deficit was the largest margin the Vols have erased in a victory since at least December 2006. The win marked Tennessee's first win against Kentucky since Feb. 16, 2013.
In games against ranked opponents his senior season, Punter averaged 25.6 points per game.
Punter was able to improve nearly every statistical measure from his junior to his senior season. His scoring average jumped from 10.3 ppg to 22.2 ppg, which ranked second-best in the SEC and 12th nationally. Punter shot 46 percent from the floor, which ranked best among SEC guards.
Mobile Users: Comparing Punter's two seasons at UT
During his senior year, Punter scored 30 points or more in three games, and 20 or more in 18 games. The year before, the most Punter scored in a single game at the Division I level was 18 points.
Punter scored in double figures in 24 out of the 26 games he played.
In the 71-45 win against Auburn on Feb. 9, Punter was held to four points. It turns out Punter was playing with a broken foot during the game when he had his streak of scoring at least 13 points in 21 consecutive games snapped.
UT said Punter played his final four to six games with the injury without telling anyone.
Punter said he "kind of fought with his parents about playing" when he told them of the injury.
"I honestly thought about playing against Vanderbilt (on March 1) and not even telling them," Punter said at the time.
After Punter could "barely take his sock off" afterwards, he still managed to score 19 points in a 80-70 road loss to Kentucky on Feb. 18. It was Punter's final game as a Vol.
Eventually, Punter, his family and UT decided it was best to end the season early for surgery to repair the stress fracture in his right foot.
Tennessee had a 12-14 record after Punter played his final game, and lost five of its last eight games to end the season at 15-19.
All the long practices, all the days getting yelled at, all the responsibility, all the running, all them early mornings.
Was All Worth It.

— Kevin Punter Jr (@KPJunior_) March 2, 2016
After the season, Punter was named second team All-SEC by both The Associated Press and league coaches.
Punter ended his UT career with 905 points, which is the most points ever scored at Tennessee by a two-year player.
Since graduating in May with a degree in communication studies from UT, Punter signed with sports agent Todd Ramasar of the LA-based agency Life Sports Management.
Punter turned 23 on Saturday.
The Associated Press and The Tennessean contributed to this story.