Tennessee won 13 games during the 1998 national championship run, but perhaps no win was as iconic, as satisfying, as the September 19 overtime thriller against the Florida Gators.
The Vols were in a rut against Florida. You had to go all the way back to 1992 to find a win against the Gators. So much was always on the line between these SEC rivals: 1998 was the fourth straight year both teams were ranked in the top 10 when they met.
It was clear this game would be a defensive struggle, with one Tennessee defender in particular shining through. Senior linebacker Al Wilson forced three fumbles against the Gators, helping to keep the Florida offense at bay.
TENNESSEE HONORS 1998 National Championship Team
The Gators took an early lead with a chip shot field goal, going up 3-0, but the Vols would answer back. It wasn't one of the obvious stars to score for the Vols, no Tee Martin, Jamal Lewis or Peerless Price early in this game. Instead, fullback Shawn Bryson busted a carry through the gut of the Florida defense going 57 yards to the house to give the Vols the lead.
Florida head coach Steve Spurrier deployed an odd strategy for his offense in this game; he rotated quarterbacks, bouncing back and forth between Jesse Palmer and Doug Johnson. The Gators would score before halftime, Palmer found wide receiver Travis Taylor, giving Vol fans in attendance a 10-10 tie with two quarters left to go.
UT would bounce back in front with the same duo that helped so much against Syracuse: Tee Martin and Peerless Price. Martin hit Price for a 29-yard bomb, the latter jumping between defenders to pluck the lead right out of the air from Florida.
Just as Tennessee seemed to finally exorcise its demons against Spurrier and the Gators, Palmer found Travis McGriff for a 70-yard strike to knot the game at 17.
When it was time for overtime, the difference was a kick. Tennessee kicker Jeff Hall, for the second game in a row, showed off his clutch gene, knocking the ball through the uprights for a Tennessee lead. When it was Florida's turn to kick, Collins Cooper sent the ball wide left.
For the first time since 1992, the Vols beat the Gators, final score 20-17 in overtime. Fans rushed the field, tearing down goal posts and embracing the players. As the late Voice of the Vols John Ward so eloquently added during his broadcast, "Pandemonium reigns!"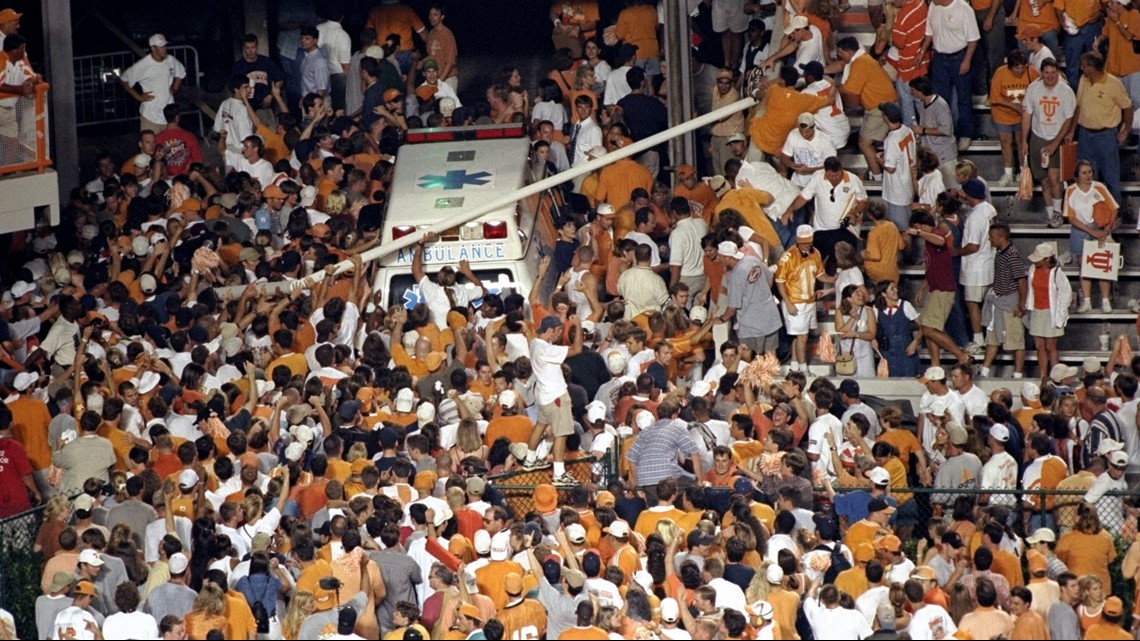 In the chaos, Peerless Price was able to share his feelings on the win, the first win against Florida in his career.
"We beat 'em! Tonight! My senior year baby!"
As fans swarmed him, celebrating almost on top of him, Price soaked it all in.
"Listen to it! It feels good! Yes sir!
Wide receiver Jermaine Copeland felt it, too.
"Number one in the SEC!" he shouted. "Right here! UT! UT!"