Knoxville — The Wildcats are coming to town this weekend!
The Vols take on Kentucky at 3:30 p.m. in Neyland Stadium on Saturday, Nov. 10. Kentucky won the first game between the two schools, way back in 1893, and got the victory the last time the two met on the field.
Before last year's 29-26 win by the Wildcats, the Vols dominated the series, including a streak of 26 straight victories from 1985 to 2010. Kentucky defeated the Vols in 2011, then lost again up until last season. They haven't won a game in Neyland Stadium in 34 years.
WANT MORE ON THE VOLS? | Visit the Big Orange Locker
The Wildcats are having a much better 2018 season than the Vols, with a 7-2 overall record (5-2 in the SEC) and are nationally ranked. Tennessee has struggled to a 4-5 overall record (1-4 in the SEC) and needs to win 2 of its final 3 games to become bowl-eligible
There are still tickets available for the game,
Tennessee Football 2017: Take a look inside Neyland Stadium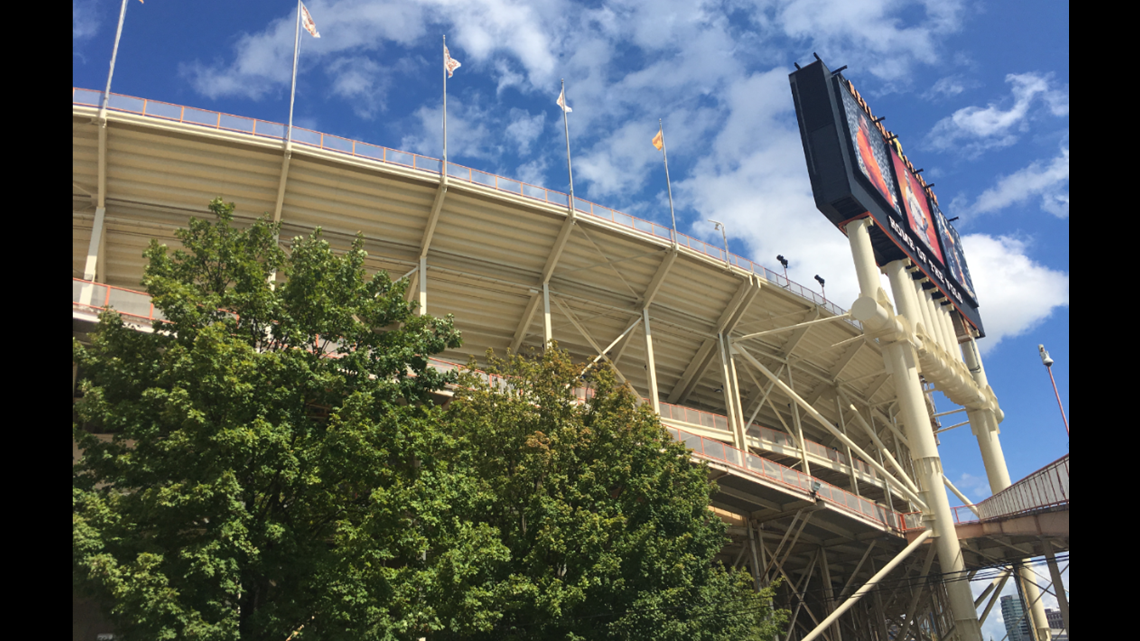 Gameday Activities
Volunteer Village offers pregame festivities for fans of all ages. Located in the Humanities Plaza, Volunteer Village features pregame appearances from Smokey, Junior Smokey, cheerleaders and UT's dance team.
The Vol Walk will start at 1:15 p.m. (2 hours and 15 minutes before kickoff) at Torchbearer Plaza on Volunteer Boulevard as the members of the football team proceed down Peyton Manning Pass to the stadium.
CLAD IN BIG ORANGE | Remembering the '98 championship season
The Pride of the Southland Band will begin marching at 1:50. The band marches up Volunteer Boulevard past Peyton Manning Pass and crosses the new Pedestrian Bridge before turning onto Middle Drive and then onto Phillip Fulmer Way, stopping to "Salute the Hill" before marching into the stadium through Gate 21.
The Vol Network's Kickoff Call-In Show, hosted by Bob Kesling and Tim Priest, begins 90 minutes before kickoff and airs on the Vol Radio Network. You can watch the broadcast live from the Gate 21 Plaza at the northwest corner of Phillip Fulmer Way and Andy Holt Boulevard, or participate by called 1 (800) 688-8657.
Celebrating UT's top dog: Smokey!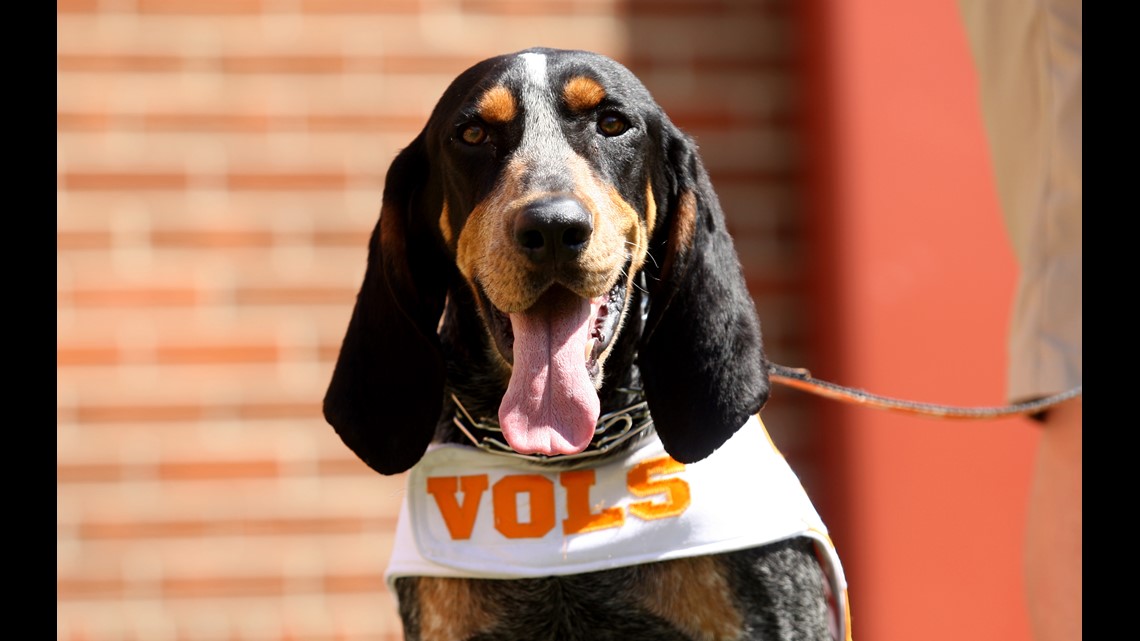 Stadium Security
UT implemented a bag policy a couple of seasons ago that fans should be prepared for.
Only one clear plastic bag, no larger than 12 inches by 6 inches by 12 inches, or a one-gallon clear resealable plastic storage bag will be allowed. Fans can also carry a small clutch purse, not larger than 4.5 inches by 6.5 inches. Those bags are still subject to search at the gates, but UT hopes this will make getting into the stadium a little quicker.
Smoking is now prohibited at UT, including within private vehicles parked or operated on university property. The prohibition extends to any lighted tobacco, electronic cigarettes, or other vape devices.
Other prohibited items:
Alcoholic beverages, cans, bottles and coolers
Outside food, snacks and beverages
Radios without headphones
Open umbrellas
Video cameras, professional cameras or cameras with detachable lenses
Stadium seats with arms or pockets
Weapons of any kind, including pocket knives
Selfie sticks
Artificial noisemakers
Drones
What is allowed, with restrictions:
Cushions or seats without arms or pockets
Small bags with medically necessary items, subject to search (Note: Diapers and non-medically necessary items for babies and young children must be carried in a clear bag.)
Small cameras, cell phones and binoculars
Get more info on what's allowed in Neyland Stadium here.
Home of the Vols: Neyland Stadium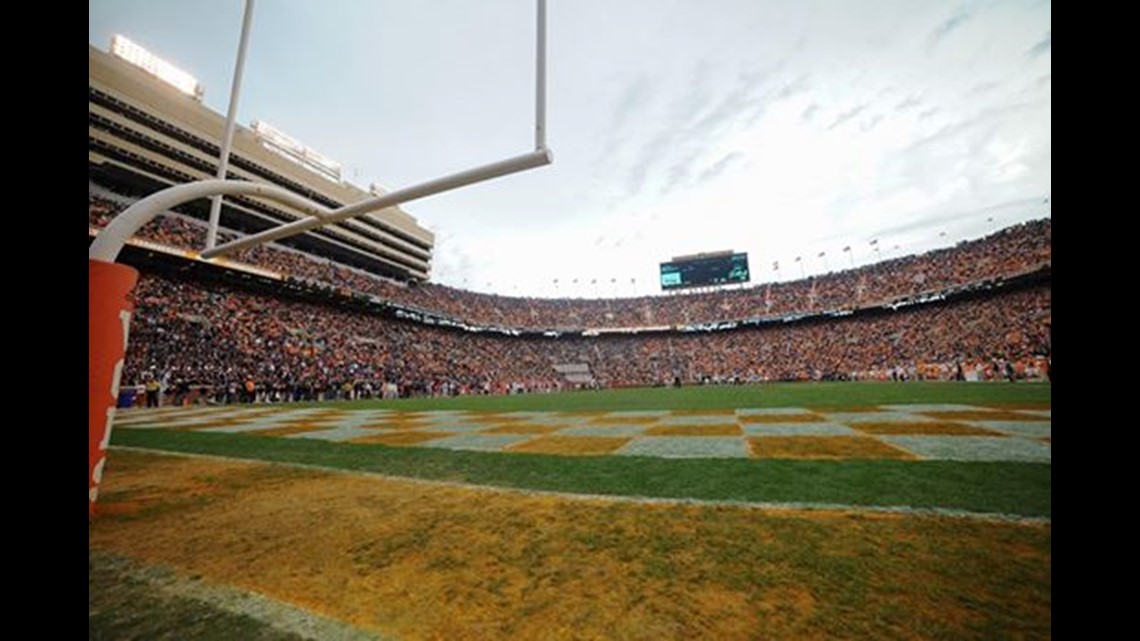 Parking and Traffic
Fans are encouraged to arrive early.
Only fans with permits can park on campus. UT encourages others to use KAT shuttle buses from the Old City, the Knoxville Civic Coliseum and Krutch Park, near Market Square in downtown Knoxville and Farragut High School. A free shuttle is available at the Ag campus.
Construction on the new engineering complex east of Neyland Stadium has restricted or altered many of the former pedestrian paths in that area. Signs are posted near the Tickle Engineering Building and the Neyland Drive Biology Annex with new directions to the stadium.
Phillip Fulmer Way will close to through traffic from Middle Drive to Tee Martin Drive three hours before kickoff.
Like last season, Peyton Manning Pass will also close three hours before kickoff, which will create some changes for people parking in that area. C20 permit holders must arrive before the road closure to be able to park. Lot 9 and 9B permit holders will have to enter via Cumberland Avenue to Phillip Fulmer Way if arriving after the road closure.
Fans with parking permits for Staff Lots 4 and 5 must enter Phillip Fulmer Way via Lake Loudoun Boulevard. Those with permits for Staff Lots 9 and 30A must enter Phillip Fulmer Way either from Cumberland Avenue or from Peyton Manning Pass.
Thirty minutes before kickoff, the remainder of Phillip Fulmer Way as well as Peyton Manning Pass, Middle and Lower Drives and Estabrook Drive will close to vehicles. For an interactive campus map, visit here.
MORE ON PARKING | UT home opener: construction, closures and parking
The latest information on campus construction can be found here, and more parking information is available here.
Fans are encouraged to follow @UTGameday on Twitter or visit UTSports.com/gameday for the latest updates on traffic, weather, gate information and game day events.
A UT tradition: Masterpieces painted on the Rock