Former Tennessee Volunteers quarterback Peyton Manning was officially inducted into the College Football Hall of Fame Tuesday.
Manning, who was a first-ballot selection, became the 20th University of Tennessee football player to receive induction, according to the NFF.
The 60th NFF Awards Dinner was Tuesday, Dec. 5, 2017 at 8:30 p.m. at the New York Hilton Midtown.
Related: University of Tennessee football players and coaches in the College Football Hall of Fame
Manning, 40, retired from professional football in March 2016 after winning five NFL MVPs and two Super Bowls. He played at the University of Tennessee from 1994-1997.
Manning owns multiple Tennessee records, including wins by a starting quarterback (39-6 record as a starter), passing yards (11,201), touchdown passes (89), total touchdowns (101, 89 passing/12 rushing) passing attempts (1,381), completions (863), completion percentage (62.5) and career 300-yard games (18).
MORE: Timeline of Peyton Manning's career
Manning joins his father Archie Manning in the College Football Hall of Fame, making them the first father-son duo to both be inducted as players.
Peyton Manning: Through the years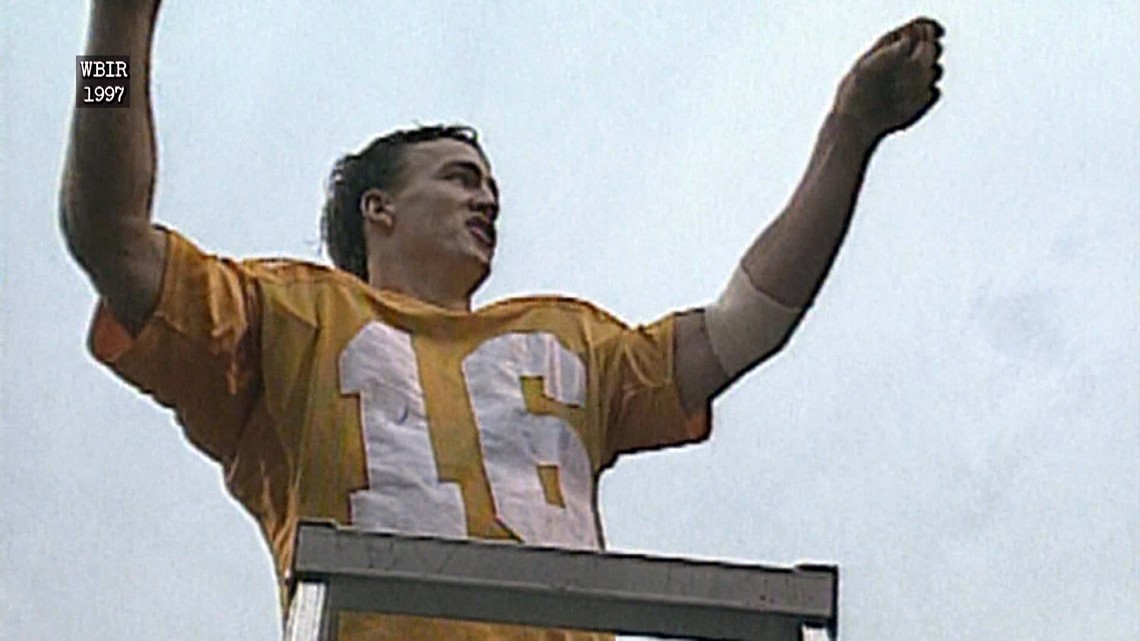 The College Football Hall of Fame is located at 250 Marietta St. Northwest in Atlanta.
2017 College Football Hall of Fame class:
Players:
Bob Crable – LB, Notre Dame (1978-81)
Marshall Faulk – RB, San Diego State (1991-93)
Kirk Gibson – WR, Michigan State (1975-78)
Matt Leinart – QB, Southern California (2003-05)
Peyton Manning – QB, Tennessee (1994-97)
Bob McKay – OT, Texas (1968-69)
Dat Nguyen – LB, Texas A&M (1995-98)
Adrian Peterson – RB, Georgia Southern (1998-2001)
Mike Ruth – NG, Boston College (1982-85)
Brian Urlacher – DB, New Mexico (1996-99)

Coaches:
Danny Ford – 122-59-5 (66.9 percent); Clemson (1978-89), Arkansas (1993-97)
Larry Kehres – 332-24-3 (92.9 percent); Mount Union (Ohio) (1986-2012)
Steve Spurrier – 228-89-2 (71.8 percent); Duke (1987-89), Florida (1990-2001), South Carolina (2005-15)