Things were all Big Blue early on in the SEC Championship game, the Vols struggled to find a clean look, while the Wildcats picked up where they left off in the semifinals against Alabama. Co-SEC freshman of the year Kevin Knox dropped 10 points, fellow freshman Shai Gilgeous-Alexander added 14 points of his own. The Wildcats led by as many as 17 points in the first half, shooting 50% from deep.
"I'm not taking anything away from them because they took advantage of it, but we did not execute early our scouting report, for whatever reason," said SEC Coach of the Year Rick Barnes after the game.
Admiral Schofield would not let Tennessee go gently into that good night. In 18 minutes of first half play, Schofield scored 17 points and grabbed 8 rebounds. He finished out the first half with the last 13 points for Tennessee, cutting that huge Kentucky lead to just five going into the locker room.
The Vols momentarily took the lead in the second half with 16:39 left to go in the game after Grant Williams drew the double team and found a wide open Admiral Schofield for three.
PHOTOS: SEC Tournament championship game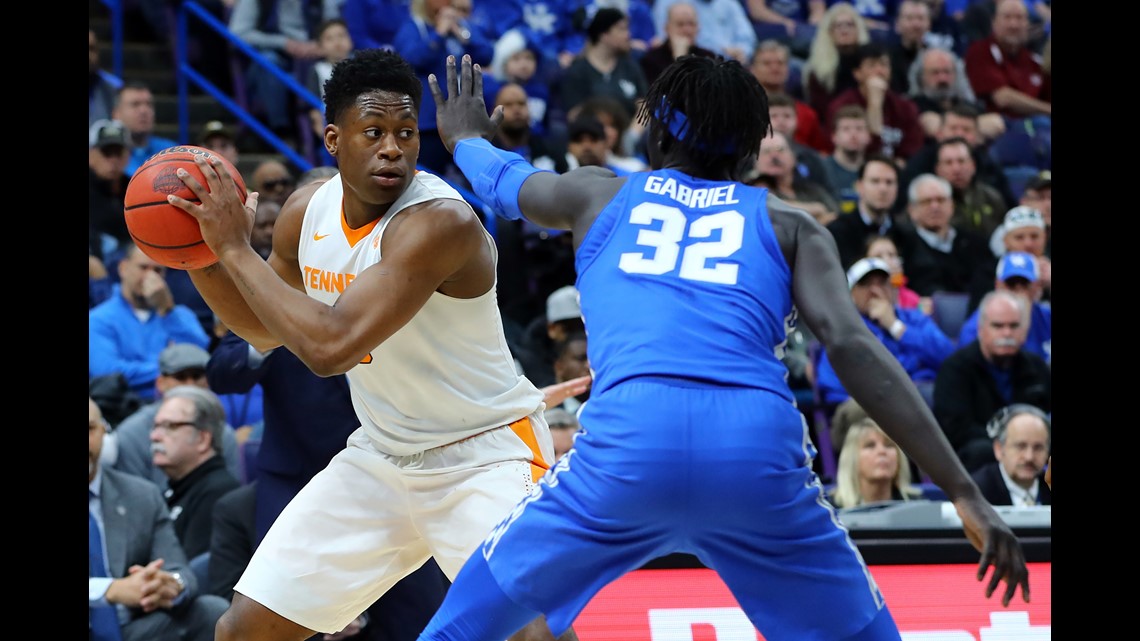 Schofield would leave the game late in the second half however. While diving for a loose ball, Schofield was hit in the face and later examined in the locker room for a reported nose injury. He would later return to the game.
Kentucky's Gilgeous-Alexander hit a shot to make it a three-point game with less than a minute left. He led all scorers with 29 points. The Wildcats hit free throws late to secure a win, 77-72.
Grant Williams and Schofield led Tennessee in scoring, putting up a combined 37 points. Both were visibly upset in the postgame press conference, but hope to use this as motivation in the Big Dance.
"We have something to look forward to... Selection Sunday. We'll find out where we're going, that's a whole new deal. It's not like that's our last game, we have another chance to play, which is an amazing opportunity," said Williams after the game.
Schofield, went straight to the point, "I'd rather take a loss right now, because it's going to motivate us for the tournament."
Tennessee will find out its NCAA tournament seeding at during the NCAA Selection Show, which starts at 6 p.m. The Vols will watch the show as a team in St. Louis.