Before Anthony met Reed, he had been living on the streets of Washington, D.C. for 15 years.
Anthony Crawford became homeless after his mother and grandmother died. He slept on sidewalks and carried his belongings in a backpack for years, working tough jobs to make ends meet.
"I wouldn't wish it on a dog," Anthony said.
But his life changed when a stranger approached him on a street corner in 2009.
The Year of Giving
The stranger was Reed Sandridge. When the 2008 financial recession hit, Reed lost his job. But unlike Anthony, Reed had enough savings to keep him afloat during his time of crisis.
For Reed, unemployment was a chance to reevaluate his priorities. He took inventory of his finances and found he could make it about a year without a job. So he decided to use that time to give back to his community. His mother always valued helping others, and he thought it would be nice to honor her.
Reed embarked on a year-long service project, which he called the "Year of Giving." The rules were simple: he would give $10 to a stranger every day for a year. The recipient only had to tell Reed how he or she planned to use it.
"People thought I was crazy," Reed said.
On the anniversary of his mother's death, December 15, 2009, Reed began his Year of Giving. Through the project, Reed met hundreds of interesting people. He documented each day on a blog, which gained followers across the country.
One day, Reed was walking by the corner where Anthony sold newspapers and chose him as the Year of Giving recipient for the day.
Anthony accepted the money, and the two developed an unlikely friendship. One cold winter night, while Reed was heading home from a night out, he walked past the place where Anthony slept. He was heartbroken to find his friend still sleeping outside, despite the subzero conditions.
Reed was torn. He felt an obligation to help, but also wanted to empower Anthony to help himself. So he proposed a pact—Reed would help Anthony find housing, if Anthony helped Reed stay on track with his writing.
Road to Housing
Reed soon found out how tough it can be to find subsidized housing. After eight months, an organization called Pathways to Housing finally helped place Anthony in a small room in a shared living space.
On the day Anthony moved in, Reed was there, capturing his friend's sprawling grin from behind a video camera.
"I'll never forget the moment. I'll never forget the feeling. I'll never forget his face," Reed said.
Reed continued supporting Anthony even after his Year of Giving ended. He took Anthony to doctor appointments, threw yearly celebrations to honor Anthony's housing anniversary, and introduced Anthony to friends and connections in the hopes of expanding his network of supporters.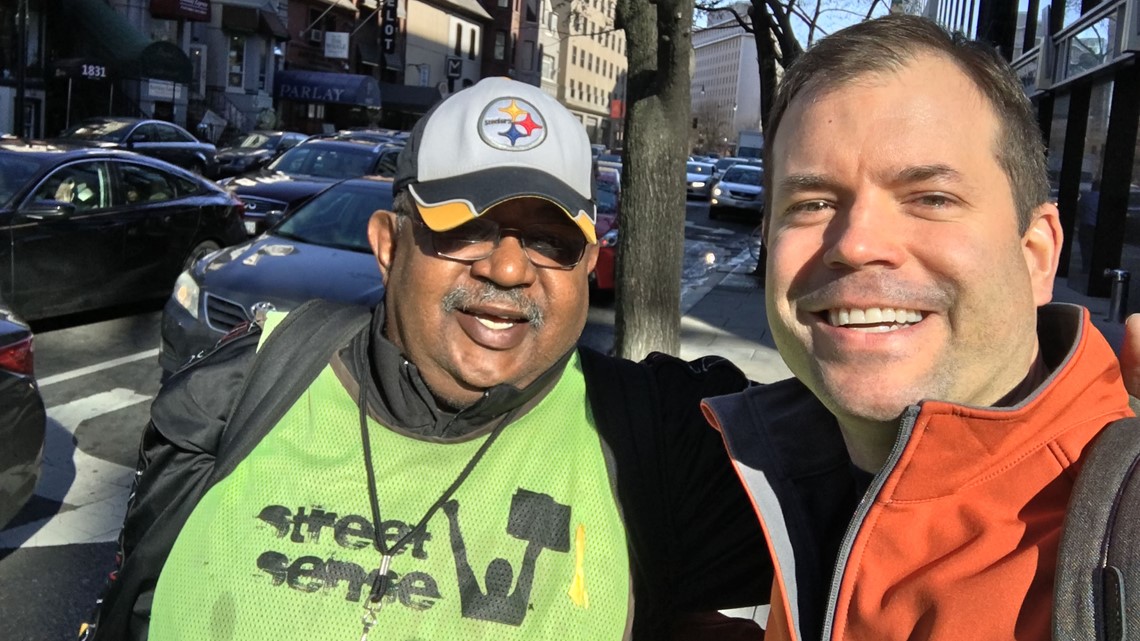 Through Anthony and his Year of Giving, Reed also met many other people who were experiencing homelessness. He brainstormed ways to help them as well.
Second Story Cards
Reed's experience interacting with homeless individuals inspired him to start a company, Second Story Cards, that would empower people like Anthony to find meaningful employment and start their own "second story."
His mother, who loved sending cards to friends and family, again served as inspiration for the venture. Many of the homeless people Reed worked with had unique senses of humor that made for witty, off-color greeting cards.
Now, Reed works with Second Story card creators to develop the cards' artwork and messages. The creators get 15 percent of all sales for each card they design, and 10 percent goes to a charity of their choosing.
Anthony helps design cards, like his favorite which reads, "Birthdays should be more like colonoscopies: once every 10 years and under heavy sedation."
He has moved to his second apartment since getting off the streets, and he continues to meet up with Reed.
Today, the Second Story Cards team works to bring dignity and hope to people experiencing homelessness everywhere, and Reed and Anthony remain lifelong friends.
HeartThreads are the best stories about the best of us. Want more? Follow us.