GATLINBURG, Tenn. — For years, it seemed that no trend better exemplified the way millennials like me have grabbed hold of our country's most sacred values and denigrated them more than glamping. Not far behind avocado toast or kale smoothies, the idea of trucking out to the wilderness only to shroud yourself in luxury was something of a long-running joke when people first learned what it was.
Now more than ever before though, folks are cashing in on a night under the stars in tents they didn't have to pitch themselves.
I grew up camping in various forests with a self-proclaimed redneck uncle who taught me how to hunt for squirrels and once rigged up an entire tarp to the side of our camper during a lightning storm so we'd still have electricity for the NASCAR race. As other campers packed up in the storm, he popped open a can of Bud Light and listened to Dale Jr. round turn three. We listened to his harmonica through the night and were fine when the sun came up.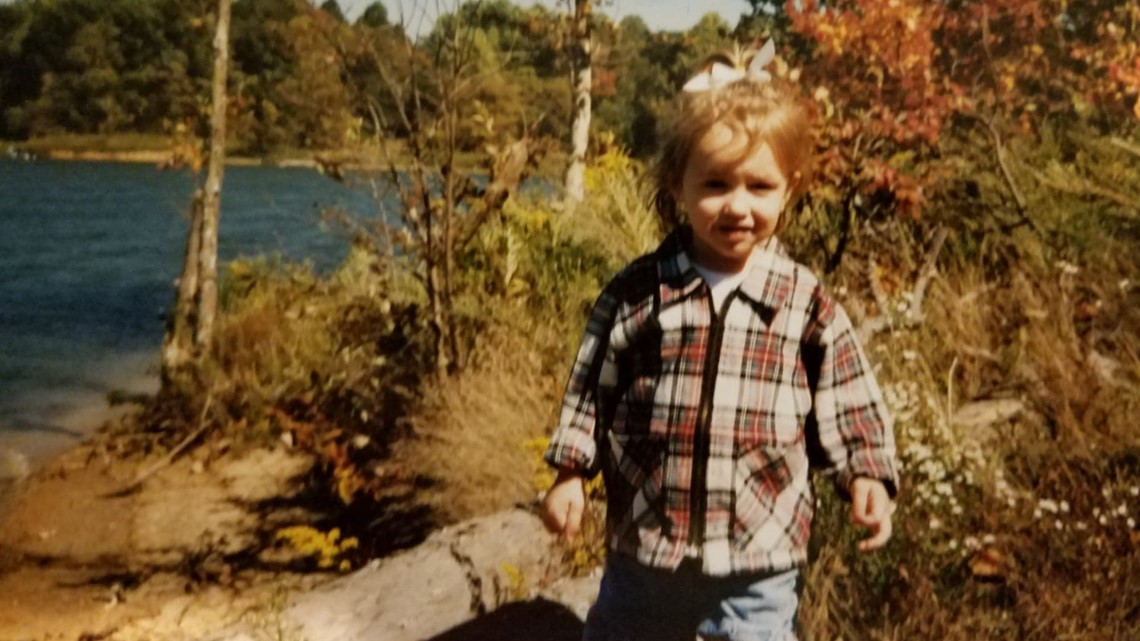 It was with those memories that I processed the minimalist aesthetic, succulent decorations, and safari-style deluxe tents over at Under Canvas Great Smoky Mountains, East Tennessee's newest glamping spot. Because even though I'm a gal too easily sold on promises of canned rosé and sunrise vinyasa yoga (I hate myself too), I'm pretty attached to the roughin' it style campgrounds of my childhood.
Tour the 'Under Canvas' glampgrounds
Would my uncle go for something like this? I checked into the "glampground" to find out.
3:00 PM – Get settled & tour the grounds
My deluxe tent was tucked just up against the forest line and shocked me with its simplicity. Replete with a bathroom suite, shower, wood-burning stove and deck, it was luxurious but not obnoxiously so. Even with the afternoon heat pouring through my tent, it felt no different than staying in a hotel. But I had the added benefit of hearing the casual mumblings of whatever was going on in the forest nearby.
Camping? Totally. Roughing it? Nah.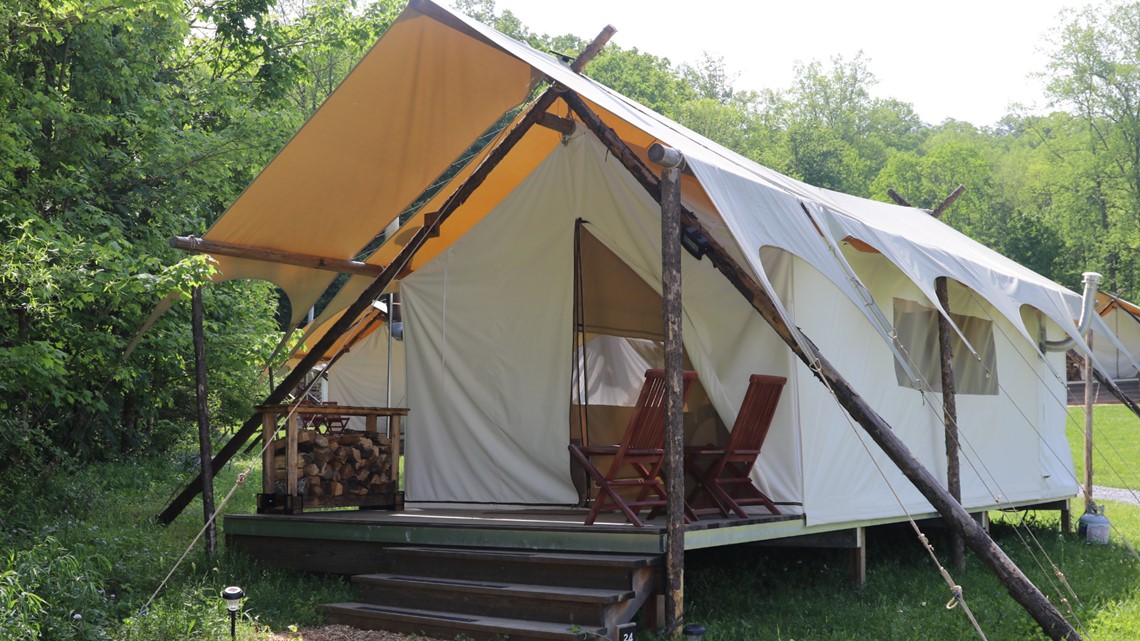 Under Canvas isn't the only glamping location in the state – the Tennessee Department of Tourism lists two specifically that offer tent-style glamping – but their mere presence in this area hints that the market for glamping here will only expand. While glamping markets out west – California, Arizona, Utah, Colorado –became pretty saturated a while ago, the Great Smoky Mountains offer room for these companies to explore and attract tourists from a different part of the country because statistically, more people live within eight hours of The Great Smoky Mountains than locations out west.
"I definitely think there's room to grow in Tennessee," Department of Tourism spokesperson Jill Kilgore said. "We're finding visitors want an experience authentic to the state."
The Under Canvas' Gatlinburg location is the only one east of the Mississippi. This company was also the first to bring glamping into the public eye ten years ago.
"People who aren't really sure about camping and have never camped before..they can try it out here," Under Canvas assistant manager Jessica Ditola said. "Or this is their compromise with the spouse who is a fan of camping."
6:45 PM – Gorge myself on jackfruit tacos & four cheese ravioli
I never thought my career as a journalist would lead me to a situation where I feasted on vegan jackfruit tacos under Appalachian starlight but I took to it quickly. The food here is unreal, and the resort's Ember's Restaurant serves up a gourmet smattering of foodstuffs during breakfast, lunch, and dinner that rival that of your favorite restaurant.
Foodies beware: you aren't allowed to use your in-tent stove to fry up bacon like one eager guest tried a few months ago. You're welcome to bring your own food if you want, but you have to keep it in your car. Meals also can't be brought back to your campsite.
The people who work at Under Canvas tend to have worked at multiple campsites across the country. Consistently, they say people tend to feel so comfortable they often forget they are outdoors.
"We've had so many guests say that this is going to be their therapy, " Ditola said "It's a super awesome escape from reality and life as you know it."
I didn't stay long enough to need this service, but if you had to be in the Great Smoky Mountains National Park for the day, you can order a gourmet pack to bring along if you order it by 9 p.m. for the following day.
8:00 PM – Cook up some 'smores & chill by the fire
I noticed before how low-hanging lights draped romantically over the campground's community firepit right when I checked in. But cozying up to the fire for a few s'mores in a post-dinner haze turned to a necessity.
I soon learn that for the large amounts of foreign tourists who find their way to Under Canvas, this firepit is where they'll taste their first s'more.
"We get to have the true pleasure of introducing some of these guests to s'mores," Ditola said. "Seriously it's such a gift to us to be able to show them how to make them and see their expression from their first bite."
There's also no WiFi on the grounds. That's ironic for a place that was made famous and continues to reap massive amounts of advertising from influencers who continue to make other people aware of glamping.
"At different camps I've had kids become pen pals. Just super special things happen around our campfire," Ditola said.
Workers say though the influencers may snap a few more photos than the average guest, they aren't put off by the lack of WiFi. That's actually why they come here.
"I think they have a huge part to play because they let people know that it exists," Ditola said. "Because of people having so many followers it broadens the horizons of everyone else whose just a fan."
That lack of WiFi connection also paves the way for other, more genuine ones to be kindled by the fireside.
"It's great to see people from all walks of life especially around our campfire. It's basically a bonding experience" said concierge Nick Rogers. "It's good for the soul."
10:00 PM - Snuggle up in the king-sized bed of my dreams
As the fire faded to ember, I walked back to the tent by the light of my lantern. Cackaws and squeaks of hidden things in the forest resounded throughout the site and I remembered for the first time since check-in that I was, in fact, in the woods alone.
A few requisite creepy crawlies hung out innocently in the shadows when I entered my tent. But unlike the shoulder-high tents I remember climbing into as a kid that had even more bugs, there was a king-sized bed and hot shower waiting for me.
That's another thing that makes the experience different. Sure, there are a few more bugs and no AC, but you're actively contributing to a better environment. Under Canvas estimates that they use about 87 percent less water than a similar-sized hotel thanks to low-flow toilets, faucets that automatically shut off, and showers that activate only when guests pull a chain. That means your head hits the pillow with a conscience even cleaner than your essential-oil soaked body.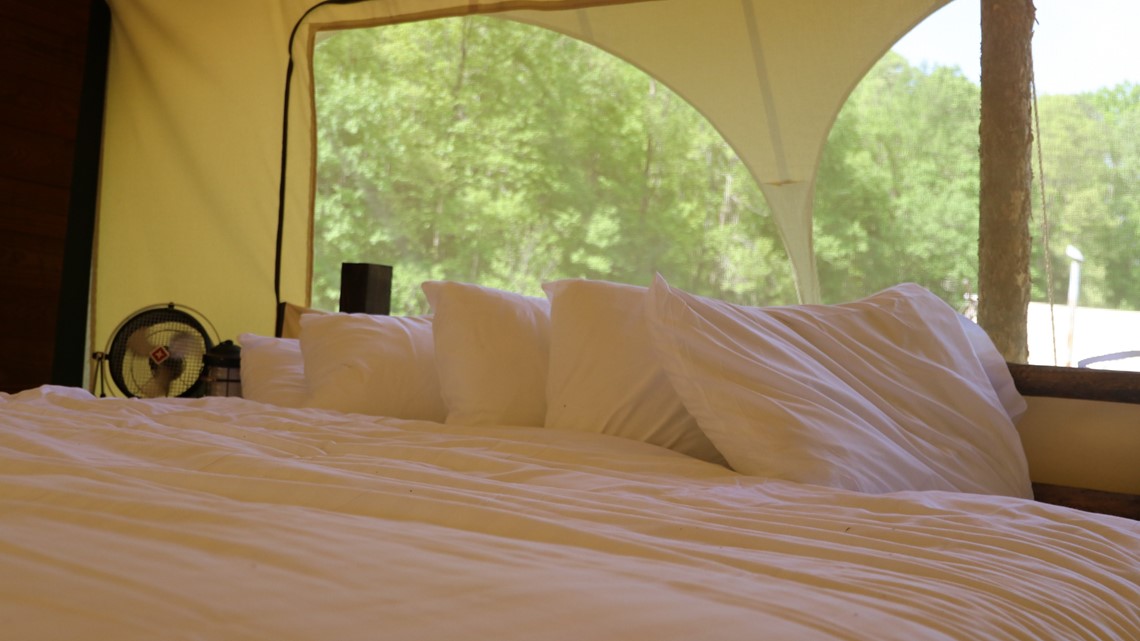 I don't fall asleep easily. For years, the voice of YouTube beauty influencers were the sounds I heard while falling asleep. But here, alone in the woods with no WiFi to connect me to them, I shut my eyes and let the gentle coos of whatever things were out in the forest do that for me.
8:00 A.M. – Coffee & Check-Out
There's scarce chance of sleeping through sunrise here, the early birds are the perfect alarm clock.
So I make my way back up to the lobby, where coffee, French toast, and breakfast burritos awaited. When it's busier, morning yoga is an option for folks to start their day.
Unfortunately, my adventure came to a close shortly after I woofed down that last bit of breakfast sandwich. If you were staying at Under Canvas for longer than a night though, yours would likely just be getting started.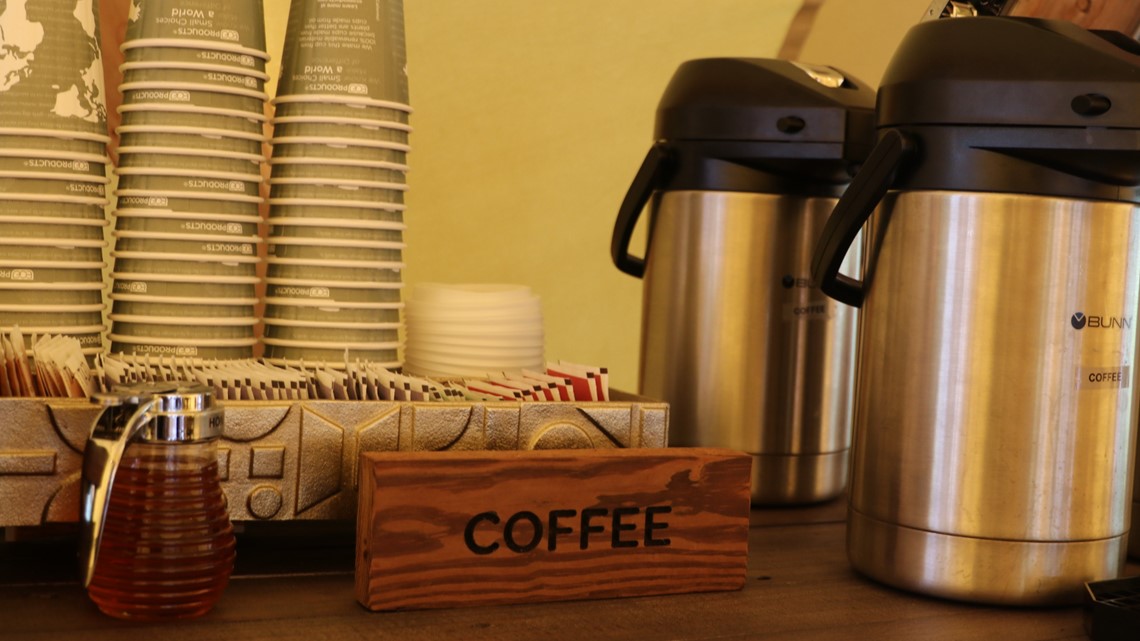 The company has partnered with several companies throughout the area to offer ATV Tours, horseback riding, zip-lining, boat rentals, fly fishing, helicopter tours, massage or whitewater rafting.
"Everyone wants to partner with us because it's such a neat, different experience to have rather than just staying at a hotel," Ditola said.
I snagged a coffee to go, thinking once more of my uncle who has the skills to be comfortable outdoors without the necessity of an essential oil infused shower. Trucking my way back down the mountain, I eventually hit the slew of hotels straddling Pigeon Forge and Gatlinburg that marked my return back to civilization.
Waiting in the spring break traffic, I know he could never forsake pitching his own tent, fetching his harmonica and enjoying camping the way many of us are used to. But I have a feeling that if I had to sell him on a night in a crowded hotel along the interstate versus one under the stars where he can listen to his boys play guitar by the fire for about the same price, I'm pretty sure I know which one he would prefer.