KNOXVILLE, Tenn. — April 27, 2011.
It's a date that many people living in the southeastern United States will never forget.
On that day, a severe storm system produced a deadly super tornado outbreak that devastated Alabama and also caused destruction and deaths in Tennessee, Mississippi, Virginia and Georgia.
There was one tornado warning after another, and it lasted for hours. Weather forecasters knew the storms were coming, and watches and warnings were continuous throughout the day and night, but many of the tornadoes were so intense, and their time on the ground so long, too many lives were lost.
When it was finally over, 122 tornadoes, 15 of them classified as violent, struck the south.
More than 300 lives were lost that day. 234 of those were in Alabama, where EF4 and EF5 tornadoes struck in highly populated areas, like Tuscaloosa.
2011 tornado damage in Greene County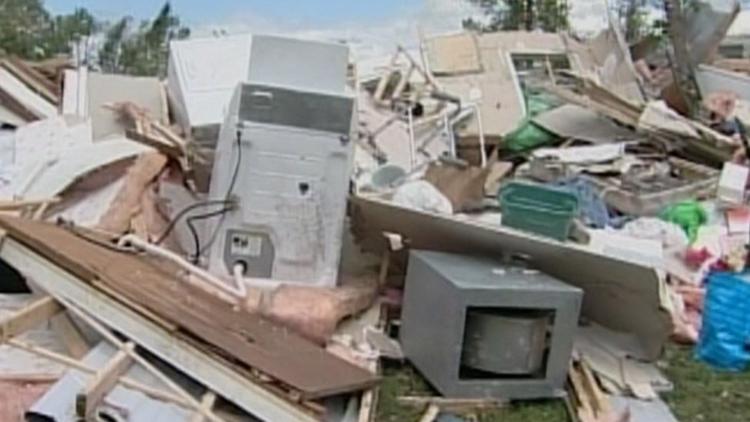 Eight people were killed in Greene County, when an EF3 tornado swept through the Camp Creek and Horse Creek communities.
There was a narrow miss in Blount County, when an EF4 tornado struck in an isolated area of the Great Smoky Mountains National Park. It uprooted trees and scattered debris, even snapped large power lines near Chilhowee Dam, but if that storm had hit a populated area, the cost could have been high.
In Cocke County, the high school received significant damage in an EF1 tornado that night and was closed for a week while the building was repaired. The Adult High School building was destroyed.
According to the National Weather Service, tornadoes also touched down that night in McMinn, Monroe, Jefferson, Loudon, Hamblen, Knox and Sevier Counties. There were damage reports from across East Tennessee.
In Knox County, the biggest problems were flooding and hail damage. Hundreds of Knox County residents needed new roofs or vehicle repairs after the hail storm. The South Knox County Public Library had to be closed for weeks after the winds ripped off the roof and rain got inside, damaging the building, furniture, and many books.
In both Knox and Blount Counties, people reported up to baseball-sized hail breaking through car windows and pounding on roofs. In the months after the storm, blue tarps covered countless homes as owners waited on insurance estimates and repair. People drove vehicles pock-marked with hail damage or cracked windshields because body shops were overwhelmed. Materials to repair the damage to buildings and vehicles were hard to come by with so much demand.
Across the outbreak area, more than 2,400 people were injured, and the storms did $4.2 billion in damage.
Eight years later, most of the rebuilding is done. Houses have been repaired or replaced. New memories have been made, there are photographs and furniture to replace the ones that were scattered by violent winds.
The injuries have healed. Countess broken bones, concussions, cuts and bruises are gone, though a few scars may remain.
A memorial stands in Greene County to those killed in two quiet, rural communities. It was dedicated on the one-year anniversary of the storms. They will never be forgotten.