UPDATE, TUESDAY, 9:15 P.M.: The snow has mostly made its way through East Tennessee and over the mountains.
Artic air is sweeping into the area, bringing low temperatures in the single digits and low teens overnight. Some parts of the region will see wind chills near or even below zero overnight.
Those frigid temps will cause slick roads in the morning. Many school districts and businesses have announced closures for Wednesday. If you do have to be out on the roads, drive carefully and be sure to watch for slick spots. It's best to avoid travel if possible until crews have had more of a chance to clear the roads.
Temperatures will warm up in the later part of the week, with rain in the forecast Sunday and Monday.
PREVIOUS STORY: Snow has begun to accumulate in Knoxville and in most of East Tennessee as an arctic system makes its way East into the Smokies.
In true East Tennessee fashion, this system decided to defy predictions and throw us a major slow ball the moment it entered the region this morning, but by late afternoon, snow is falling across most of East Tennessee.
This timing isn't too great, because this means peoples' afternoon evening commute will occur when the bulk of the snow is moving through the I-40 corridor. If you can, it would be worthwhile to try and take an early day and get out of the office to avoid having to drive on snowy roads during rush hour.
The system is well defined and widespread, so the entirety of East Tennessee will get some snow. As expected, the mountains and northern plateau regions will see the most, between 2 to 4 inches. The Valley and lower lying areas are expected to see anywhere between 1 to 3 inches of accumulation.
The Tennessee Highway Patrol is keeping track of road conditions along the major highways. They'll be posting those updates to their Twitter account throughout the evening. THP Knoxville said roads have become snow covered and slick in many areas.
WBIR will continue to monitor and update road conditions through tomorrow morning. Refreezing is expected to create slick conditions tomorrow, so be sure to continue checking on the latest conditions.
Mark Nagi with TDOT said crews are fully staffed and are pretreated roads with salt brine. He said the top priority will be keeping the most heavily traveled interstates clear. If you don't need to be on the roads, it's best to stay hunkered down at home until conditions clear up.
As always, the best way to drive in these conditions is to keep ample distance between you and the next vehicle, and to use extra caution and drive steadily. Be sure to have your deicing fluid levels topped off and clear any snow off your vehicle (including all windows, headlights and taillights) before hitting the road.
It's advised not to make any sudden turns or stops in snowy or icy conditions, and to use extra caution when driving on bridges, ramps and overpasses because they tend to become hazardous in these conditions. For example, see what happened to drivers caught unaware on this icy off-ramp of James White Parkway in Downtown Knoxville last week:
Something else to take note of with this system: It's going to be very cold, particularly the night after it passes through. Temps will be in the low teens and wind chill values will approach close to zero Wednesday and Thursday morning, so be sure to stay warm.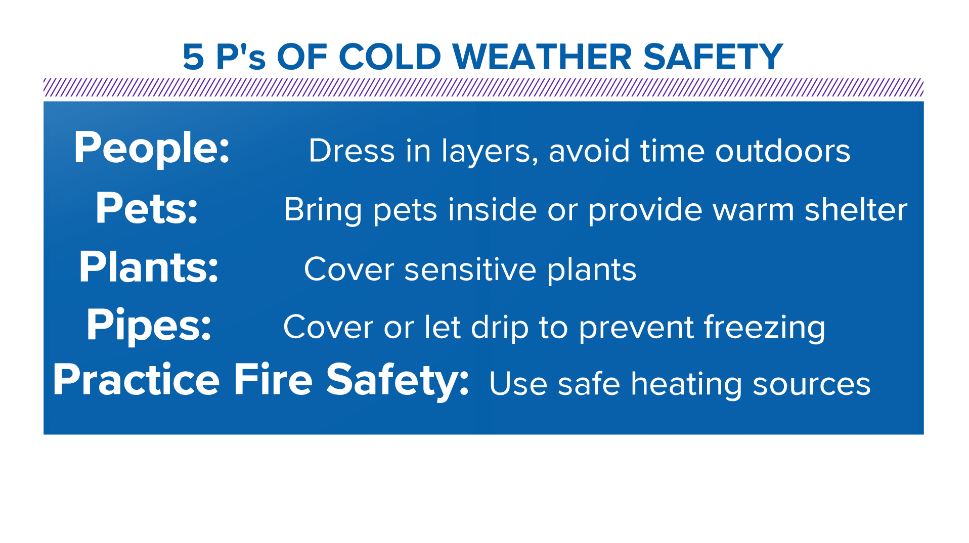 The snow will be especially light and powdery, too, as it has a very low moisture content. It's not the best for building a snowman or for snowball fights because it won't pack well, but it looks pristine on the ground and will make for nice sledding and tubing conditions.
As the snow moves through, send us your photos! You can tag us on Twitter or Facebook using the tag #SnoWBIR. Check out the photos from people in the western part of the viewing area below or at this link.
Viewer photos: Snow day! January 16-17, 2018
The good news for those that hate the snow and cold temps is that the weekend is shaping up to be beautiful and mild. We're currently looking at partly cloudy skies with highs in the 50s Saturday at the moment, so hopefully the forecast holds out!
**************************************************************************************************
Follow us on social media!